Review of Mr. Hockey: My Life by Gordie Howe
For anyone who wants to learn more about hockey why not start with a book by the person known affectionately as "Mr. Hockey," none other than Gordie Howe. Howe tells his story in this 2014 autobiography which covers not only his life on the ice, but spans from his youth in Saskatoon, Saskatchewan up to his final season with the Hartford Whalers in 1979-80. Howe's story is one that is both insightful and intriguing. Once the reader puts down the book they will feel as if they just sat and had a conversation with Gordie for the evening. While many hockey fans might be able to recite Howe's statistics, championships and years on the ice with different clubs, this book provides more depth, exposes more myths and also gives the reader a whole new appreciation for Gordie Howe.
Want to win the ultimate hockey debate of who is the best hockey player of all-time? Bobby Orr? Wayne Gretzy? Gordie Howe? Inevitability someone will throw in Mario Lemieux and the whole debate veers off course. Well, the Orr and Gretzy defense got a little weaker with this book as both #4 and #99 deferred to #9 and recognized him as the greatest hockey player ever. Orr begins Mr. Hockey by writing in the Forward that Howe was "the greatest player ever. Period," while Gretzy closes the book with a back cover blurb that exclaims that "you can never, ever replace Gordie Howe – the greatest player ever." Debate over, right? Probably not, but at least Howe defenders have an ace in the hole that they can use later. At the very least, after reading this book it will be difficult to find someone more hard-working, dedicated and passionate about the sport.
Like all good biography's Howe's story is one of appreciation towards those who helped him succeed in not just hockey, but life. Howe writes of not only a dedicated family, but of supportive friends and community in a time that seems far too distant from the reality. One poignant example is when Howe recalls when his friend Frank fell through the ice as a kid and he helped pull him out of the freezing water, only to then skate a mile in the blistering cold to Frank's home. When Gordie went to Frank's house the next day to check on him, Frank's father asked Gordie if he was going to try out for the Peewee hockey team. When Gordie replied that he was not because he did not have the right gear, Frank's father loaned him all of Frank's equipment for the season because his son was too sick to play that year and he wanted it to go to good use. Gordie made the team which began his Peewee career, because of a supportive neighbor and people helping people. As per the supportive community Howe writes about how Saskatoon made sure the youth earned and deserved their time on the ice. According to Howe, children were expected to prove that they were good by "collecting signatures from people who would attest to the fact that you hadn't been up to mischief. Before you could get on the ice, you needed to get your permission paper signed by a parent, one of your teachers, and someone from the church. If getting into trouble meant you couldn't play, you were pretty likely to keep your nose clean." These are just two of the many early moments that Howe discusses as he argues that "nobody ever makes it anywhere on their own," not even "Mr. Hockey."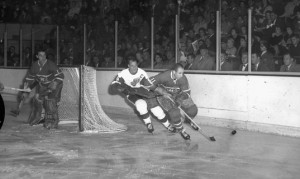 If it was not obvious, his discussion of his time in professional hockey takes up the majority of the book and these sections will be the most intriguing to many readers. Howe discusses his arrival in Detroit and of the fear that drove him and most players due to their one year contracts and the limited room in a league with six teams. In his discussion of play within the "Original Six," in particular against Montreal, Howe gives the reader a sense of the phrase "familiarity breeds contempt." One of the most interesting parts of Howe's journey through his professional career is his thoughts and comments concerning Jack Adams. Howe talks about how Adams continuously interfered with player's personal and professional lives. Howe mentions more than once of how Adams forced him to quit playing baseball over the summer and how he continuously insinuated that players should refrain from sex, even with spouses, during the season. Howe goes on to write of Adams that "it would be hard to find a more frustrating boss," and that if he were to encapsulate his feelings in a nutshell he would "say that I might have hated some of his actions, but I never hated him as a person." Throughout this book Howe certainly does not hide his animosity for the power that coaches, managers and owners had over their player's lives. And while Howe does not have glowing remarks on modern hockey, I believe he would agree that the development of the Player's Association was the best advancement in professional hockey over his long career. Howe finishes his book, like he finished his career, with his family. Howe explores his decision to fulfill a lifelong dream of playing hockey with his sons by joining the Houston Aeros of the World Hockey Association and how that lead to them playing together for the Hartford Whalers during the 1979-80 season. These are some of the interesting stories that Howe discusses beyond his actual time on the ice, which I leave to the reader to discover and fully enjoy for themselves.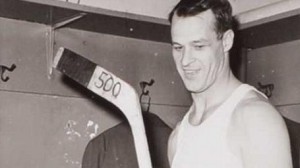 While this book was fascinating there are some areas that will not be as captivating for all readers. At times Howe can be repetitive and also slightly more personal than some readers may enjoy. Certainly all biographies must discuss family and their spouses, but at times Howe exposes too much of this side of his life and his relationship with his wife, but these moments are fleeting and it is certainly not a reason to avoid this book. Overall, this was an intriguing work full of life, love and hockey and is a must read for all hockey fans, in particular to those new to the game.
Over this calendar year I hope to both read and review one book on hockey a month. For February I am reading The Boys of Winter: The Untold Story of a Coach, a Dream, and the 1980 U.S. Olympic Hockey Team by Wayne Coffey in order to celebrate the 35th anniversary of the game. Feel free to read along and check back for my review.