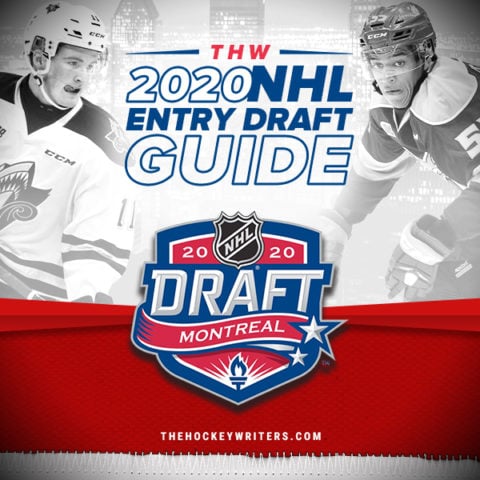 Oliver Suni
2019-20 Team: Oshawa Generals (#19)
Date of Birth: February 13th, 2002
Place of Birth: Kempele, Finland
Ht: 6-foot-2 Wt: 188 pounds
Shoots: Right
Position: Winger
NHL Draft Eligibility: 2020 first-year eligible
Rankings
NHL Central Scouting: 53rd (Final Rankings, NA Skaters)
Future Considerations: 108th
McKeen's Hockey: 118th
Bob McKenzie/TSN: 91st
Every year, one or two players burst onto the scene in the CHL and make quite a first impression. But then by the time the season ends, you're just left wondering what if. That's exactly what you get with Oshawa Generals winger Oliver Suni.
What if Suni didn't suffer that shoulder injury against the Kitchener Rangers that forced him out of the lineup for seven weeks? Would we be having a different discussion about this player and how good he could be?
Related: 2020 NHL Draft Guide
That shoulder injury did force Suni out of the CHL/NHL Top Prospect's Game. Fair or not, missing that event was a big moment in his season. You always want to see how players do in that environment against his peers. He wasn't able to return to the Generals' lineup until the end of January. He finished the season with nine points in his last 16 games.
However before the injury, Suni introduced himself to the OHL in a big way scoring 10 points in his first six games showing he could quickly adjust to the North American game. He had three straight multi-point games in that stretch including a four-point game. It was this early boost that had scouts ranking him very highly at the start of the season.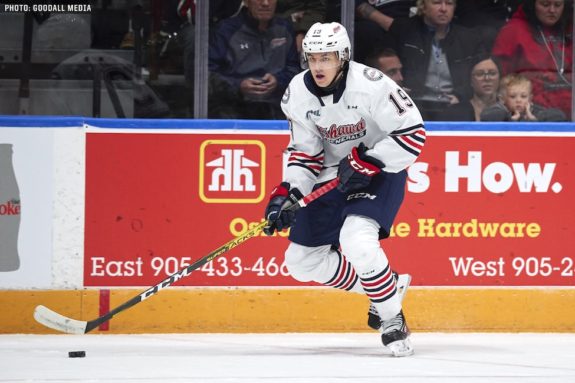 What do we have in Suni? First, he has NHL size. His 6-foot-2 frame allows him to to get to any area of the ice he wants and win battles. He's not afraid to use his size and be physical. But what makes him especially interesting is his skating. While he could work on his stride, his straight-line speed is above average and jumps out. There were a couple of plays in particular this season that stood out where he was able to use his speed to beat defenders on the wall to create scoring chances.
The other thing that jumps out about Suni is just how much damage he does at net front. Most of his goals came at or near the crease. It shows an ability to finish in the dirty area while knowing where to go to make himself open. But then he is smart enough to find the right play from that area. His shot and passing are both underrated. He is effective at making the right read and getting the puck where it needs to go.
As for improvements, consistency does jump out especially after that kind of injury. This offseason will prove an important one for him as it will allow him to get stronger and to show he's moved past the injury. We've seen flashes of how good he can be he just now has to show he can get back to that level. The other improvement is in his skating stride. While his top speed is very good, he could work on his mechanics in getting to that speed. Should he put that part of his game together, look out.
Overall Suni does a lot of things well and plays the type of game that translates well to the pros. With proper development, he could find himself in the NHL for many years to come.
Other THW Draft Profiles
---
---
Oliver Suni – NHL Draft Projection
I think Suni will hear his name later in the draft but that will provide the team that drafts him with excellent value. Early in the season, some had him going as high as round two and then the injury happened. Most have him going in round four. I have him going late in round three but wouldn't be surprised if someone takes him sooner. It's a matter of if a team sees the talent and doesn't just look at the stats or the injury.
Quotables
"I think Suni is one of the more underrated wingers in this draft. He's already checked multiple blocks in both league and international play, plus his skill set is incredibly diverse. He's big with a nice reach;  strong on the puck along the boards; quick and agile in open ice; owns a very hard wrist shot, plus he has sharp vision and playmaking ability. Suni's been a little rusty since coming back from an upper-body injury that forced him to miss a month, but he's still standing out on a loaded roster." – Steve Kournianos
"For a bigger player, you have to like Suni's skating. His first few steps are surprisingly strong and bordering on explosive. Combined with his size, he has the confidence in his skating to drive to the net. Yet, he's not afraid to keep possession and make things happen. His vision is very good and we think his playmaking skills are underrated." -Dominic Tiano
"I think there are a lot of reasons to like Oliver Suni's game. He's competitive, versatile, physically strong and very smart, with a good head on his shoulders. Unlike some of the first-year import players in the OHL, he didn't need much time to be an impact player and earn his ice-time. As far as his projectability is concerned, I think he could develop into a solid middle-six NHL winger after some seasoning at the pro level. There is no doubt in my mind that he's going to be a pro." -Marco Bombino
Strengths
Excellent straight-line speed.
Physical game.
Net-front.
Smart.
Underrated shot and playmaker.
Under Construction – Improvements to Make
Skating mechanics.
Consistency.
NHL Potential
Suni's upside is that of a middle-bottom six winger who can play in a variety of situations. I tend to think he'll exceed those expectations given his smarts. He'll get every chance to chase a Memorial Cup on a loaded Generals roster and that should help expedite his development.
Risk/Reward Analysis
Risk – 3.5/5, Reward – 3.5/5
Fantasy Hockey Potential
Offence – 7/10, Defence – 7/10
Awards/Achievements
Suni was named to the OHL's Second All-Rookie Team in 2019-20.
Interview/Profile Links
Videos