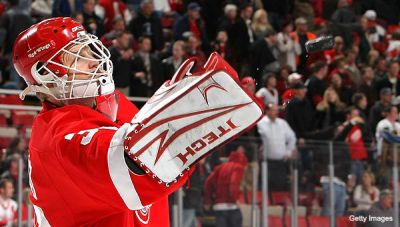 It's no secret that Detroit Red Wings goalie Chris Osgood has let in his fair share of softies. As a matter of fact one of his biggest drawbacks seems to be playing with his head in the rafters and letting in weak shots at the worst possible times. Well, he did it again last night against the Phoenix Coyotes, and after the game coach Mike Babcock had the following words for reporters:
"We should have won that game, 4-2. But I thought the guys stayed resilient and were able to pick up Ozzie tonight. When we got to 4-2, the game should have been done. We found a way to let them back in the game. That's the way it goes. I didn't think we were bad defensively, I didn't think those things at all — I just thought the puck went in the net."
What Babcock doesn't mention is the absolute joke of a clearing attempt made by Cleary, which led directly to the Coyotes' game-tying goal. But we'll overlook that.
Naturally after such unimpressive outings as he's had in the last few weeks (he has allowed three or more goals in 7 starts) the Osgood bashers are out in full force, with words like "unreliable," "sieve," "embarrassment" and "inconsistent" being bandied about. It's the typical nonsense and not a big surprise. These are probably the same people who thought trading Yzerman years ago was a good idea, and we all saw how that turned out. But here's the thing most of those folks seem to forget whenever Osgood hits a bump in the road:
He led Detroit to two Stanley Cups, which is much more than most goaltenders in the NHL can boast.
He also ranks 12th all-time in wins by an NHL goaltender, has been selected to play in four All-Star games (including as a starter in 2008), has won the Jennings Trophy twice and is one of only a handful of goalies to score a goal.
"But he has a .880 save percentage right now," some might say. So what.
"But he has a 3.29 GAA right now," some might say. Doesn't matter.
He's also playing in front of a defense that is, to put it rather bluntly, playing Pee-Wee hockey right now.
What matters is what he's capable of doing in the playoffs, like last spring when he won 14 games and had a 1.55 GAA on his way to leading Detroit to their 11th Stanley Cup. This after posting a 2.09 GAA in the regular-season, which led the NHL.
And don't let Babcock's comments fool you, because what he's done is a common strategy used by coaches all over the world: It's called publicly calling out your number one goaltender's lackluster performance to light a fire under his ass.
Osgood has faced this kind of criticism before and will undoubtedly face it again in the future. It comes with the job. Said Osgood:
"I feel real good out there. I feel sharp and confident. I feel the tide is turning and pretty soon I'm going to get on a huge roll and things are going to go real good here."
Roll with it, brother.