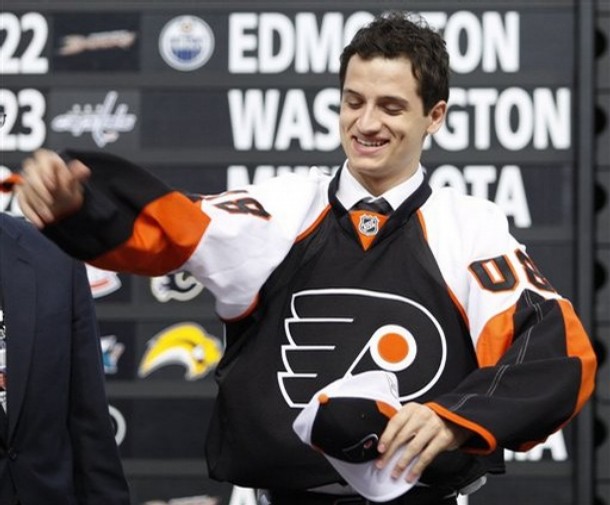 Don't panic Flyers fans, and certainly don't rejoice you Carolina fans. Yes, Sbisa after 39 games with the Flyers will be moving on to the Hurricanes, but these are the Lethbridge Hurricanes of the WHL, strong contenders not only for the Western Hockey League title but maybe even the Memorial Cup as well. Today on the Flyers website there was an announcement claiming that the now 19 year old first round draft pick of the Philadelphia Flyers from the 2008 Entry Draft will no longer be with the organization for the remainder of the season.
Rumors had been spreading around during recent weeks that Sbisa would be headed back to Lethbridge shortly. Originally there was a lot of hope for the rookie who performed well all preseason and through a large chunk of the first half. He exceeded all expectations right out of the gate and likely would have never gotten the opportunity that he received in the form of an entry level contract if not for preseason injuries to defensemen Randy Jones and Ryan Parent. Even at the 10 game mark many felt that Sbisa would get sent back, but it was not to be. Holmgren kept Sbisa for nearly 40 games. If he hadn't spent longer than 10 games with the Flyers he would not have lost a year on his entry level contract according to the Collective Bargaining Agreement. Also because he spent more than 40 games on the Flyers active roster by CBA law a year is removed from his RFA restrictions. What that means is he becomes a UFA a year sooner now.
Holmgren, when asked about Sbisa's situation, did not mention anything about the contractual implications of his stay in Philadelphia. Instead he put emphasis on Sbisa's best interest which would be to get much more playing time with his Canadian Juniors team.
Sbisa was also asked about his feelings on the move. "Obviously, I am disappointed," the young star made clear multiple times, "I did not play for a long time, so you start to think that something might be up." He is taking the news in the best spirits however and is excited to return to his WHL club. "I am going back to Lethbridge and help the team out. I am really looking forward to playing a lot of minutes there, play the power play, [penalty kill] and the last minutes of a game. I kind of missed that stuff." The rookie welcomes the added playing time but won't soon forget his NHL experience. "I have almost 40 games in my pocket at the NHL level. I just want to show what I learned up here, down there. I am sure it will help my game in juniors. I will take a lot of responsibility down there to Lethbridge and try to go as far as we can in the playoffs." Yes, this rookie is over a half an NHL season wiser, stronger, faster, and more dangerous. The Lethbridge Hurricanes certainly have been given a boost.
Sbisa has been working in and out of the lineup due to injuries but for the most part his stay in Philadelphia had become unnecessary due to Jones' return from the LTIR. Holmgren sends him back in the hopes that playing time will mold the youngster into an even more dangerous NHL weapon. He will be back with the Flyers eventually. You can count on that.