Mike "Doc" Emrick was honored by the New Jersey Devils, Friday night at the Prudential Center. The entire night was dedicated to Mike Emrick and his career as a broadcaster.
Mike "Doc" Emrick Night – Devils 1/30/09
After watching this I knew I had to write up an article as a tribute to this great announcer. Emrick has been a part of the Devils for 19 years and has made many memorable calls. He has been the Devils voice for years and this article is a tribute to one of the greatest broadcasters of all time…Mike "Doc" Emrick.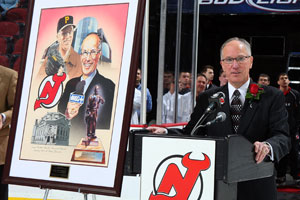 Mike Emrick was born April 1, 1946 in La Fontaine, Indiana. He earned his Bachelor's degree in speech from Manchester College in 1968, a master's degree in radio/television from Miami University in Ohio in 1969 and a Doctorate in radio/television/film from Bowling Green State University in 1976. After receiving his doctorate, he earned the nickname "Doc", which is what many people refer to him as.
His first big broadcasting gig was when he became the TV voice of the Philadelphia Flyers in 1988. He was the Flyers play-by-play announcer up until 1993 when he found his true home; in 1993 he became the New Jersey Devils play-by-play announcer and to this day he still is. Mike Emrick also does play-by-play on NBC and Versus where he calls the game of the week, playoff games, and Olympic hockey.
Mike Emrick has meant the world to the New Jersey Devils, as well as their fans. Emrick has coined many phrases and has had many memorable calls. Some of these phrases are "That one caught the glass", "Just Wide", "Jostling in the corner", "Hit the post with the shot!", the phrase that a lot of people make fun of "One and a quarter minute left in the period", and my personal favorite when someone scores a goal "SCOOOOOOOREEEEEEEEEE!!!!!!!!!!!"
Jamie Langenbrunner Tying & Winning Goal in OT vs Penguins on YouTube
Mike Emrick has delivered many memorable calls for the New Jersey Devils.
When they won their first Stanley Cup in 1995, Mike Emrick made a call at the end of the game that Devil fans will remember for the rest of their lives. "The Championship to New Jersey! The Devils win the Stanley Cup!" \"1995 Stanley Cup Finals Game 4: End of Game on YouTube\"
Doc has also had some great calls in New Jersey Devils playoff overtime games. The most memorable is Grant Marshall's series clincher against the Tampa Bay Lightning in the 2003 semifinals.
"MARSHALL IN OVERTIME!!! THE DEVILS WIN IT!!!"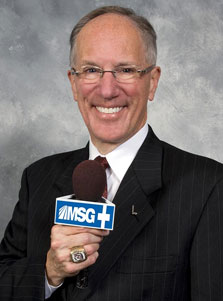 Mike Emrick is in his 28th year as a broadcaster and he is widely considered the best play-by-play announcer in hockey. Last year he was inducted into the Hockey Hall of Fame and he was awarded the Foster Hewitt Memorial award, for his exceptional contributions to hockey broadcasting.
I have lived in New Jersey for all of my life, and I have been lucky enough to listen to Doc call New Jersey Devils games for years. He is simply one of the best and is an overall great guy. You can find Mike walking around the Rock before games interacting with fans. He always makes time for the fans, which is rare to see in people who are well established. Mike "Doc" Emrick night was appropriate and was the right way to honor this great announcer.
In closing I would just like to say thank you Doc for everything you've done. Thank you for all the memorable moments, the great quotes, and for being a big part of New Jersey Devils hockey. Thank you Mike Emrick.