There is a never-ending conversation about the Senators' defence, especially their size and physicality. Many consider defending as one of their downfalls from the season, but I am here to tell you that personnel is not the issue.
The Senators, on paper, have one of the strongest defence groups in the NHL. Who lines up with who and how the coaching systems will optimize their skill set is still up for discussion, but the defensemen already in the organization are more than enough to take the team to the playoffs.
Sens' Three-Headed Monster
The Senators have three elite defensemen: Thomas Chabot, Jakob Chychrun and Jake Sanderson. Any one of these players could emerge as the Senators' number-one option for next season. Sanderson, who will be entering his sophomore season, has a true chance of taking a gigantic stride in his development playing with other players at this level. The expectation is that two of these three players will be paired together while the third plays with Artem Zub.
Thomas Chabot
Chabot has been the go-to d-man on the team since he broke into the league. After six seasons in the NHL, he is playing an average of 24:07 in ice time per game. That is much higher than most NHLers, and during the Senators' complete and total teardown, he was the only one to be a part of it all. He was on some of the weakest defence groups the team has seen and never complained. He is ready to win now.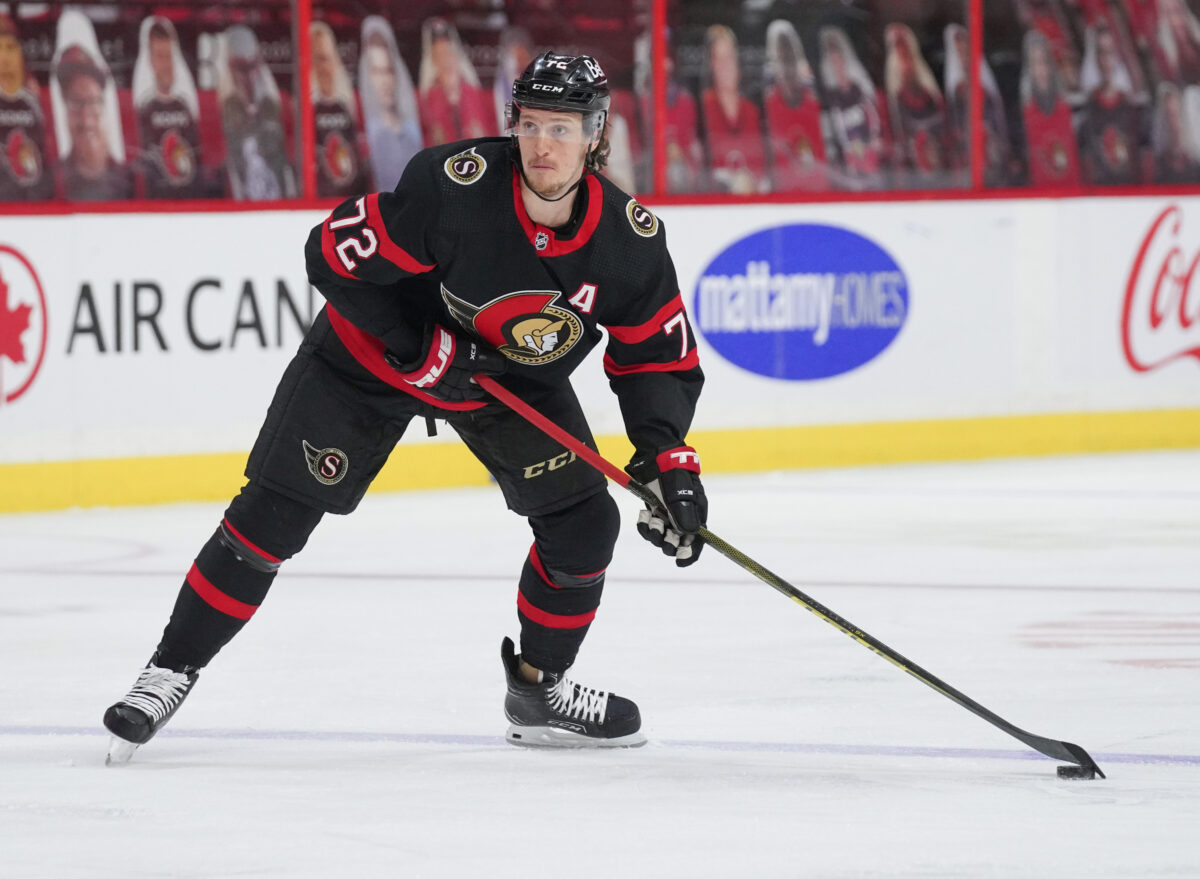 Chabot did have a bit of a complicated season, however. Many expressed frustration with his defensive efforts, and while much of it was warranted, it is also important to remember the positive traits he brings to his game. He is a consistent 40-plus point defenseman, and that's without playing a full season. He has a career point-per-game (PPG) average of 0.60, which equates to roughly 50 points in an 82-game season. He is a leader, and despite his defensive struggles, he puts his body on the line to block shots and isn't afraid to go to dirty areas. I expect Chabot to come in next season and play a much more consistent game.
Jake Sanderson
Sanderson had a phenomenal rookie campaign, and while he isn't getting as much Calder Trophy attention as he should, his efforts don't go unnoticed (from 'Why Owen Power and Jake Sanderson both deserve to be Calder Trophy finalists,' The Athletic, April 12, 2023). In my recent end-of-season poll, 83.1 percent of voters picked Sanderson as the best defenseman on the team. There was a lot of pressure on him to be an impactful top-four defender in his first pro season, and many of us had to temper our expectations because the bar was set high. But Sanderson saw that bar and flew right over it.
---
Latest News & Highlights
---
He was fantastic defensively, hardly giving the opposition any ice to work with, and he seemed to play odd-man rushes perfectly. His transition skills were among his biggest assets, too. Every time Sanderson had the puck on his stick in the defensive zone, he would make the right pass or use his excellent skating to carry it out, helping his team through the neutral zone and generating offensive chances. He will challenge the other two for the "Number One Defenseman" title for years to come.
Jakob Chychrun
It is still hard to wrap my head around the fact that Ottawa acquired one of the biggest names available at the trade deadline. Chychrun is an elite offensive defenseman with a highly underrated defensive game. He led all defensemen in the shortened 2020-21 season, with 18 goals in 56 games. Tallying 33 points in 48 games this past season marked another strong year for him, and he set a career-high in assists with 24.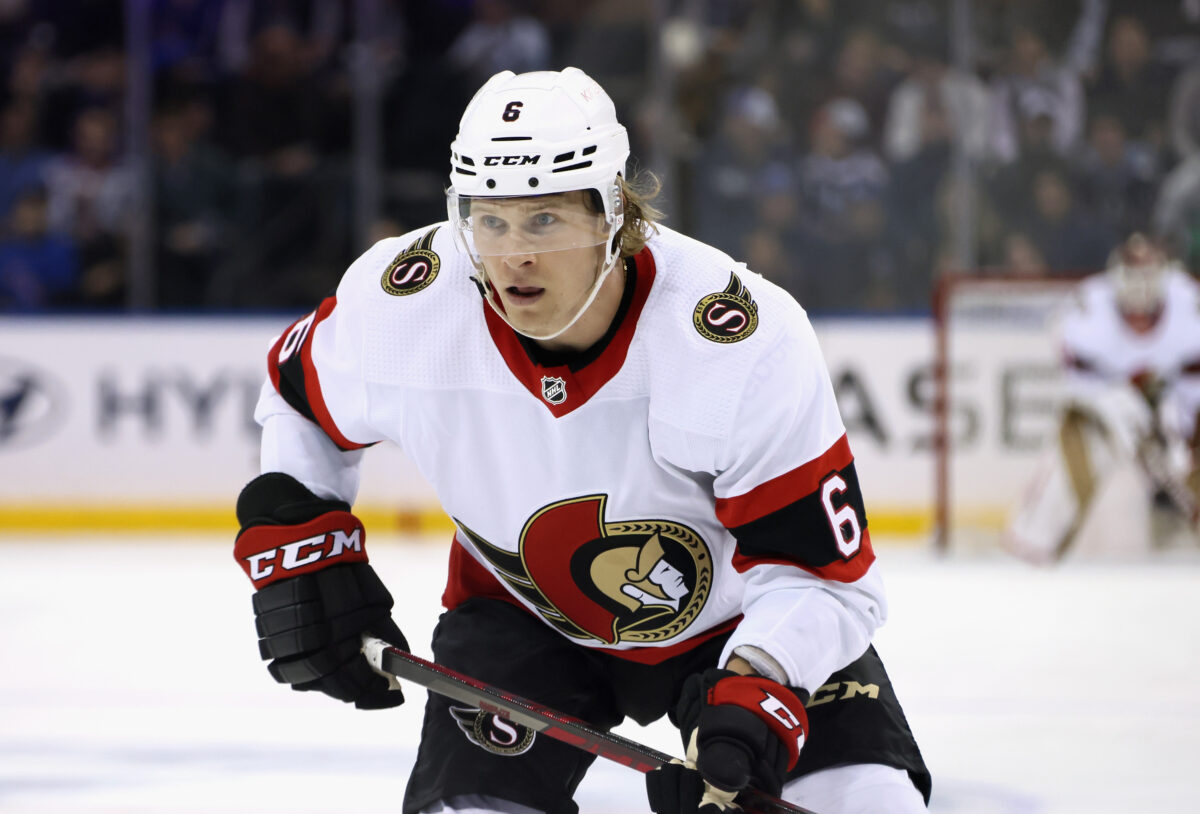 The biggest red flag is his health. In seven NHL seasons, he has only played more than 63 games once — in his rookie campaign. He averages just 55 games a season, and despite the shortened seasons included in that, it is still a concern. Chychrun is passionate about his diet, including raw heart and liver, and he spends most of the offseason training. It is important to him that he is in the best shape possible, and on a recent episode of Coming in Hot with Brent Wallace and Jason York, he expressed his frustration at missing so much time with injuries despite all of his efforts to avoid them.
Fourth Top-Four Defender
Zub is a fan favourite, with fans chanting "Zub" every time he gathers the puck on home ice. Even if it often sounds like he is being booed, he has said he really enjoys it. However, Marc Methot, on one of the most recent episodes of Locked On Senators, said:
Methot stated that Tyler Kleven's ceiling is much higher than Zub's and that Zub didn't always meet the level of expectations with his play. Methot then goes on to say that Zub's contract isn't going to age well and may end up on the third pair after his game levels out. Although some might hesitate to admit it, it's true, he was not as good this season as he was in 2021-22.
Injuries certainly got in the way of another strong year, and maybe he would have been better if he were in the lineup more consistently, but that is no excuse. Zub didn't have a bad season by any means, and some are blowing this comment out of proportion, but he needs to be better, especially fresh off signing a $4.6 million extension for four seasons. As of now, there should be no major concerns with his play.
Senators' Depth on Defense
The Senators have quite a few options for their bottom pairing, and some of them will make for pretty tough decisions. It will ultimately boil down to what kind of pairing had coach DJ Smith will want, but there are five defensemen who will be contending for those two spots, as well as the seventh defenseman.
Related: Ottawa Senators' To-Do List for 2023 Offseason
Former First-Rounders
Jacob Bernard-Docker has been getting better and better with each call-up. The 2018 first-round draft pick has taken a lot longer to get to this point than anticipated, but he finished the season on a high note, drawing in for six of the final seven games and playing his best NHL hockey to date. He is not waiver-exempt next season, meaning that if the Senators want to send him to Belleville, he will need to clear waivers first. Management won't want to lose him for nothing, so I expect him to be on the team in 2023-24.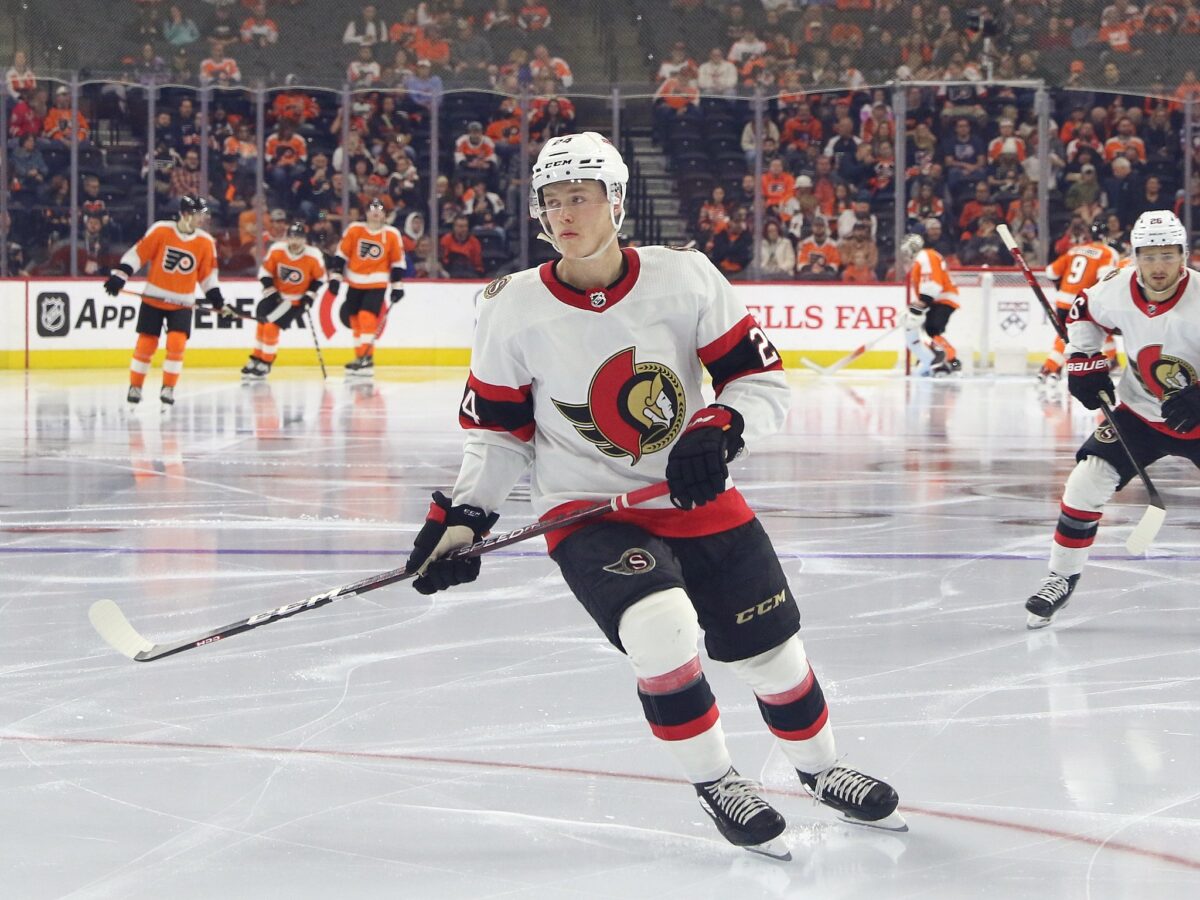 Similar to Bernard-Docker, Lassi Thomson is still in the organization and could look to join Ottawa's defensive group. His development hasn't gone according to plan, either. Taken one year after Bernard-Docker, Thomson, despite having some big moments, took a step back this season. His play in the AHL wasn't as good as the year before, but he is still just 22 years old and has shown plenty of promise. However, he needs to have a big summer and come into camp strong.
Erik Brannstrom
Having Erik Brannstrom on your third pairing is either a huge advantage or a huge disadvantage, depending on who you ask. There isn't much middle ground, as his game doesn't match up as a traditional shut-down third-pairing defender. He's missing size and can't play physically in front of the net, which makes defending difficult. However, analytics show that he was one of the Senators' best defenders this season, even if he is missing some elements to his game.
The flip side of the argument is that he doesn't need physicality to be effective. Brannstrom is a valuable asset to the team, and having him on their third pairing is a treat. He can move the puck very well, can defend well, even without being physical, and he is the perfect player to move up the lineup to fill in for injuries.
Travis Hamonic
Hamonic has been a very pleasant surprise on the Senators' blue line since he was acquired. He played alongside Sanderson and made the most of that opportunity; he was physical, a strong defender, and racked up a decent amount of points too. There is a lot of reason to be happy with his play, and as he becomes an unrestricted free agent, both he and the team seem interested in negotiating a deal for him to stay in Ottawa. He would make for a solid sixth or seventh defenseman, and there won't be many complaints if he returns.
Tyler Kleven
Tyler Kleven joined the Senators after his season in the NCAA with the North Dakota Fighting Hawks came to an end. He was given an entry-level contract and jumped into the Senators' lineup, quickly making an impact. His first shift in the NHL was a bit of a mess, but after that, it was all uphill.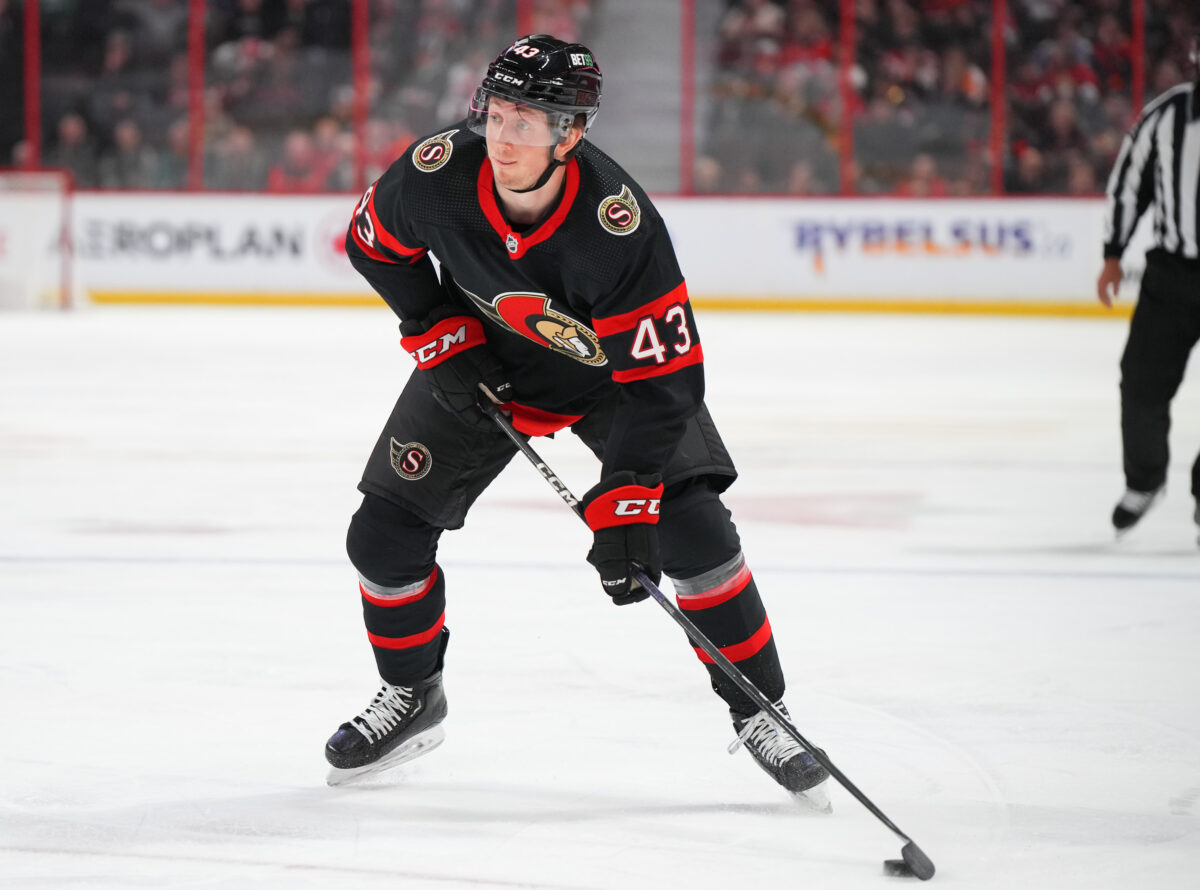 Once Kleven gained his footing, let the nerves leading up to his first NHL shift out, and got comfortable, he was excellent. His physicality is one of the biggest assets to his game — he will crunch anybody against the boards — but his defending is strong too. He knows how to get good positioning and use his size to reduce the opportunity for the opposition. He has a lethal shot from the point, which the Senators lacked until they added Chychrun and Kleven to the lineup. Kleven is waiver-exempt, so with so many players battling for a spot, he will likely start the season in Belleville. However, he will certainly give the other defensemen a run for their money when challenging for a spot.
Developing Defensemen
The Senators have nine defensemen vying for the NHL roster next season, but don't forget the developing prospects as well. Maxence Guenette, Jorian Donovan and Tomas Hamara have all shown signs of promise in their respective leagues. They could all pan out in the next few years, but for now, these are the nine to keep an eye on. The Senators don't need to look outside for additions. This group has what it takes to get the team to the playoffs in 2024.