Once the Ottawa Senators' season came to an end, I released a poll to get the input of the fanbase. There were plenty of people to give their opinions and thoughts, and this article is going to be focusing on sharing the results and breaking down each of the answers.
After a pretty successful season all around for the Senators, I released my player grades for each of the Senators with 20 or more games played, and that, along with these results, matches up pretty well to sum up the season.
On a Scale From 1-10, How Successful Would You Rank the Senators' 2022-23 Season?
Your Answer: 7 (40.4% of votes)
This was a bit predictable. As I mentioned, it was overall a successful season. It wasn't spectacular enough to get up into the nine or ten range, but with the team coming oh-so-close to meeting head coach DJ Smith's ambitious preseason goals, it was hard to rank them much lower.
The aforementioned goals that Smith set included a combined special teams percentage of 105. The power play finished at 23.5 percent, while the penalty kill was at 80.1 percent. Unfortunately, this didn't quite finish at the 105 percent that he hoped for, but it should be noted that before the fall-off in the final quarter of the season, the team was sitting around the 108 percent mark.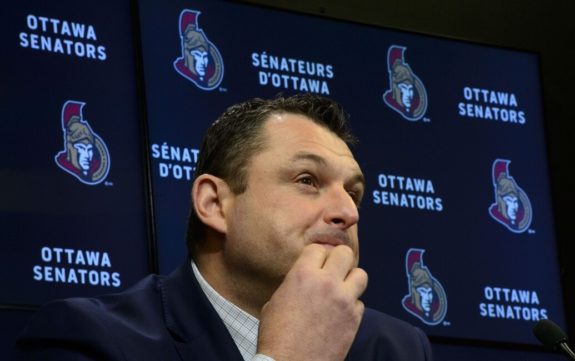 Another team goal that was set, which was more important than special teams totals, was playing meaningful games down the stretch. This was absolutely met, and while the odds were stacked against them, they weren't officially eliminated from the playoffs until their 78th game of the season. That is huge progress, however it makes it even more frustrating to look back at the performances against some of the bottom teams in the league, and their play in November.
Who Was the Senators' MVP in 2022-23?
Your Answer: Tim Stutzle (44.9% of votes)
2nd: Claude Giroux (34.8%)
3rd: Brady Tkachuk (16.9%)
I think this was a pretty easy answer, too. Tim Stutzle had an incredible season for the Senators, recording 90 points in 79 games. This total has him sitting sixth all-time in Senators single-season scoring. It felt like every second night Stutzle was recording multi-point games, and when it came down to crunch time, he was always on the ice. Whether it be centering the top line, killing penalties, or running the top power play unit, he was Smith's go-to guy up front.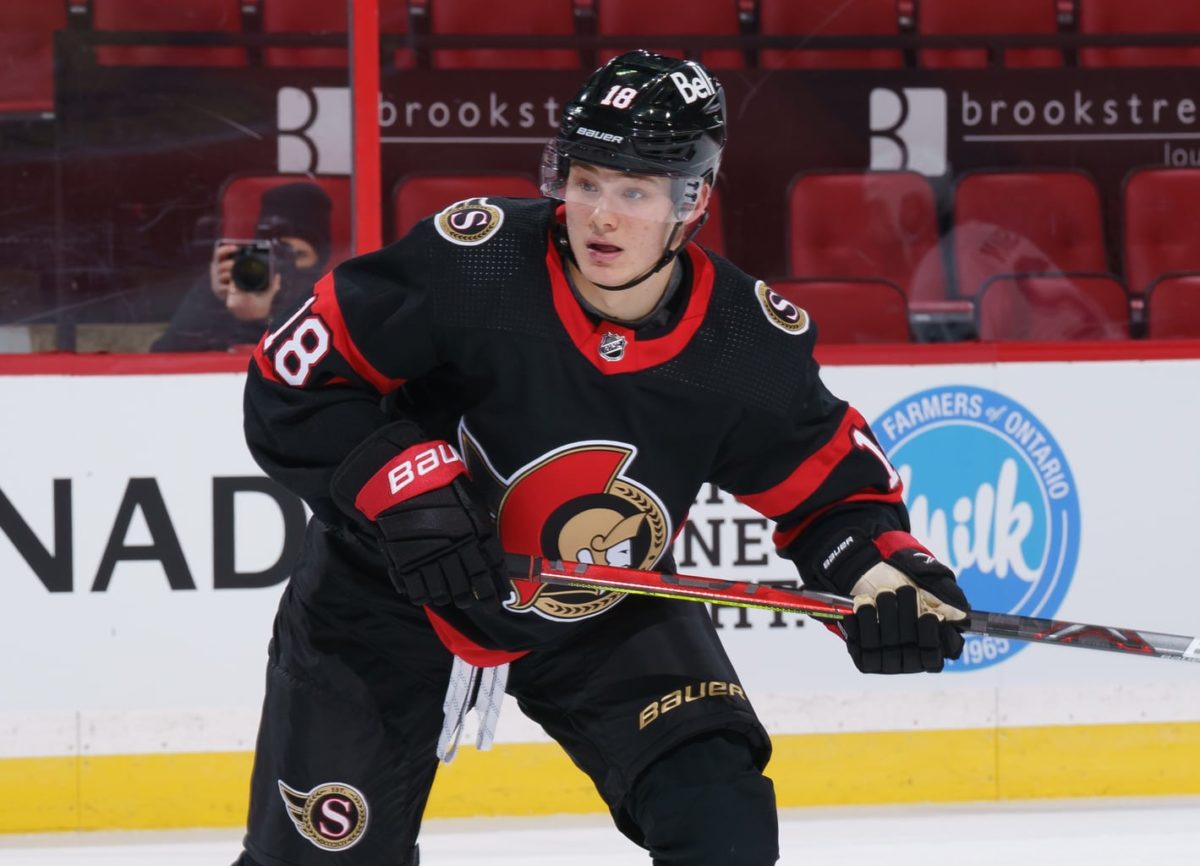 It was quite interesting to see Claude Giroux ranked second ahead of Brady Tkachuk. I don't disagree, but Tkachuk was the consensus pick before this season. Giroux came in with some expectations from all over the place. Nobody quite knew what kind of player we were going to see. Tying his career high in goals and one of his best career point totals certainly wasn't it though. His production just scratches the surface of his value and impact, which is where a lot of his votes likely came from. His veteran presence and leadership really helped Tkachuk out, not that he wasn't fit for captaincy before, but he never had a true role model to play with until now. He was always the guy. He also was a huge impact in the faceoff dot, filling in for Stutzle in many draws.
Who Was the Senators' Best Defenseman in 2022-23?
Your answer: Jake Sanderson (83.1% of votes)
2nd: Thomas Chabot (14.6% of votes)
3rd: Erik Brannstrom (2.2% of votes)
This was another no-brainer, and it is clear that the majority of fans are all on the same page. Sanderson had a phenomenal rookie campaign, and was the Senators' best defenseman (from 'How Jake Sanderson is becoming Ottawa's No. 1 defenseman – with help from Daniel Alfredsson,' The Athletic, March 17, 2023). He was their best penalty killer, he had the best two-way even-strength play, and when Chabot went down with an injury, he thrived on the top power play unit. While he may not get much consideration for the Calder Trophy, it is pretty safe to say that he played the biggest role on his team among all rookies, and is already contending for the top defensive option on a blue line consisting of Chabot and Jakob Chychrun.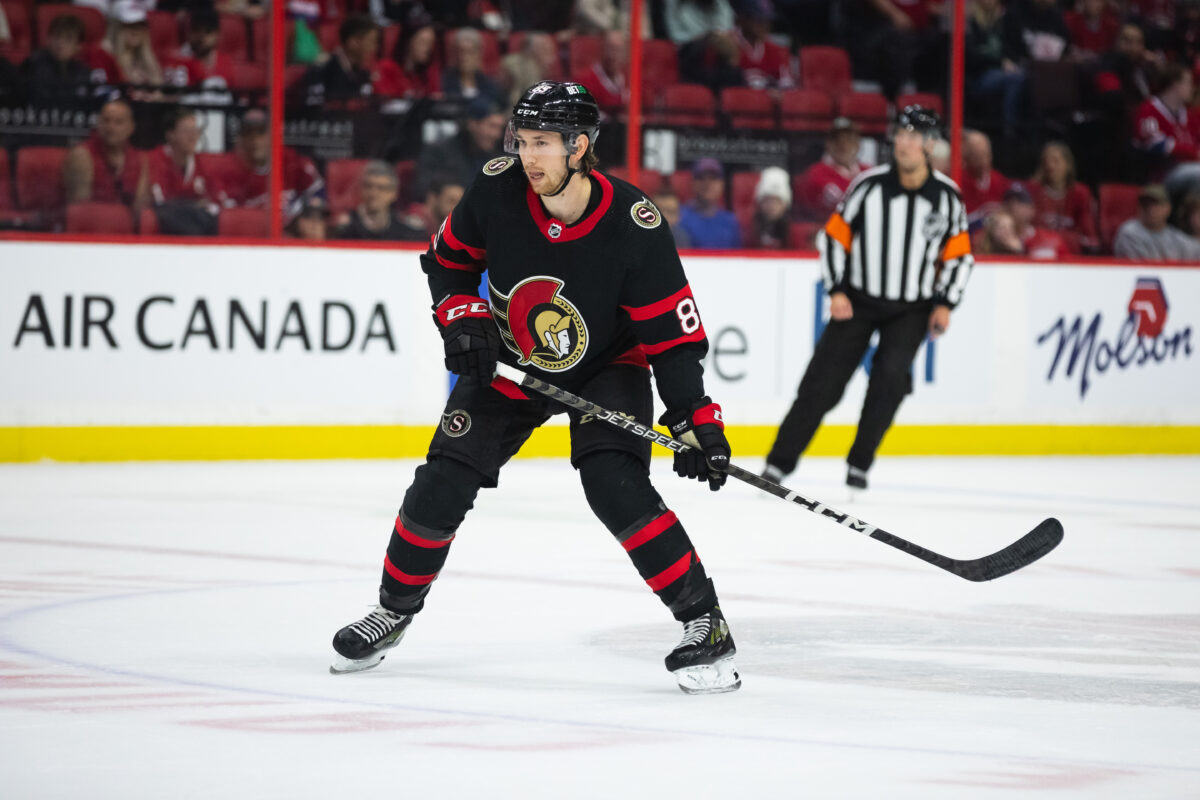 Of course, Chabot had to get some votes, he has been the number-one guy for a while now. He had a bit of a down year on the defensive end, but he does still deserve some credit. Erik Brannstrom earning 2.2 percent of the votes was quite interesting. I think it is worth giving him some love, but I don't agree with him being named the best defenseman. He had a fantastic year for his development, and I am really looking forward to seeing what his future looks like, but to say he was the best is a bit out there.
Who Was the Senators' Best Goaltender in 2022-23?
Your answer: Anton Forsberg (60.7% of votes)
2nd: Mads Sogaard (31.5% of votes)
3rd: Cam Talbot (7.9% of votes)
The most surprising thing about this was seeing Talbot get 7.9 percent of the votes. He was quite underwhelming this season. I think Forsberg is the correct answer here. He had the best stats, and while he struggled mightily during November, he was the only option. I can totally understand the love for Sogaard in this poll, but he had the worst numbers out of the three. I still would have voted him over Talbot, as Sogaard was the go-to guy while the Senators were in their final stretch hoping to sniff the playoffs.
Talbot, on the other hand, really fumbled when it came down to crunch time. He was given some chances after returning from injury at the tail end of the season, and put up some of his worst performances of the season when the games mattered most. His play resulted in the Senators not giving him and his agent much wiggle room for re-signing, and he will be moving on from the Senators organization this offseason.
It will be interesting to see how Forsberg recovers from his injury, as he tore his MCL in both legs. That can be a tough situation to come back from. As of now, Forsberg and Sogaard are the projected goalies for next season, but that is subject to change.
On a Scale of 1-10, With 10 Being the Most Confident, How Confident Are You in DJ Smith Leading the Senators' Coaching Staff Headed Into 2023-24?
Your answer: 5 (28.1% of votes)
Truthfully, I am surprised the most popular vote was five. I expected it to be much lower, given the outcry for his firing at many points this season. Admittedly, there were times that I thought a coaching change was needed, and while that may be true, I am more open to Smith returning than I was last offseason.
Related: Senators Should Consider Coaching Change
---
Latest News & Highlights
---
The players all publicly supported Smith and expressed their appreciation for him as a coach on several occasions this season. The guys all love playing for him. But is having a likable coach the only important factor? Not at all; but it plays a huge part in getting the team to buy into the system (which may be the coach's biggest issue), and when you have one you enjoy playing for, and will openly support as often as this group has, it has to mean something.
An interesting addition to the story of Smith's job comes from Pierre Dorion's press conference to end the season. The way he talked about him and his position sounded as if it was past tense. He and Smith indicated that as far as they both know, Smith is still the guy for next season, but the way Dorion spoke was thankful and as if his position was uncertain.
On a Scale From 1-10, With 10 Being the Most Confident, How Confident Are You in Pierre Dorion as General Manager of the Senators?
Your answer: 7.5 (20.2% of votes for 7 and 8)
After the "Summer of Pierre" title that was given last offseason, and adding on the departure of Nikita Zaitsev and acquiring Chychrun, it is clear that Dorion is doing everything in his power to make this team competitive, and the confidence from the fanbase has reflected well with this poll result. A year ago to this day, I would expect the answer to have been closer to four, but moving forward, there are a lot of reasons to have confidence in him moving forward.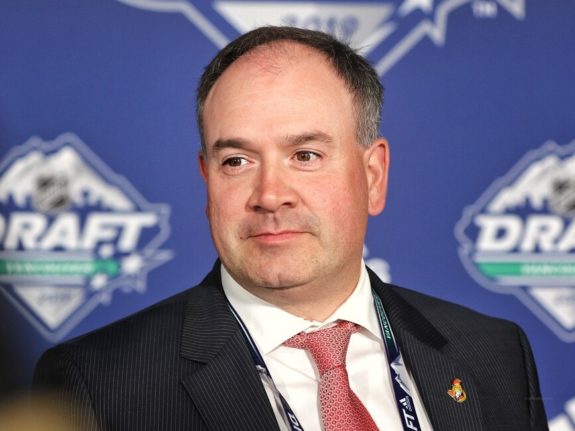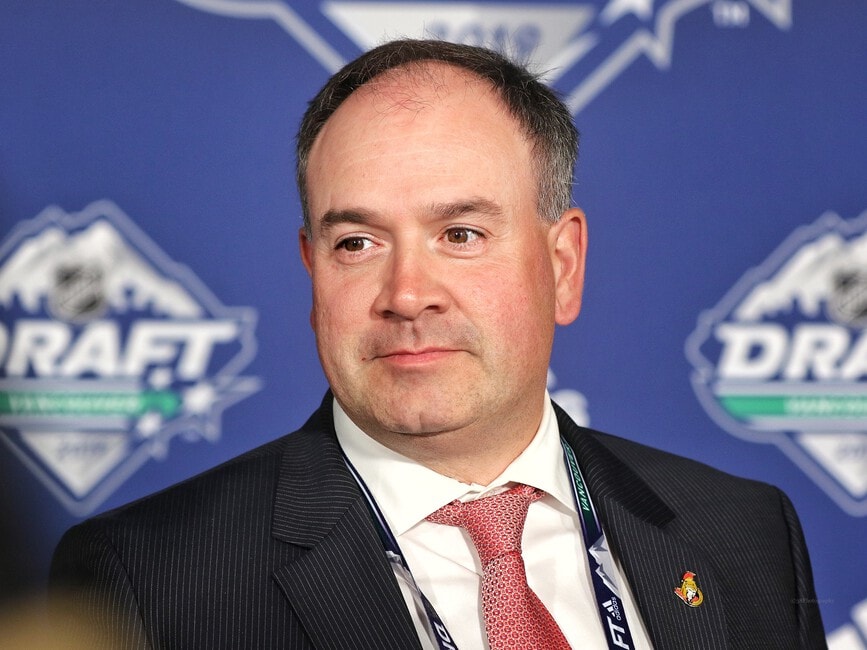 Like Smith, his future may be up in the air with new ownership coming into town, but until the sale is finalized, which could take longer than many expect, it is safe to say his job is safe.
In the 2023 Offseason, What Area of the Team (Outside of Ownership, of Course) Needs to Be Improved/Resolved the Most?
Your answer: Goaltending (55.1% of votes)
2nd: Coaching (18% of votes)
3rd: Bottom-Six Forwards (14.6% of votes)
Goaltending is the obvious answer here. Now, with the injuries the Senators had, it is hard to fix that with just a signing or trade, as teams aren't typically worn down to seven goalies in a season (from 'The Ottawa Senators call on prospect goalie Leevi Merilainen with Sogaard sick,' Ottawa Sun, April 2, 2023). But, when healthy, their goaltending just wasn't good enough. There were games when the team deserved to win, but the goaltending let them down, and there weren't too many occasions that a goaltender stole them a win.
With Smith getting a five in the question about confidence in the coaching, I am surprised that 18 percent of the votes went that way, though I do understand. The bottom-six certainly needs an upgrade too. A healthy Josh Norris will help push some players back down into the bottom-six, but they do need to improve. One more solid middle-six winger to the lineup would really solidify that spot, and clean it up nicely.
Moving Forward, Who Will Be the Biggest Addition to the Team's Future That Was Made During the 2022-23 Season?
Your answer: Jake Sanderson (59.6% of votes)
2nd: Jakob Chychrun (20.2% of votes)
3rd: Claude Giroux (12.4% of votes)
This was a bit of a tricky one, and while I am not surprised Sanderson ended up on top, it was by a larger gap than I anticipated. The options of Sanderson, Chychrun, Giroux, DeBrincat and Pinto were all new additions to the team over this season, and while they were all added in different ways, they each had some significance to the on-ice impact.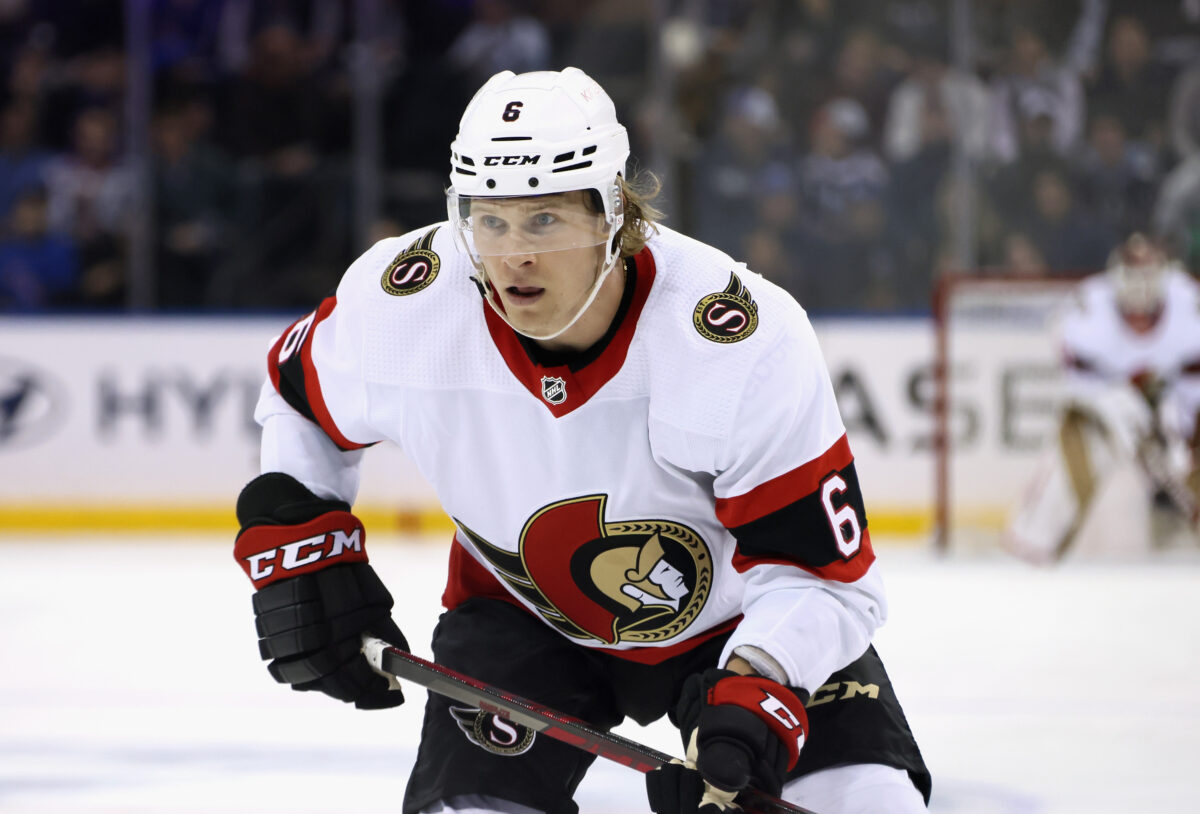 Chychrun and Giroux being second and third isn't surprising, though if Alex DeBrincat's contract situation was handled prior to this vote, I expect he would be challenging for a top-three spot here. We already talked a lot about Sanderson, and for all of the same reasons that he was their best defenseman in his rookie year, he will likely end up as the biggest on-ice impact of this crop of players, though a healthy season from Chychrun may challenge this spot.
With the Future of Alex DeBrincat up in the Air, What Would You Prefer the Senators Do With the Situation?
Your answer: 8x$8.25 million contract (40.4% of votes)
2nd: 4x$8.75 million contract (24.7% of votes)
3rd: Trade DeBrincat for roster player(s) (16.9% of votes)
This was purely a hypothetical, fun question to throw in at the end here with DeBrincat's contract situation up in the air. I have no information on what a four or eight-year deal might look like, but I took my best guess at the most realistic number that Dorion and DeBrincat's representatives may come to. The long-term deal taking the top vote was pretty predictable, but I must say, with the four-year deal being so close I was surprised.
The Senators should be doing everything they can to get him locked up, and Dorion stated that DeBrincat's intentions will be made clear before the draft so a decision can be made. He is due a one-year, $9 million qualifying offer, and the worst-case scenario is him accepting that and then he expresses interest in the unrestricted free-agent market, taking all of the leverage away from Dorion to make a deal work out. It will look foolish if the team is contending for a playoff spot next trade deadline and have to sell low on a proven 40-goal scorer.
Questions, Thoughts and Comments on the Senators' Season
To close things out, here are a couple of thoughts, comments, and questions left by some of the people who took the poll:
Questions:
Is [Anton] Forsberg good enough to be our #1?
In a strong tandem, yes. I don't think he can be a number-one goaltender that plays 55-60 games, but in a tandem with a productive goaltender that can split the season, he can absolutely be a 1A goaltender.
Comments:
"We were basically 3 wins from making the playoffs. Considering the lack of goaltending, injuries to key players (Norris, Chabot, Chycrun, Hamonic, Zub, Forsberg and Talbot) and the slow start to the season, next year should, by all accounts be a much better year!"
"New owners [Anna and Olivia Melnyk] changed the culture. [Dorion] re-signed Norris & Stutzle, Giroux was a great signing. Fans re-engaged and returned. Good young rookies, [Chychrun] was acquired. Meaningful games in March, and Ryan Reynolds would be a marketing dream. This year exceeded expectations. Playoffs were not realistic, next year, hope so"
Thanks For Participating!
This was a lot of fun. Having input from a wide range of fans is always fun to sift through, get some different opinions, and figure out what the general vibe is. Most of the results were pretty positive, and it is a great time to be following this team.
Thank you for all of your participation. I look forward to doing more things like this in the future to get some more input from everyone!
---
---