The Ottawa Senators' season was a bag of mixed emotions, and while they fell shy of the playoffs, there are plenty of positives to take away. The young players took big steps forward, general manager Pierre Dorion added some key pieces to the lineup, and even through major injuries, the Senators were able to make the best of their situation and showcase some young talent.
Here is a letter grade for every player that played at least 20 games for the Senators this season, their season stats, and a bit of a rundown on how their season went and why they were given their grade. Each grade is entirely subjective to the situation they were in and reflective of their outcome based on the expectations at the beginning of the season. If two players that had very different production levels get an A, it doesn't mean they are the same value. Rather, it is based on how they performed on their expectations.
Forwards:
Tim Stutzle: A+
78 GP
39 Goals
51 Assists
90 Points
Tim Stutzle was given first-line center duties for the season, and he took the opportunity and ran with it, collecting 90 points on the season, good enough for the sixth-best point total in Senators history. At just 21 years old, Stutzle has emerged as a true superstar for the team, and there is a strong argument to say that he is their most valuable player.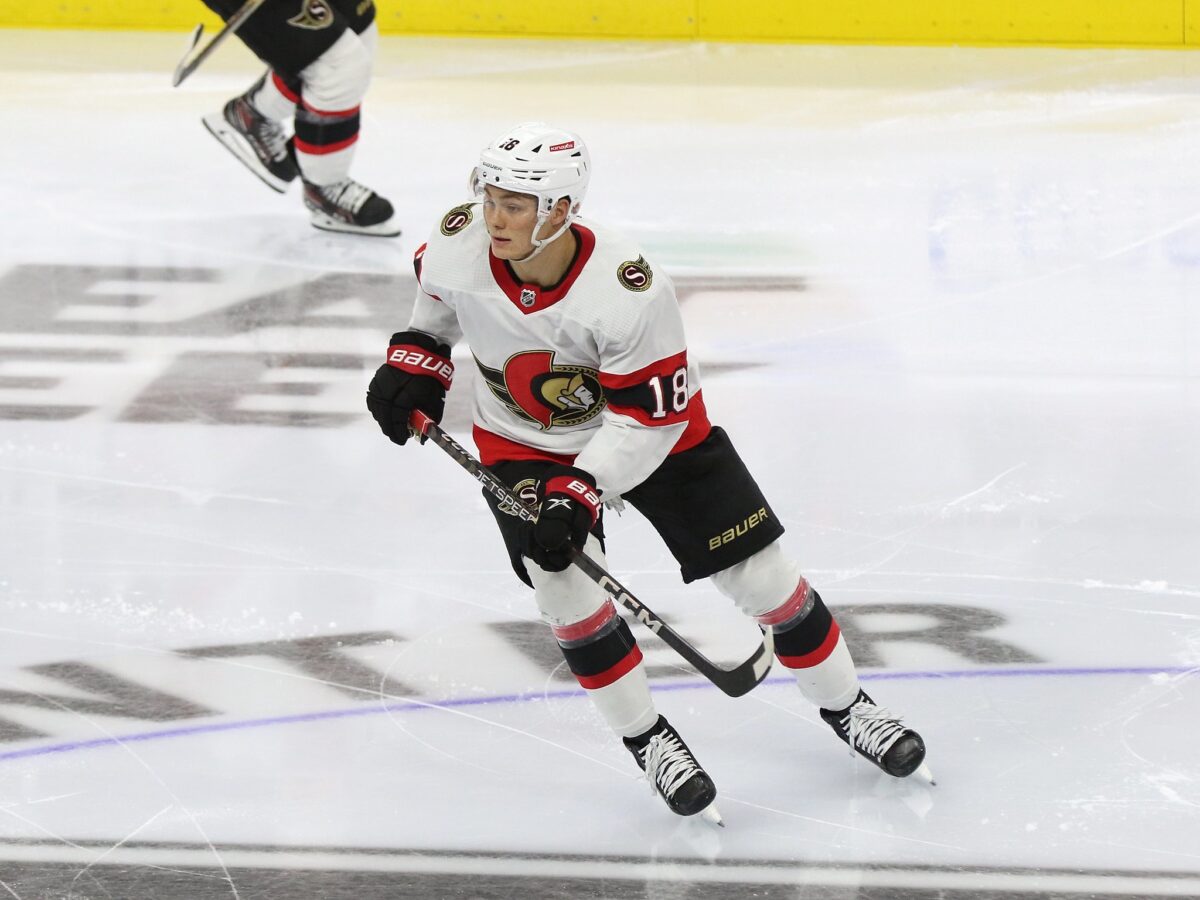 Not only was Stutzle given top-line duties, but he also spent time running the top power-play unit and killing penalties. Head coach DJ Smith clearly has a high level of trust in the young star, and with Brady Tkachuk and Claude Giroux on his wings, he centered the second-best line in the NHL in terms of expected goals percentage (min. 400 minutes, per Money Puck). Everything about Stutzle's season screams A+, and this may be the easiest grade to hand out for the entire roster.
Brady Tkachuk: A
82 GP
35 Goals
48 Assists
83 Points
Tkachuk also took quite a leap forward this season, recording over a point per game for the first time in his career while maintaining his physicality, leadership and gritty play style. That all amounts to quite an impressive season. Brady is one of only two players in the NHL with 75+ points and 100+ penalty minutes, with the other player being his brother, Matthew. The Tkachuks are two of a kind, and with Brady's elevated production levels, it will be exciting to see if he can take another step next season.
Some other stats worth noting are that Tkachuk finished second in the NHL with 46.9 expected goals, 11th in hits with 242, third in shots on goal per 60 minutes, and the list could go on and on. His analytics support his success, and he is able to drive plays all of the time. There aren't too many negative things about his game this season. He had fewer unnecessary fights and more discipline, and with the addition of Giroux, you can see the impact that is making to help develop his leadership.
Claude Giroux: A+
82 GP
34 Goals
44 Assists
79 Points
After just one season with the Senators, Giroux might already be the best free agent signing in the team's history. Not only did Giroux have a stellar offensive season, matching his career high in goals and posting his fifth-highest point total, but his faceoff talents, leadership and experience certainly came into play.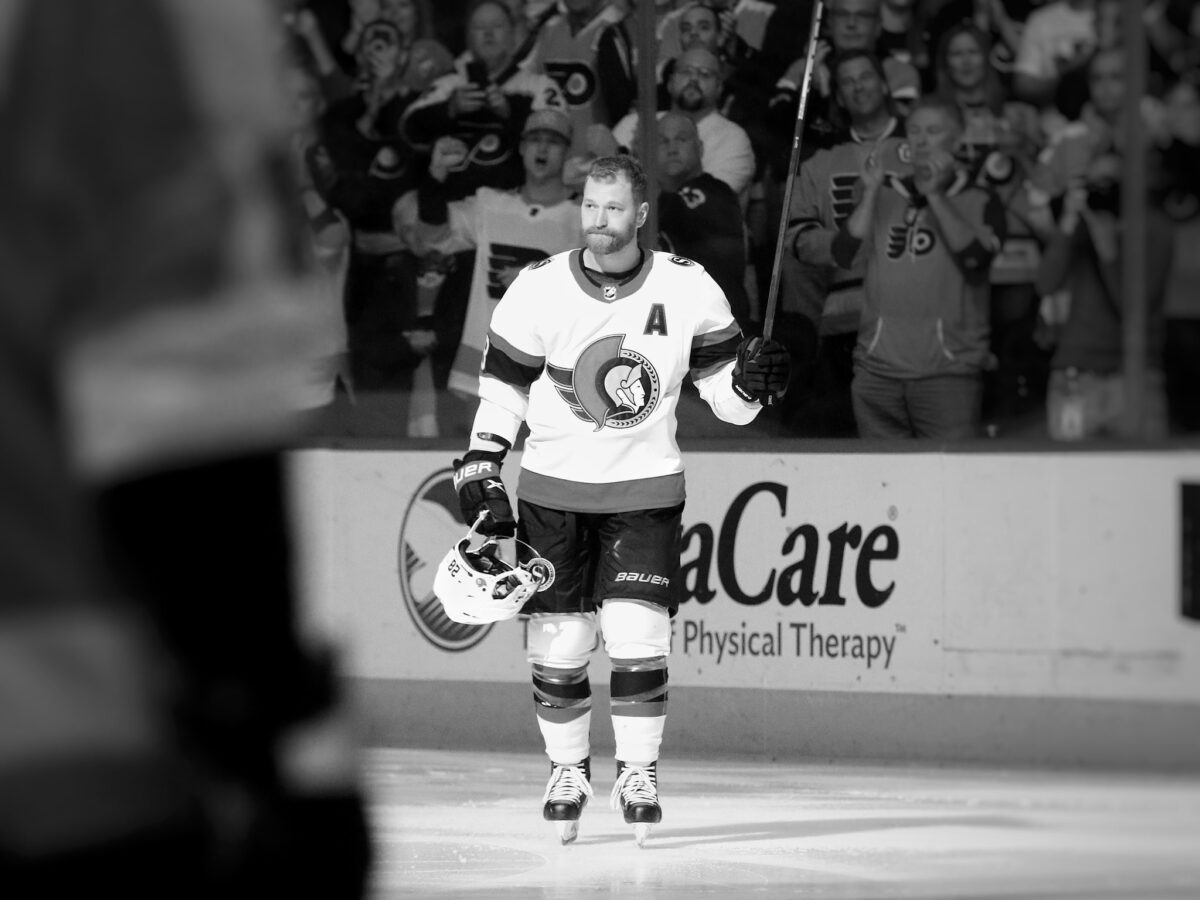 On the top line with Stutzle and Tkachuk, Giroux quickly found a home and was extremely successful. While everybody was excited about his arrival in his hometown, nobody expected him to be this good. Registering his 1000th point, showcasing his leadership on the ice, on the bench and in practice, Giroux's presence had a great impact on the whole team, but also Tkachuk, as he was able to help him develop into a stronger leader than before.
Alex DeBrincat: B
82 GP
27 Goals
39 Assists
66 Points
While some may look at Alex DeBrincat's season as underwhelming or disappointing, there are plenty of positives to take away from his play as a Senator. Though the question about his contract and future are very important, they do not play a role in this grading, as this is just based on this season's performance. While he was advertised as a 40-goal scorer, which he very much is, it is difficult to transition to a new team with new systems and continue that level of success right away.
While some will look at a quote like this and immediately place blame on DJ Smith, you also have to look at how many scoring chances DeBrincat had and didn't capitalize on. There were plenty of wide-open nets that DeBrincat hit the post or missed the net on, and if he had scored on even half of those, he would have had at least 35 goals. While some are more than fair with their coaching criticism, it isn't the only reason for his struggles.
I also find it funny that we are talking about 27 goals and 66 points as a struggling season. As I mentioned, getting used to a new team is tough, and all stats point to this being an outlier of a season, and he is bound to improve. DeBrincat was still a very valuable asset to the Senators' top-six.
Drake Batherson: B-
82 GP
22 Goals
40 Assists
62 Points
Drake Batherson had a decent season, but not quite up to the level of play many hoped to see. His production levels were not a huge issue, but when you break it down to power play and even strength, that is where some issues arise with Batherson. His 5-on-5 stats were significantly lower than his power play stats, which isn't a terrible thing. At least the production was there.
Batherson acknowledged that he was still struggling with some lingering effects of the high-ankle sprain he suffered last season, saying he was slowed down by it for the first 60 percent of the season. Considering his decent level of production, despite that, he didn't have a bad year offensively. Defensively, however, Batherson was in contention for the NHL's green jacket, finishing with a plus-minus of minus-35 on the season, the fifth-lowest total in the league. There were certainly some stretches of the season that Batherson was rightfully criticized for, but all in all, it wasn't a bad season by any means.
Shane Pinto: B
82 GP
20 Goals
15 Assists
35 Points
In his official rookie season, Shane Pinto was given the duties of centering the second line. It wasn't the best fit for Pinto, as his play was significantly improved when he was placed on the third line and given lesser responsibilities. For a rookie campaign, there is not much to complain about. He was chipping in offensively, and while some may have been in spurts, he still put up solid totals while being defensively responsible.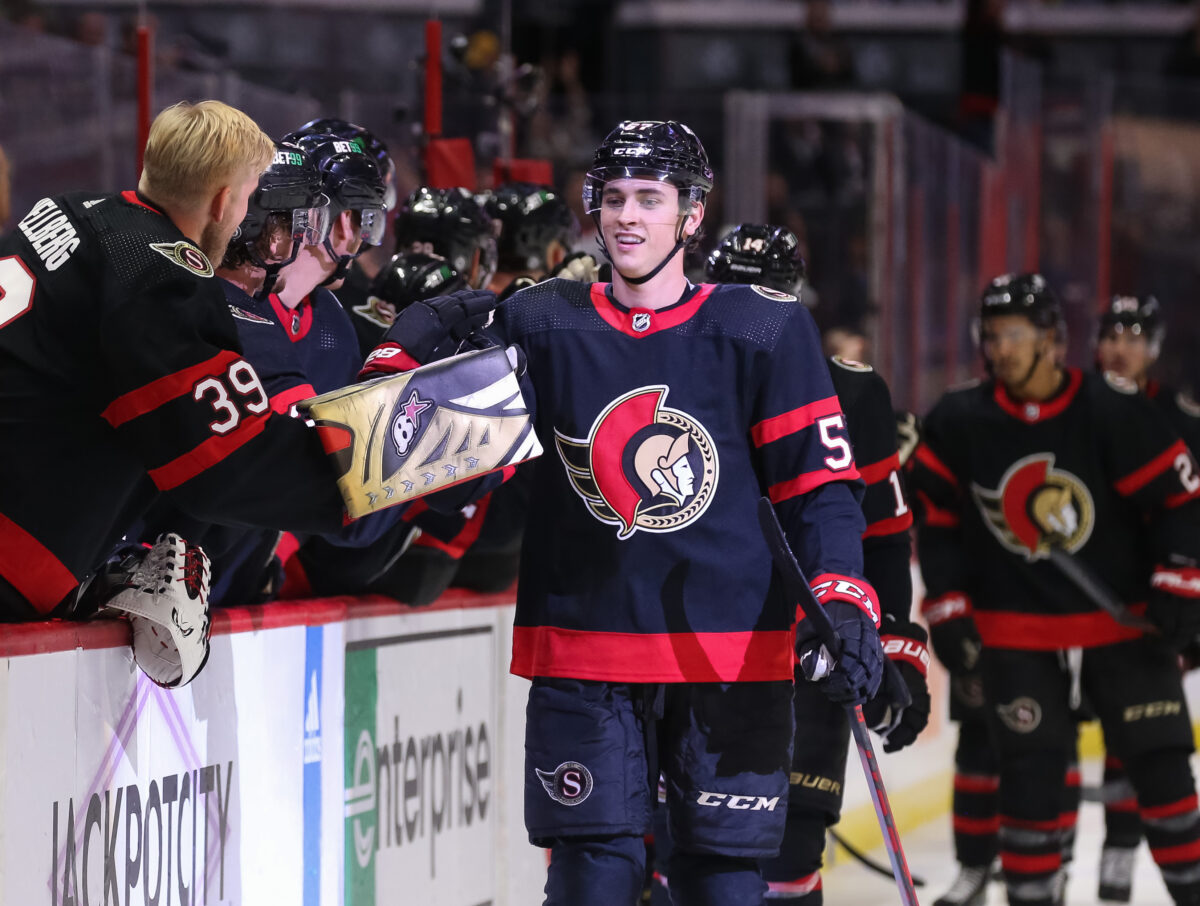 It is tough to say that the third line is going to be Pinto's ceiling after just one season, but if he can continue to develop and play like this behind Stutzle and Josh Norris, the Senators have some very strong center depth for many years to come.
Ridly Greig: B
20 GP
2 Goals
7 Assists
9 Points
Ridly Greig was called up at the tail end of the season after some more injuries struck the Senators, and he made the most of his opportunity. He instantly found some chemistry with Giroux when Smith decided to go with a mix-up in the top-six, and Greig slotted in nicely on the second line. He played disciplined hockey during his time in the NHL, collecting just six minor penalties, most of which were stick infractions. If Greig can make the team out of camp for next season, he will likely play alongside Pinto on the third line on a healthy roster.
Greig has the capabilities to become a very effective agitator with high skill upside for the Senators. This taste of NHL hockey will be great for his development, and he performed very well in his small sample size.
Derick Brassard: A-
62 GP
13 Goals
10 Assists
23 Points
Derick Brassard joined the Senators on a professional tryout (PTO) just ahead of the NHL season. And while some were skeptical about bringing him back in at his age and current level of play, he surpassed all expectations that were placed on him. He was a very effective third-line player and was able to hop into the top-six when need be. Not that it was ideal to have Brassard playing that high in the lineup, but he still made it work.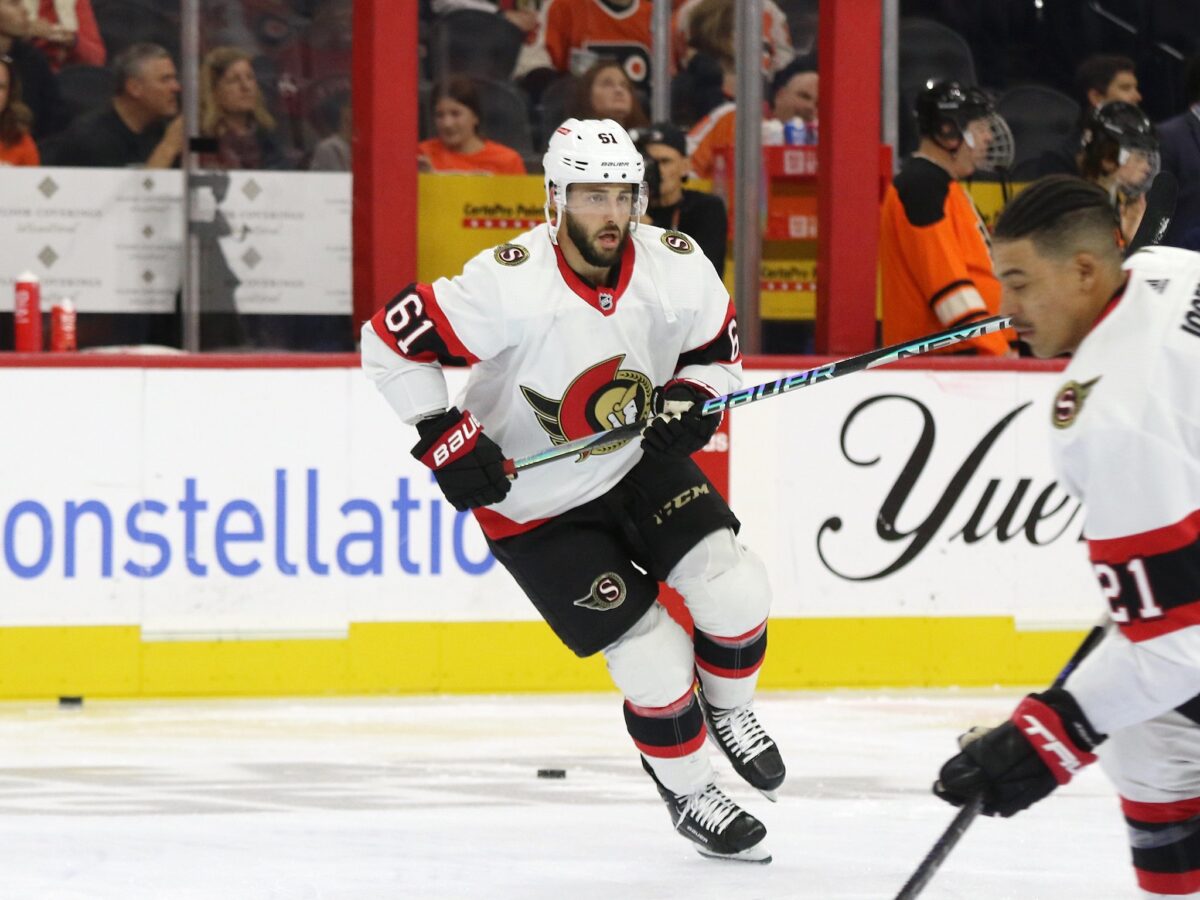 Many fans are hoping to see Brassard come back next season in a depth role again, as he provided some strong stability in the struggling bottom-six.
Related: 4 Senators That Need To Come Back Next Season
After suffering a pretty ugly-looking lower-body injury, Brassard's future is still to be determined. But with the way he played this season, if he wishes to continue playing hockey, he won't have any trouble getting a contract.
Mathieu Joseph: C-
56 GP
3 Goals
15 Assists
18 Points
While it was unrealistic to expect Mathieu Joseph to produce at the point-per-game rate he did with Ottawa last season, I think it was fair to expect more than we saw this year. With no even-strength goals and only 12 even-strength assists, he was part of the Senators' even-strength scoring issues. He was slotted in on the third line for the majority of the year and was supposed to be a productive two-way player. And while his point totals in the rest of his career didn't point to much more than we got, the expectations were higher on him.
Defensively, Joseph was fine. That was not the problem at all, but he really struggled to score. After signing a four-year deal worth $2.95 million annually, he may be a candidate to be moved to clear out cap space. I think Joseph can still be effective in the Senators' bottom-six, and maybe the inconsistent flow of linemates messed with his game, but he needs to be better next season.
Austin Watson: C+
75 GP
9 Goals
2 Assists
11 Points
Austin Watson did exactly what he was supposed to do this season. He was a consistent fourth-line grinder who could go on the ice and wear down to opposition. He had a few nice goals, which was a cherry on top. And while he isn't looked at for points, it would have been nice to see him tally a few more assists than he got this season.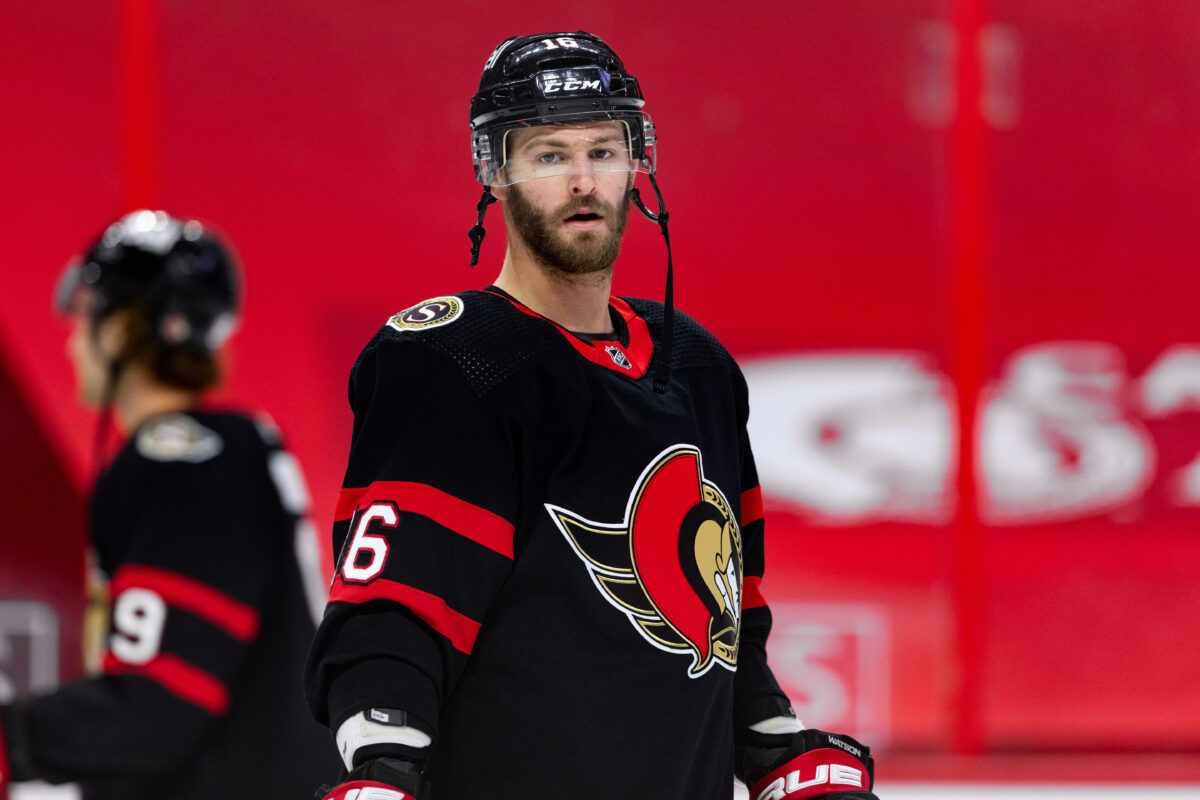 Many look at Watson and talk about his inability to win fights and wonder why he is even in the lineup if he doesn't win them. But winning fights isn't the only factor he brings. The energy that comes with Watson fighting, blocking a shot, laying a hit, and anything else he does rallies the team. There are a few cases you could point at and say that he did something to take away the team's momentum. But for the most part, the energy Watson brings is very valuable to the team, and he could return on a cheap deal.
Mark Kastelic: B-
65 GP
7 Goals
4 Assists
11 Points
Mark Kastelic made the most of his opportunity in a fourth-line role, and while he was only averaging just under nine minutes per game, he had some pretty impressive impacts on some games. His production wasn't excellent, but he was a great shutdown center who played a physical game.
---
Latest News & Highlights
---
He was one of the best at faceoffs in the league this year, finishing with the 15th-highest percentage at 56.9 percent. This is a crucial aspect of a fourth-line role, and he was great there. The puck did seem to die on his stick at many points, but when deployed correctly, Kastelic was one of the most valuable players to play on the Senators' fourth line.
Parker Kelly: D+
55 GP
1 Goal
3 Assists
4 Points
There was a lot of excitement about Parker Kelly joining the Senators full-time this season, as he had a great rookie year last season. His production wasn't close to what he did last season, and he didn't seem to bring the same kind of energy on the ice either. Kelly can still be an effective part of the fourth line, especially if his game reverts back to the way it was before.
He was a physical presence, recorded a lot of hits, and was always in the middle of things when a scrum was breaking out on the ice, but something about his game was missing this year.
Dylan Gambrell: C+
60 GP
4 Goals
6 Assists
10 Points
Dylan Gambrell was a solid bottom-six center for this season, and whether you look at this as a positive or not, nothing really happened when he was on the ice, which is what his job entailed. He was defensively sound and didn't allow much to develop in his own end, but there wasn't much offense being generated with him on the ice at all. Playing mostly third-line minutes, he was playing in a role bigger than his capabilities.
As a fourth-line player that can rotate in and out of the lineup, he is a fine asset. He didn't have any fun moments like when Norris borrowed his helmet to score a game-winning goal or anything, but he was generally a reliable player to throw on the ice when the top guys were catching their breath.
Defensemen:
Thomas Chabot: B+
68 GP
11 Goals
30 Assists
41 Points
Thomas Chabot received a lot of criticism throughout the year for moments of sub-par defending, but many overlooked his strong offensive production. On pace for a 50-point year, he seemed quite comfortable jumping up into the play and joining the rush this year. Chabot had plenty of exciting coast-to-coast plays resulting in goals or high-danger chances. His defense wasn't as bad as people made it out to be, but when he does make a mistake, it is typically an obvious one.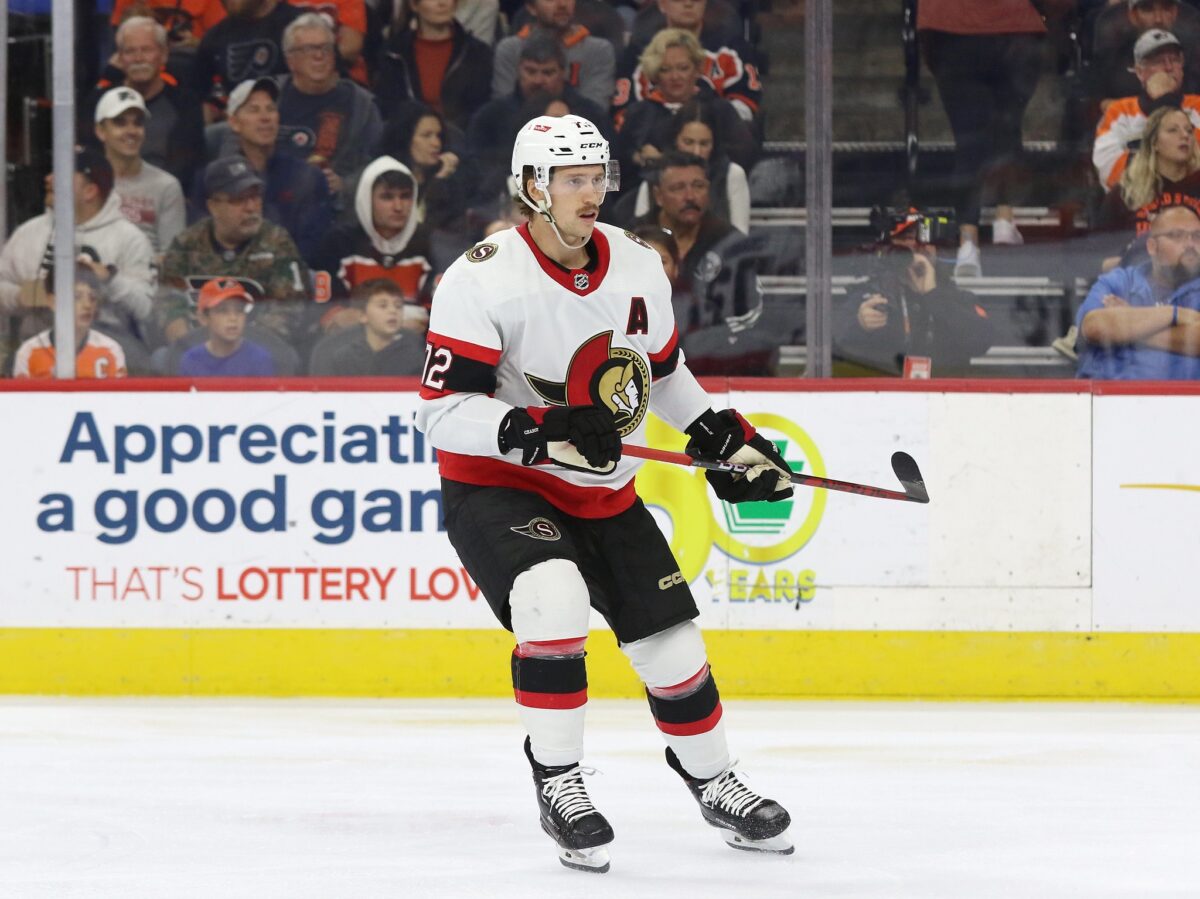 At points, people were talking about trading Chabot and having Jake Sanderson take over as the number-one defenseman, but Chabot still plays an extremely important role on this team. His offensive play certainly comes at a cost of some defensive play, and he did make some poor decisions at times, but it is easy to overlook the positives. He went down with a season-ending injury just as he was starting to develop a great two-way game, but this season was far better than how some people may describe it.
Jake Sanderson: A+
77 GP
4 Goals
28 Assists
32 Points
Sanderson joined the Senators to play his first career NHL game this year, and he quickly became one of the team's best defensemen. He is such a smooth skater who always seems so calm and collected. He doesn't make many mistakes, and his six minor penalties are extremely impressive for a rookie defender. Sanderson likely played his way into the rookie of the year conversation and had a very similar season to first overall pick, Owen Power, and Sanderson played a bigger role as well as producing better defensive analytics.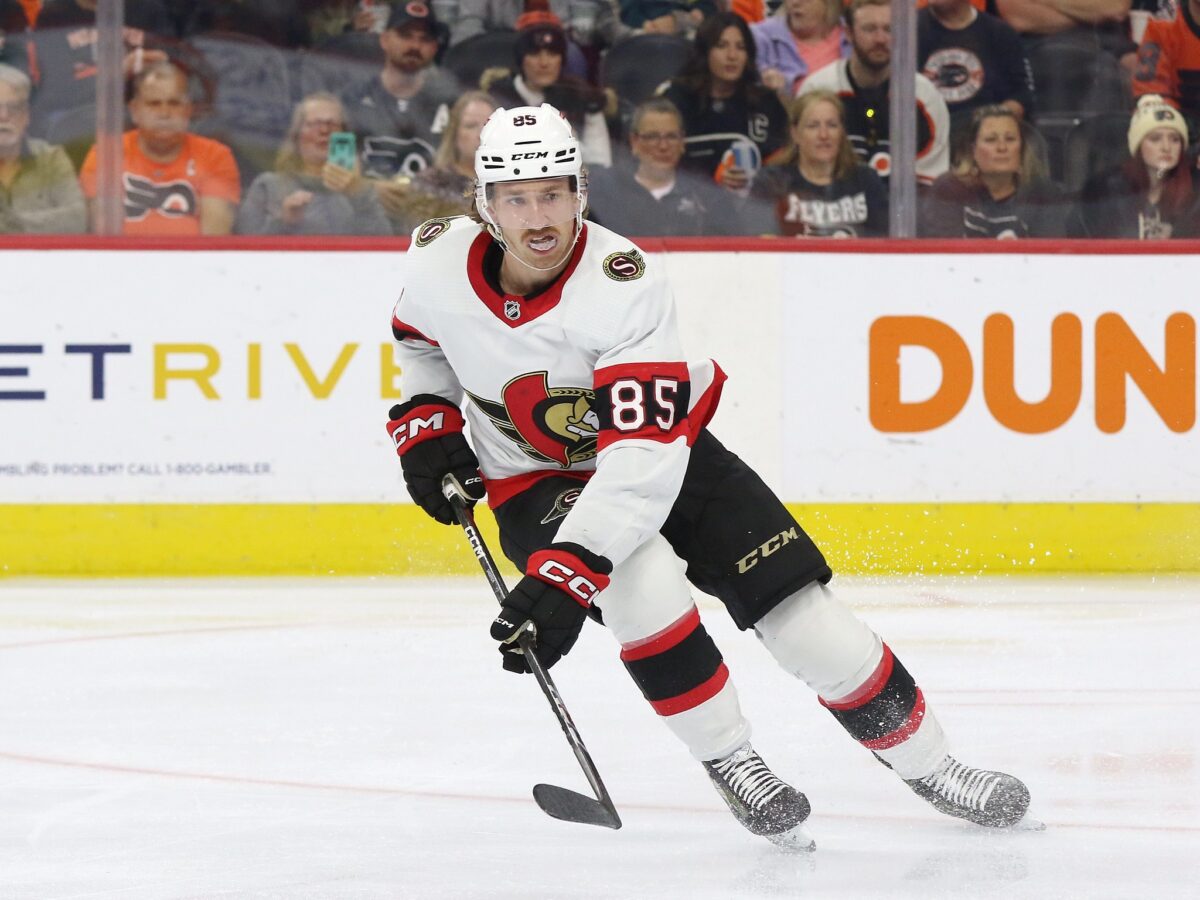 Sanderson does a lot more than just defend well. With Chabot injured, Sanderson took over as the go-to guy for all situations. He led the defense in even strength, power play and penalty-killing minutes with Chabot out. Before the season, it was easy to get overly excited about how he may be the solution, but it wasn't fair to place that kind of expectation on him right away. He quickly showed that he was ready for that kind of pressure and excelled in his first season in the NHL.
Artem Zub: B-
53 GP
3 Goals
7 Assists
10 Points
Artem Zub was the second-best defenseman last season. This year, he was far from problematic, but his play wasn't quite at the same level as before. He still had some really good defensive numbers, and his offensive metrics, while taking a step back, were still good. However, he took a lot of unnecessary penalties and iced the puck a lot more this season. He wasn't in the lineup consistently, as he missed time on multiple occasions with injury, so that could have been a factor.
Everyone was hoping for him and Chabot to excel together as a pair, but with both having slightly down years, it didn't look well on the eye test at times. Don't get me wrong, Zub is very much still a top-four defenseman, and his contract extension is still a good value. But he didn't have quite as good of a year as most expected.
Erik Brannstrom: A-
74 GP
2 Goals
16 Assists
18 Points
Where to start with Erik Brannstrom? There is constant discourse about whether he should be a part of the future or not, as there is a slim chance he gets a top-four opportunity with Chabot, Sanderson, Zub and Jakob Chychrun all in the lineup. Brannstrom proved this season that he is a lot more than the label he has gotten, which is an undersized offensive defenseman that isn't producing.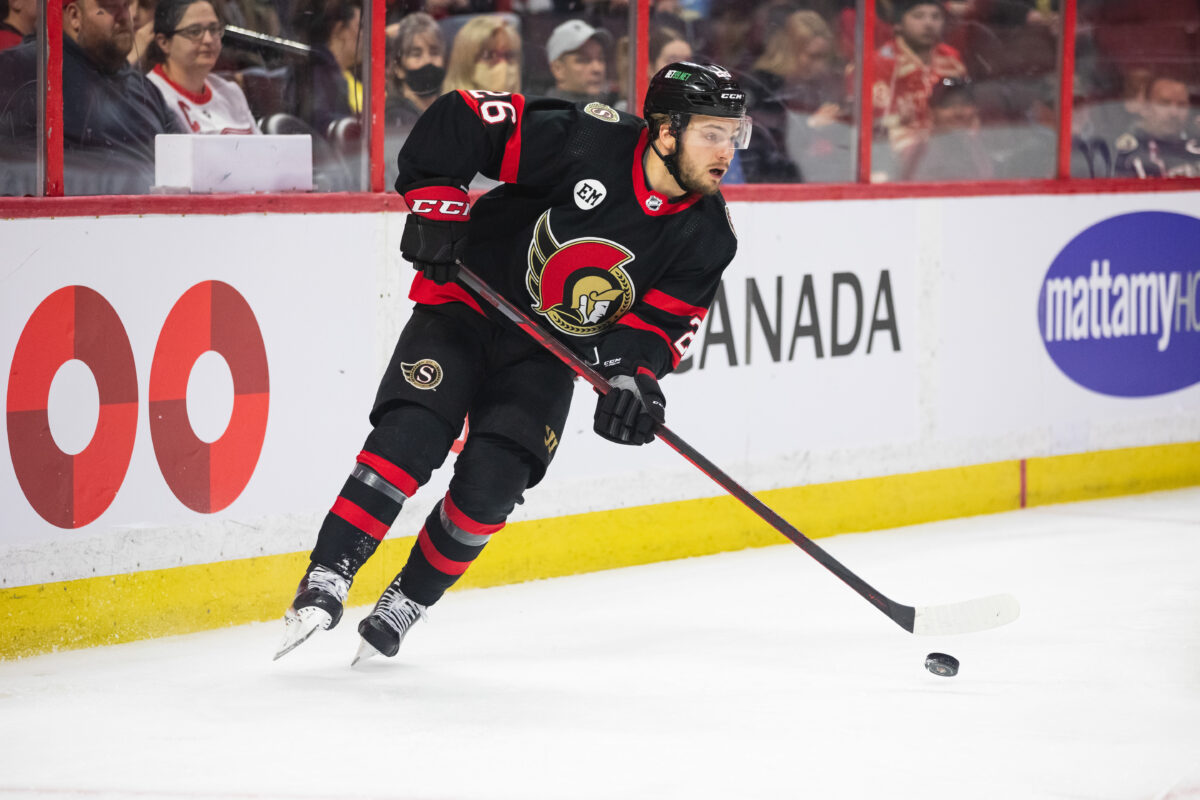 That label couldn't be further from the truth. Brannstrom has developed into a defensively reliable, puck-moving, speedy, skilled defenseman. Similar to Sanderson, when Chabot went down with an injury, and Brannstrom was bumped up the lineup and got more opportunity, his offensive abilities were really showcased. He doesn't get a lot of chances to prove that on the third pair and without power play time, but outside of his size, he does everything a third-pairing defender should be doing. The Senators should try and lock him up for a few seasons at a reasonable cap hit, as he provides lots of value in his role.
Travis Hamonic: B+
75 GP
6 Goals
15 Assists
21 Points
There was plenty of controversy about the Senators acquiring Travis Hamonic from Vancouver last season, but he was a pleasant presence on the blue line this season. Paired with Sanderson for the majority of the year, he got to play alongside a really good partner, and many will argue that Sanderson made him better. But Hamonic played some really solid hockey throughout most of the year. Sure, he could have been frustrating at times, but there isn't any issue with the way he played in the top-four.
His defending, shot-blocking and physicality are some of the components that made him valuable on the defense group. And while there were definitely some frustrating moments from him, all around, he was a great partner for Sanderson to develop beside.
Nick Holden: C+
65 GP
2 Goals
14 Assists
16 Points
Nick Holden, like Hamonic, has been a pleasant surprise since being acquired from the Vegas Golden Knights. He was informed that he would not be re-signed this summer, but his time, including this season, doesn't go unappreciated. He has certainly slowed down, but he is still a capable defender who, in bottom-pairing minutes, does well on the ice. He has a knack for jumping into the play sometimes, and when he does, he impresses you. Other times, you are left wondering why he is on the ice.
He didn't provide the best defensive numbers this season, but he is still a solid bottom-pair or seventh-defenseman option. He played a lot with Brannstrom, and the duo worked well together. But if the Senators opt to get a more reliable shut-down defenseman to play there, Brannstrom could really benefit.
Goaltenders:
Anton Forsberg: B
11-11-2 Record
.902 Save Percentage (SV%)
3.26 Goals Against Average (GAA)
Anton Forsberg played the majority of his games in the first six weeks of the season with Cam Talbot injured. He was the Senators' best goaltender before going down with an unfortunate injury, tearing his MCLs in both legs. He was suffering from exhaustion before Talbot came back, as there were no reliable options at the time. And while his numbers don't look great, he was the only goaltender around during the darkest times of the Senators' season.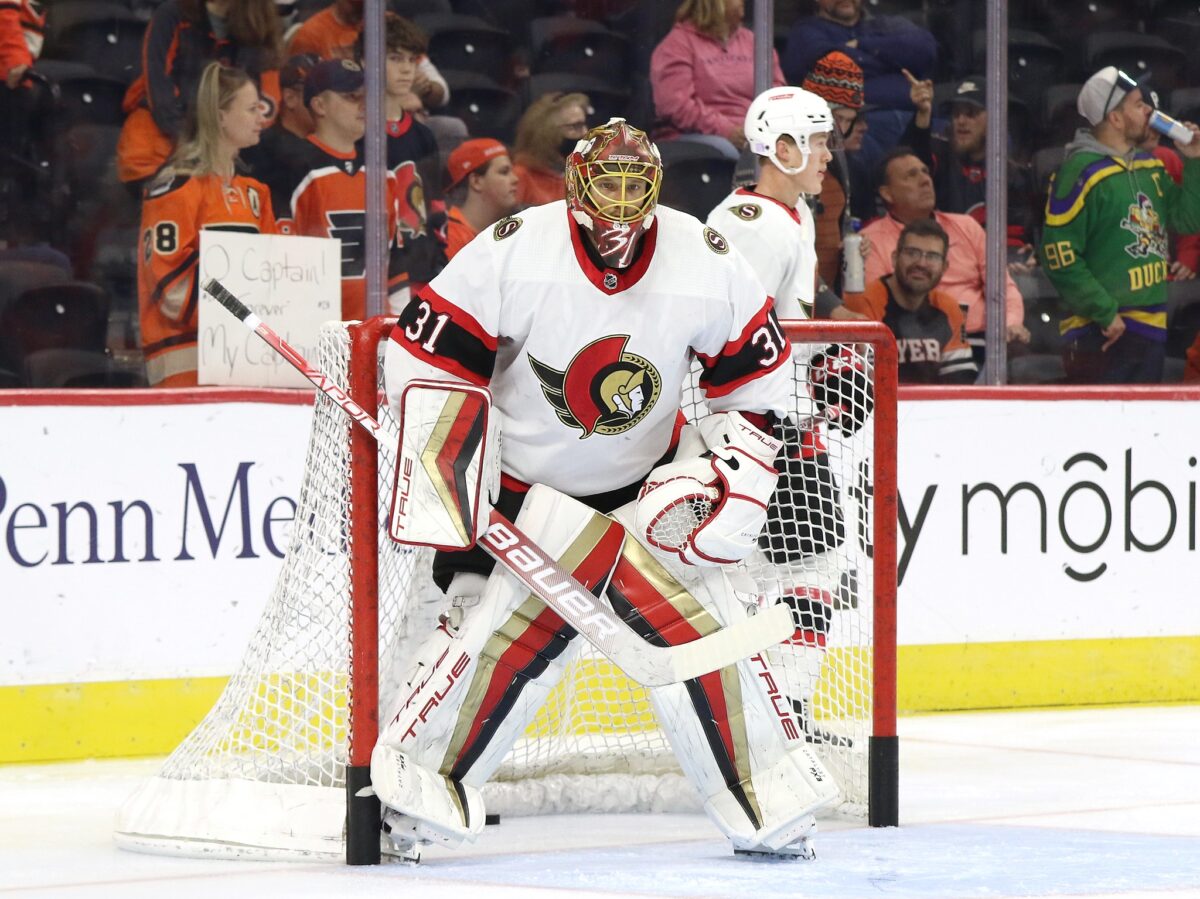 After an excellent season last year, expectations were pretty high for Forsberg, and while his play was solid, it did look like he took a bit of a step back. Was it the play in front of him? It could be, but due to his injury, we didn't get a good enough look to really judge, especially while the team was playing crucial games down the stretch.
Cam Talbot: C+
17-14-2 Record
.898 SV%
2.93 GAA
Talbot was acquired to compete for the starting job with Forsberg this season. After an All-Star calibre season with Minnesota last year, the expectations were high for Talbot. He didn't deliver on those expectations, and while many didn't think another All-Star year was coming up, it was fair to expect better than he was.
With some significant injury time, including a mid-body injury to start the year, Talbot wasn't a consistent option, either, which led to a carousel of goaltenders making their way through Ottawa. Despite his winning record, he didn't give confidence to the team when he was in net. He let in lots of soft goals, and when games mattered the most, he would crack under pressure and couldn't get the job done. It got to the point that at the tail end of the season, he was a healthy scratch for an important game.
Mads Sogaard: B+
8-6-3 Record
.889 SV%
3.32 GAA
Make no mistake, Mads Sogaard did not have impressive numbers this season, but he was called up due to injuries, and when the Senators were playing their most important hockey, he was the only option. He didn't play poorly by any means, and for a 22-year-old goaltender, he did alright for himself. He showed lots of promise, and there is a good chance he makes the Senators out of camp ahead of next season, but he was thrown into the fire this season.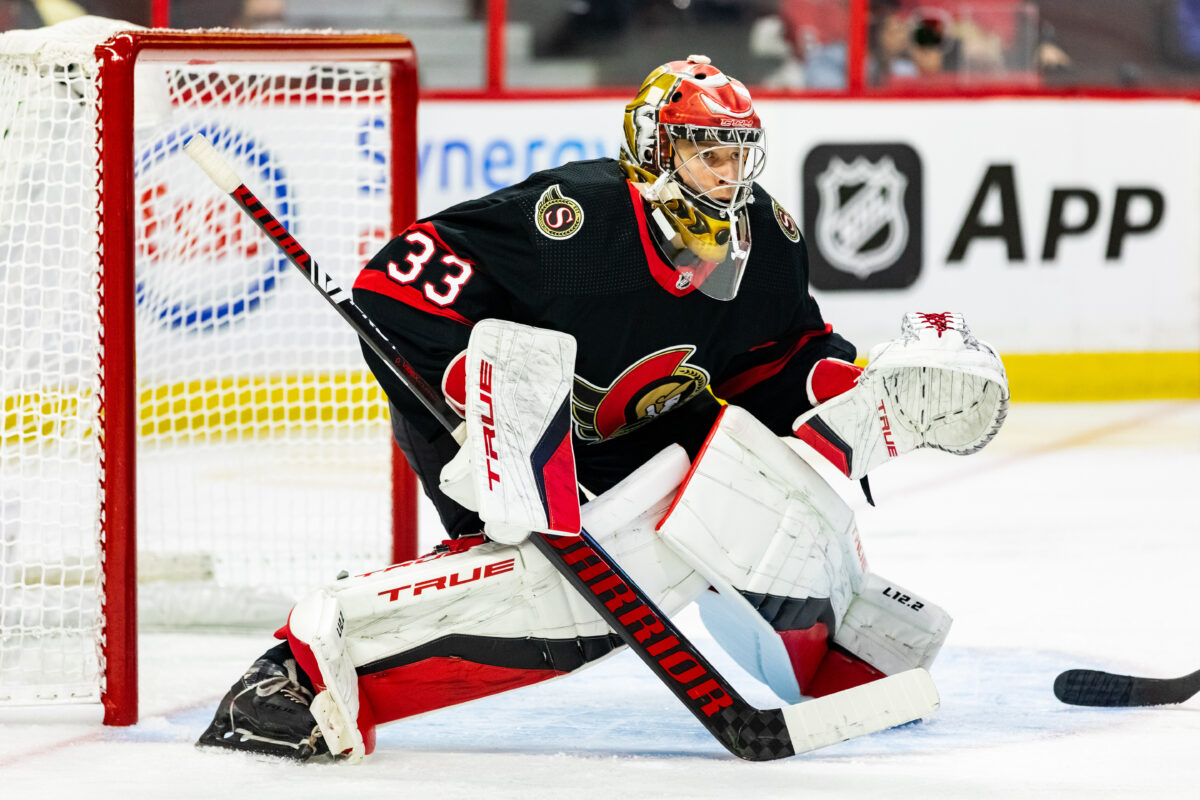 He gave the team a chance to win most nights, and while there were definitely some nights that he wasn't playing up to the standard, he was good enough that the Senators were able to stay in most games. The team played their best hockey in front of him, as they wanted to get him some successful games in the NHL, and it translated to his record.
A Successful Season
There were plenty of success stories around the Senators this year. While you can look at the whole season as frustrating, you have to remember that playing important games at the end of the season was the goal for this team, and they did just that. Playoffs were never the key to success, and with the competitive season, individual growth, and some great production, the Senators and their players had a great 2022-23.
---
---