Noah Dower Nilsson
2022-23 Team: Frölunda HC J20
DOB: April 25, 2005
Place of Birth: Strömstad, Sweden
Ht: 6'0″ Wt: 183 pounds
Shoots: Left
Position: Left wing/Center
NHL Draft Eligibility: 2023
Rankings
Central Scouting – European Skaters: 17th
THW – Horn: 35th
THW – Baracchini: 63rd
Bob McKenzie: 48th
FC Hockey: 50th
DailyFaceoff – Ellis: 33rd
If you've been following along with recent NHL drafts, Noah Dower Nilsson's name may sound familiar to you. That is likely because his brother, Liam, was a fourth round pick of the Detroit Red Wings just two years ago. But make no mistake – Noah's game is noticeably different from his brother's.
It begins with his offensive play and how much command he has over the play at any given time. This season at the J20 level over in Sweden, Dower Nilsson blossomed into a true facilitator in the offensive zone, leading his team in points (54) and goals (26). Overall, his points per-game rate of 1.46 was easily the best rate on his team. When Frölunda J20 was scoring goals, he more than likely had his fingerprints all over them.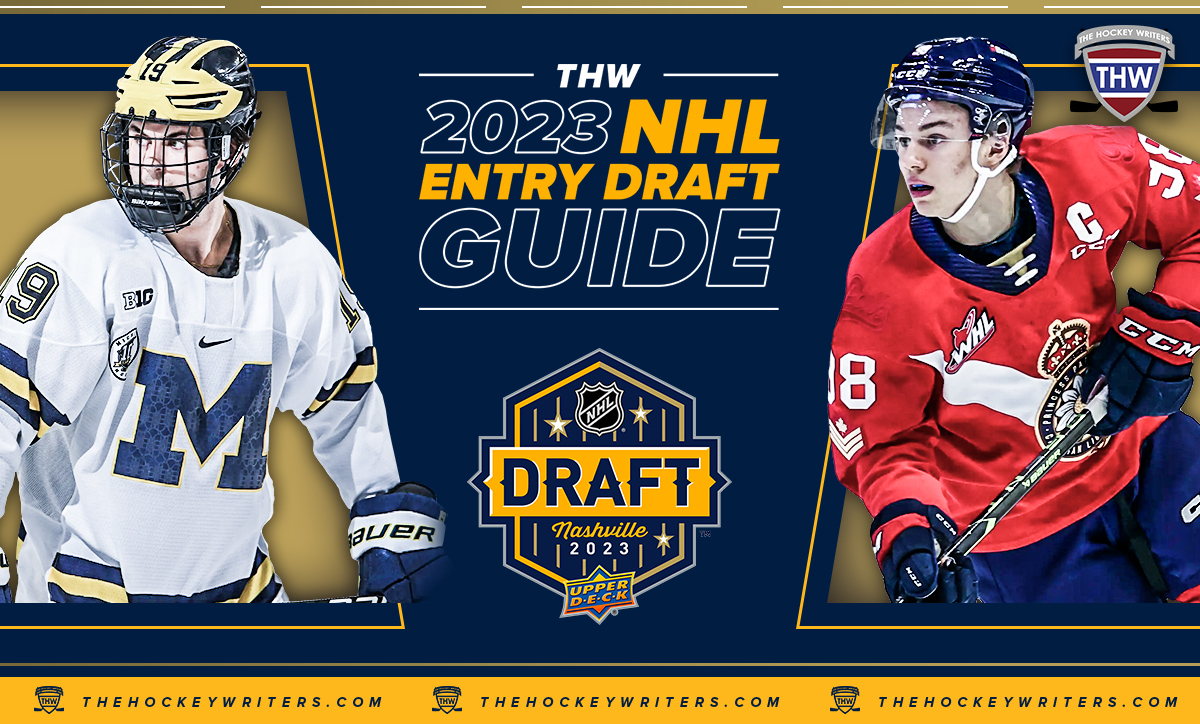 Related: 2023 NHL Draft Guide
---
Latest News & Highlights
---
As for how Dower Nilsson managed to become such a key offensive force for his team, it starts with his shot. When he is able to get enough wood on the puck, he is able to absolutely whip it past the goaltender. If he is open, he represents a scoring opportunity as he simply has the ability to beat goaltenders cleanly with his shot. But perhaps more important to his scoring success is the fact that he isn't afraid to play off of his teammates. He will allow the opposition to overcommit to him and then send a pass over to his open teammate. At seemingly every opportunity, he is able to identify what the best offensive play is, and that allows him to create for himself and his teammates. His slick stick skills enable him to beat defenders one-on-one and take the puck to the net.
Dower Nilsson is adept at driving towards the net and creating pressure through proximity. He may not always score when he drives to the net, but he often gets a good scoring chance out of it, as well as second and third-chance opportunities. Even though players that do this often receive a heavy dose of physical punishment from the opposition, he isn't afraid and absorbs whatever comes his way while in pursuit of a goal.
While the pucks seems to have a way of always finding him, Dower Nilsson isn't always the most graceful puck-handler; the puck doesn't always seem "glued" to his stick the same way it does with other high-end skill players. When he does have it under control, his decision-making skills can sometimes seem suspect. He falls victim to interceptions at a sometimes alarming rate because he'll send a pass without realizing a defender it primed to stop its trajectory, or because he'll throw the puck away to evade pressure. In fact, while his passing game isn't necessarily a "weakness", it does seem to need more work. He often throws the puck into areas rather than to a specific teammate (which isn't a bad thing in certain situations.)
His brother Liam is a prospect whose money-makers are his defensive game and work ethic. Noah is not quite as successful in his own end. He often floats around the blue line waiting for a breakout pass to go on the attack. When he is forced to actively defend, he can apply good pressure with his stick, but he doesn't seem like to type of player that is going to lay it all on the line to make a key defensive play. The team that drafts him will be drafting him for what he can do in the offensive end, not the defensive end.
Other THW Profiles
Noah Dower Nilsson – NHL Draft Projection
Dower Nilsson has enough raw talent and produced enough this season that teams should be targeting him no later than the third round. He isn't quite well-rounded or dynamic enough to warrant a first round selection – though crazier things have happened before. All things considered, it seems likely that he will hear his name called during the second round, perhaps as early as the first pick of the second round. Realistically, he'll probably go anywhere in the 40-60 range.
Quotables
"A really good shot. A really good understanding of how to use his skating ability – the quickness and the speed – to get into the open ice and to get those opportunities. He thinks the game well. He competes hard." – Craig Button, TSN
"Dower Nilsson is an intelligent and unpredictable player, capable of creating scoring opportunities out of nothing. His stick skills are truly impressive, as he fearlessly challenges defenders in one-on-one situations and consistently finds space to create chances for himself or his teammates with crisp, high-level passes." – Fredrik Haak, FC Hockey
"An intelligent center with well-rounded tools, Dower Nilsson needs to learn to consistently use his motor and refine his physical tools to project to the NHL." – Dobber Prospects
Strengths
Lethal shot
Good offensive instincts
Play off of teammates
Skill level
One-on-one play
Under Construction
Defensive engagement
Physical strength
Passing IQ
Good, but not great skating
NHL Potential
Though he can play center, Dower Nilsson is more than likely a winger at the pro level. As he works his way up the hierarchy of Swedish hockey, we'll gain a better understanding of just how effective of a scorer he'll be if and when he makes his way to North America. Until then, he projects as a middle six scoring winger that would also see time on the power play. He could become a perennial 20-25 goal scorer with the potential to sneak in a couple 30-goal seasons at his peak – if all goes well during his development.
Risk/Reward
Risk – 3/5, Reward – 3.5/5
Fantasy Hockey Potential
Offense – 7.5/10, Defense – 5/10
Statistics
Videos
---