Welcome to Senators' Weekly, where you can catch up on the past week of the Ottawa Senators throughout the 2018-19 season. From trending topics to surging prospects to news and notes, this is your weekly roundup on all things Sens.
This week was one to forget for the Senators, going 1-3 in their four games played. They started the week on a three-game skid, which extended to four games at the hands of a 5-1 loss to the rising Arizona Coyotes in a game that Mike Condon won't want to talk about for a while. They ended the losing streak with a 4-2 win over the Buffalo Sabres, only to lose to them in a lopsided 9-2 loss. That's a game that Craig Anderson and Mike McKenna would like to forget, but we'll get to that. To cap off the week, Ottawa fell to the Tampa Bay Lightning 4-3 in overtime despite Anderson making 41 saves.
The Senators have now fallen to 5-6-3 on the season, sit 12th in the Eastern Conference and 24th in the league. They are only three points out of a playoff spot, but it's looking bleak in Canada's capital. Here are the headlines and stories from the past week.
Start Worrying About the Senators' Goaltending
Sure, for the most part, Craig Anderson has shown that he's still a solid starting goaltender in the NHL. He's 5-4-3, with a 3.58 goals against average (GAA) and .909 save percentage (SV%), while facing 475 shots, the most in the league. The Senators have played 14 games with Anderson playing in 13 of those (starting 12). This is a pace that the 37-year-old goaltender won't be able to keep up.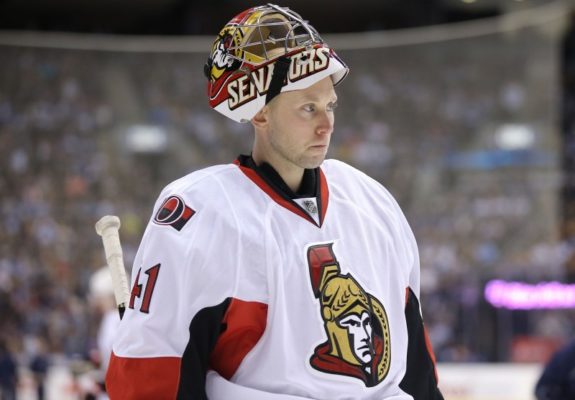 Behind Anderson, there's not much relief. In Tuesday's 5-1 loss to the Coyotes, backup Mike Condon started the game but wasn't in net for long. He was pulled after letting in three goals on eleven shots, including an embarrassing dump-in goal from the Arizona blue line by Derek Stepan. It was Condon's second start of the year, losing both and letting in eight goals on 40 shots. He has a 6.40 GAA and a .800 SV%.
The day after the Coyotes game, Condon was sent down to the AHL's Belleville Senators through waivers as a conditioning stint and was understandably not claimed by any team. Condon has one year left on his deal at $2.4 million. The team made it clear earlier this year with the Zack Smith waiver move that they will not tolerate players not playing to their best of their ability. If Condon can find his game in Belleville, the team may look to move him if they think they can get better goaltending elsewhere.
Anderson has had his hiccups too though. In the 9-2 blowout to the Sabres, Anderson let in the first three goals on 10 shots before getting pulled and new call-up Mike McKenna was put in, only to let in six more goals in the game. McKenna has been a solid AHL goalie, including helping the Texas Stars to the Calder Cup finals before losing to the Toronto Marlies. At the NHL level though, he's never been able to grab onto a job. The 35-year-old has 25 games to his name, with a 6-12-2 record, despite being drafted in 2002.
While Anderson has a firm grip on the starting job, someone needs to play behind him. Condon and McKenna both need to improve if they want to hang onto the backup role, and goaltender of the future Filip Gustavsson isn't yet ready to make the jump to the NHL. Could the Senators look elsewhere for a backup? There are still numerous free agents available including Kari Lehtonen and Steve Mason. While they might be more expensive than the Senators are willing to pay, the ageing Craig Anderson can only play well for so long and the team will need an answer behind him – soon.
Borowiecki Suspended Again
It's been a rough couple weeks for Mark Borowiecki. After getting hit by Montreal Canadiens' Brendan Gallagher and complaining about it, Borowiecki was suspended for one game for elbowing Boston Bruins' Urho Vaakanainen in the face. (From: "Snapshots: Borowiecki not happy with 'dangerous hit' Habs' Gallagher delivered" – Ottawa Sun – 10/22/18). Then, in his first game back from that suspension against the Vegas Golden Knights, the Senators' defender played only 3:25 before hitting Cody Eakin, connecting with his head and earning another suspension. This one for three games.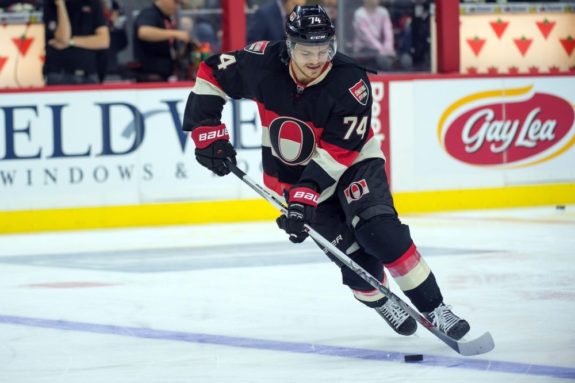 While Borowiecki owned up to his mistake on the first suspension, he didn't agree with the second. Following the game, he told reporters, "In my honest opinion, I thought the hit in Vegas was a good hard hockey hit and a good hard hockey play." (From: "'A good hard hockey hit': Suspension confuses Senators' Mark Borowiecki" – Ottawa Sun – 10/30/18).
Borowiecki will need to tread lightly moving forward, as two suspensions in one week will definitely keep him on the Department of Player Safety's radar, and now he's a repeat offender. The next suspension for Borowiecki will likely be a lot longer for the 29-year-old defender.
Formenton Sent Down to Juniors
The Senators may be rebuilding, but they won't rush their prospects in doing so. They proved that by sending Alex Formenton back to the OHL's London Knights. The speedy winger played nine games this season, collecting just one goal along the way. The decision was tough for the Senators, but by sending him down before the 10th game, they don't burn a year on his entry-level deal.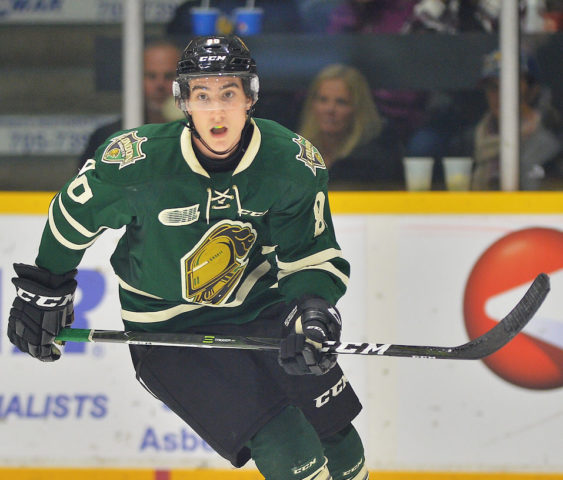 The decision received mixed responses, including from within the organization. Head coach Guy Boucher voiced his opinions of the move, explaining that it wasn't his choice, "That was definitely not my decision, I liked him a lot. As a coach, you want the players that you like, and you want them all the time and you want to win. I'm about now, obviously, because you want to win the next game." (From: "Snapshots: The decision to send Alex Formenton back to junior wasn't easy" – Ottawa Sun – 11/02/18).
While Boucher may have wanted him to stay, that's not what is best for him. He'll need some more time for development and should see success with the Knights, both individually and as a team, where the Senators are likely to struggle this season. There's no good in subjecting the young player to that. Formenton should go to London and have a chance to be a star there for a season, as well as going for gold again at the World Junior Championships for Team Canada.
On Sunday, his first game back with the London Knights, Formenton potted his first goal, an empty net goal to seal the deal versus the Kitchener Rangers. Expect a big year out of the winger.
Senators News and Notes
Thomas Chabot continues to impress, collecting three goals and 17 points in 14 games so far in his sophomore season to lead the team. He currently sits tied in second for points by a defender in the NHL with San Jose Shark Brent Burns, behind only Toronto Maple Leaf Morgan Rielly. By the day, it seems that Chabot is taking the torch from Erik Karlsson faster and faster and is emerging as a star for the Senators.
While the injury bug has hit the Senators hard this season, it seems like one player is getting ready to come back. Rookie Brady Tkachuk is skating again and eyeing his comeback already. The 19-year-old is back skating with the team and is ahead of schedule in his recovery. "I'm just trying to focus on each day by getting stronger and trying to get faster. It felt really, really good today. I just want to keep progressing and, hopefully, it'll be sooner than I expected." (From: "Brady Tkachuk moves a step closer to returning to Senators' lineup" – Ottawa Sun – 11/02/18).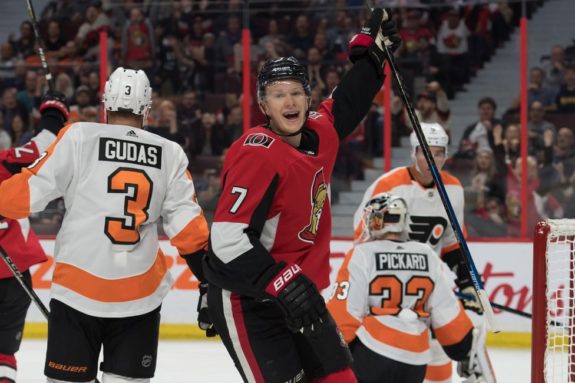 Josh Norris continues to tear it up for the University of Michigan. The 19-year-old now has 12 points in seven games (six goals and six assists), leading the team in points in his sophomore season in the NCAA.
Sunday's game versus the Tampa Bay Lightning marks both the Senators and the Lightning's 2,000th game in their 26-year histories. Tampa has the lone Stanley Cup between the two organizations, winning in 2004, but both have come close, with the Senators reaching the finals in 2007 and the Lightning again in 2015.