It has been a very good week for the Ottawa Senators so far after a very difficult previous week in which they only won a single game out of four in a shootout. They defeated the top-ranked Montréal Canadiens on Tuesday by scoring four goals against Carey Price — something no other team has done in regulation so far this season. On Thursday, icing a fully healthy lineup, they played a near perfect game against the Boston Bruins. They finished the week off with wins in back-to-back games on the weekend against the Carolina Hurricanes and the New York Rangers, led by their goaltending.
Stone in the Slot
One of the knocks against the Senators was the lack of offence. Despite winning some games with strong defensive efforts, it resulted in them losing other games by wide margins. Although all of their top forwards were missing consistency, Mark Stone, who began this season performing below expectations, has been playing like his old self lately.
He has five goals in his last nine games after scoring only one goal prior to that, and the Senators have won the games that he scored in. He even broke his power play slump, scoring his first goal on the man advantage this season against the Rangers on Sunday, and a game winner.
Looking at all of his goals during this streak, Stone finds himself in perfect position each and every time. He is able to shoot a strong wrist shot or deke out a goaltender from in between the two faceoff circles. He is showing his nimble nature and his ability to find open ice. This was something that he showed very early on in his NHL career, as his first ever goal came in similar fashion.
It seemed like earlier this season, he wasn't able to get himself in those high-percentage scoring areas as much as he would have liked. Now it seems that he has his confidence back and the hope is that he will be able to lead the charge on offence and continue to score goals when they matter the most.
Mark That Chemistry
Playing on a line with Mike Hoffman and Derrick Brassard, Stone has helped control the pace of games and create opportunity in the offensive zone in Ottawa's favour when he is on the ice. In the previous nine games, those three players have displayed very strong possession numbers.
| | |
| --- | --- |
| Player | Shooting Attempt Percentage |
| Mike Hoffman | 53.7% |
| Derrick Brassard | 54.6% |
| Mark Stone | 59.7% |
Add in the factor that the line of Ryan Dzingel, Kyle Turris and Bobby Ryan have also contributed timely scoring and the Senators have received all the scoring necessary to win games, with the exceptional goaltending of Craig Anderson, whom the NHL named the first star of the week.
With a solidified defensive game plan under head coach Guy Boucher backed by another great goaltending season by Anderson so far, the Senators are in a good position to return to the playoffs.
Other Senators Notes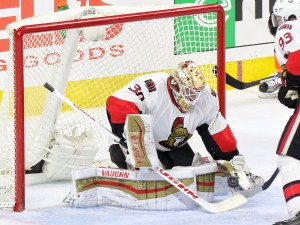 Goaltender Andrew Hammond is not doing so well in the American Hockey League since Ottawa sent him to the Binghamton Senators. With Mike Condon delivering solid backup services, Hammond is now on the outside looking in. Even when Anderson will be taking a leave of absence at times, Ottawa may prefer looking towards Chris Driedger to join the NHL club instead.
Owner Euguene Melnyk and his ownership group is one step closer to bringing the Senators' home rink to downtown Ottawa. It's still a long ways to go, but the dream is more likely to become a reality now.
With the CFL's Ottawa RedBlacks winning its first Grey Cup title, citizens in Ottawa are now looking to the Senators to bring home a championship. An Ottawa football team ended a 40-year drought that dated back to its Roughriders days. While an Ottawa hockey team has not won a championship in 89 years, fans have made it clear that if a team disappears for more than half a decade, it should not count.