After an abysmal season, the Ottawa Senators will no doubt be looking to give some of their promising prospects more exposure to the NHL.
There's an intriguing batch of youngsters who are held in high regard and may be ready for a full NHL season.
Thomas Chabot entered last season as arguably the team's top prospect, and after a brief stint in Belleville, he was called up to the big club and took on a heavy workload after Chris Wideman went down with an injury and Dion Phaneuf was traded to the Los Angeles Kings. Also, 2015 draft picks Colin White and Filip Chlapik each spent a quarter of the season in Ottawa and showed signs of promise. Chabot and White were among six Senators who represented their countries at the World Hockey Championship this month.
The Senators also have the fourth and 22nd overall picks in the upcoming NHL Draft. Whoever the Senators end up choosing will be given every opportunity to earn a full-time spot.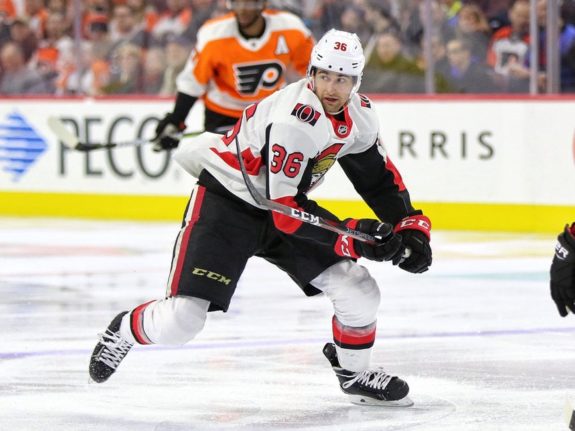 White and Chlapik Ready for Permanent Roles
If it weren't for a broken wrist suffered during training camp, White probably would have started last season with the Senators. Instead, he shuffled back and forth between Belleville and Ottawa.
Even though he was on the move throughout 2018, Sportsnet's Ryan Dixon spoke highly of the Boston College product, saying it won't be long until he's in the NHL for good. White recorded more than half a point per game with the Baby Senators, a club that finished with the third-worst record in the league in its inaugural season in Belleville.
With the parent squad, he only scratched the service in terms of what he could do offensively, but he's a versatile forward who can contribute in other areas while he works to get that scoring touch.
Similar to White, Chlapik split last year with Ottawa and Belleville, spending most of the time in the AHL. Chlapik was sidelined for part of the year with an upper-body injury. Ottawa's second-round pick in the 2015 draft, the Czech native has matured since he was drafted. The Ottawa Citizen's Ken Warren explained how Chlapik began putting in more work behind the scenes in order to earn his entry-level contract.
Now standing in at 6-foot-1 and close to 200 pounds, he can play more of a power-forward kind of game, win puck battles and withstand the physicality of the NHL. Despite playing 52 out of 76 AHL games, he was second in team scoring with 32 points, including 11 goals. He had a goal and three assists in 20 NHL games.
White and Chlapik are likely to spend more time with Ottawa next season and will make their cases to stay there permanently. They're both centres, but can play on the wing, which would be the best plan for the Sens to start off with, as it would give them a better chance of playing on any of the top three lines.
Ushering Brown and Batherson Into the Fold
Patience will be key with blue-chip prospects Logan Brown and Drake Batherson.
At the 2016 NHL Draft, the team acquired Brown 11th overall by trading up one spot with the New Jersey Devils, clearly believing the Devils would have taken him otherwise. Ottawa's third-round pick in 2016 was also involved in that exchange.
The 6-foot-6, 220-pound centre played four games with the Senators to start the 2017-18 season, but he was eventually sent back to the OHL, where he looked like a dominant player in the games he played with the Windsor Spitfires and Kitchener Rangers.
He was a great playmaker at the junior level and uses his frame well to protect the puck. However, he has encountered a slate of injuries since he was drafted and was sidelined for half of the last two seasons. There's no denying he'll be able to contribute in the NHL soon. That said, he might be better off splitting next season with Ottawa and Belleville.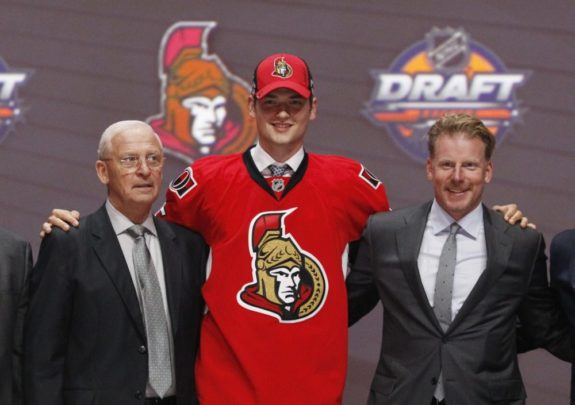 Last season, Batherson showed off his elite scoring ability in the QMJHL and with Team Canada at the World Junior Hockey Championships. He was a hero for Team Canada, scoring seven goals in as many games en route to World Junior gold. Before he left for Team Canada's final selection camp, he was leading the QMJHL in scoring. He went on to lead the league in playoff points as well.
Batherson definitely looks like a steal for the Senators, who picked him in the fourth round in 2017, his first re-entry year. Still, because he only has two full seasons of experience at the major junior level, odds are he gets his start in the AHL first to show what he can do there before earning an NHL roster spot.
Born and raised in Toronto, Iain has been a sports writer with the Mississauga News since 2010 and has been covering the OHL for Hockey Now Magazine since 2015. A graduate of the Centennial College Sports Journalism program, Iain has now signed on to provide Ottawa Senators coverage with The Hockey Writers.