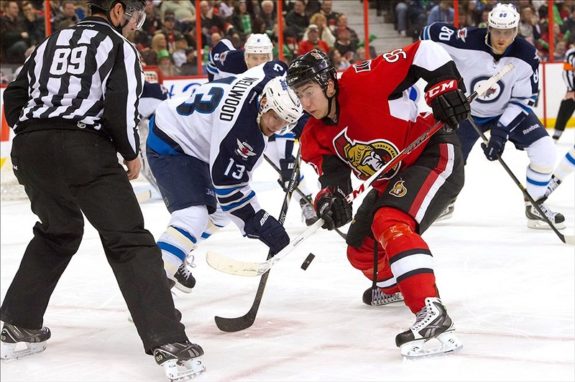 The Ottawa Senators have generally been a solid puck possession franchise since the arrival of Paul MacLean as head coach from the Detroit Red Wings. Over the past three seasons the Senators have ranked seventh in the National Hockey League with a CORSI FOR of 52.6% at even strength.
This ranks them behind only St. Louis (52.9%), New Jersey (53.1%), Detroit (53.3%), Boston (54%), Chicago (54.2%) and Los Angeles (55.9%). By this it appears they should be a perennial playoff team.
Why is the CORSI rating not making them more successful?
CORSI is a great measure of puck possession and a key driver in a team's  success. However that CORSI rating needs to be backed up by a quality goals for percentage.
In goals for percentage over the past three seasons Ottawa is ranked 16th at 49.8% at five on five. The top five teams are Boston (58.1%), St. Louis (54.9%), Detroit (54.6%), Chicago (54.3%) and Pittsburgh (54.1%).
Essentially puck possession is a key driver to success, but if that puck possession does not translate into a greater number of goals than the opposition then it makes no difference.
The goal should not simply be to find players with a good CORSI rating. But to find players with a good CORSI rating and finishing ability. Hockey-Graphs posted this observation earlier in 2014, let's see how it applies to the Ottawa Senators.
Ottawa Senators that have high CORSI and point totals
The core group of Karlsson, Spezza, Turris, MacArthur, Wiercioch and Michalek are the players who bring the most overall value to the Senators. They provide offence and a sufficient amount of defence to not be a liability when they are not scoring. All successful teams seek these types of players.
Very telling is the fact that the Senators have only two defenders as this type of player. They will need to invest in additional defenders who can move the puck effectively in order to return to the post season.
They do not need another Erik Karlsson, but a couple 20-30 point defenders in the mould of Anton Stralman would be a good acquisition. Although they are a much sought after commodity and will be hard to find.
Ottawa Senators with high CORSI and low point totals
Both Condra and Da Costa fall into driving puck possession for the Senators, however they do not have consistent offensive ability. They are best suited to a bottom six and penalty killing role to provide the most value.
Based on the pure numbers players like Zack Smith do not fit into this role, however he sees a great deal of the best the opposition has. His CORSI numbers are likely skewed as he only started 25.9% of his shifts in the offensive zone. This was the lowest number on the team. It is clear that Paul MacLean trusts Smith immensely in defensive situations.
Other types of players
There are two other types of players, one being those that score points but do not drive possession. These type of players can become a liability defensively when they are not scoring. They also need to be paired with players that drive possession to better utilize their offensive gifts.
For example in 2012-13 Mike Ribeiro had 49 points in 48 games playing with the Washington Capitals. However his CORSI FOR was only 45.3% and goals for were 48.1%. After the Phoenix Coyotes acquired him this season they went so far as to limit his defensive zone starts to only 19.6%. This brought his CORSI for up to 52.9% since the Coyotes essentially used him as an offensive specialist.
The second type of players are those that do not score points and do not drive possession. The less of these types of players on a roster the better. These players are easily replaceable and should not be offered "big money" contracts. For the Senators a player like Matt Kassian falls into this category at 47.3% CORSI FOR and 37.5% goals for.
In general CORSI relative is best to look at when a player is moving teams. While he may be a sub 50% CORSI player, he may be 10% better than his team as a total. Good player's CORSI can be affected by a poor team.
How are the Los Angeles Kings built?
If we look at how the Los Angeles Kings are built, they truly are the "Kings" of the NHL with it comes to advanced statistics over the past three seasons. They have a number of lower scoring, higher CORSI players such as Stoll, Clifford, Nolan, Pearson, Fraser, Lewis.
They have enough players that have high puck possession abilities regardless of scoring ability that they can evenly spread out the defensive duties. None of their players have less than 50% zone starts, meaning no particular player has an extremely heavy defensive workload. Their top offensive options have all "bought in" and play well defensively.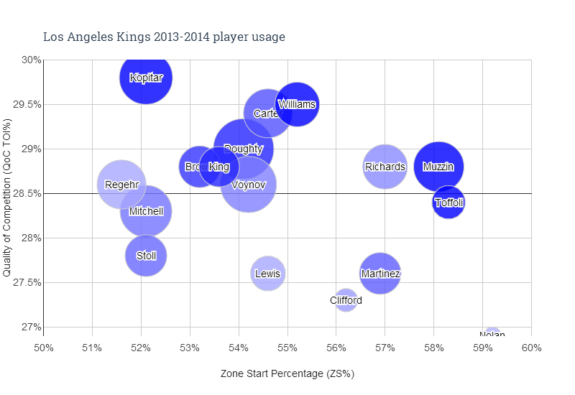 How are the Chicago Blackhawks built?
The Blackhawks seem to have a slightly different philosophy than the Kings. They have three players in Kruger, Bollig and Smith that play a heavy set of defensive minutes, while freeing up players like Kane, Toews, Hossa and Sharp for the advantages of many more offensive zone starts.
Why can they do this? Because they have enough defensively responsible forwards in their bottom six to execute this system. Considering Kruger, Bollig and Smith's heavy skew towards defensive zone faceoffs they all still contribute and above 50% CORSI rating. Meaning they effectively handle defensive situations and any offensive contribution is a bonus from them.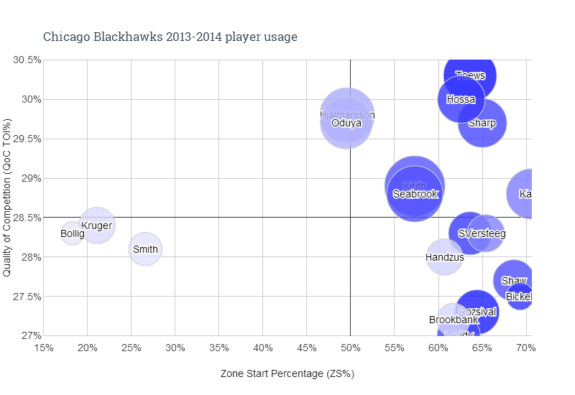 How are the Ottawa Senators built?
Both Condra and Da Costa are a good start towards having the defensively responsible forwards that are needed in the bottom six. What the Senators need to decide is whether they try to go with the Kings model and have four lines that can play in any situation. Or if they model themselves after the Blackhawks and have three lines to handle the scoring and one line heavily skewed towards defensive responsibilities.
Currently it is clear that the coaching staff is still searching for the correct roles for the players. While both Turris and MacArthur are defensively responsible they need to have more offensive opportunities to provide the best value.
Next season they could begin to employ Condra and Da Costa along with Greening and Smith in primarily defensive roles. This would allow Turris and MacArthur to shift to more offensive zone starts and increase the amount of goals they are able to contribute.
If both Spezza and Michalek are not retained a combination of Zibanejad and a couple of defensively responsible top six forwards along the lines of Jussi Jokinen would go a long way to further bolstering the team.
A bigger concern will be the defense as employing Phillips and Gryba as your primary shut down pairing simply is not good enough to make a playoff run in today's NHL. This will need to be shored up with a couple new acquisitions, or perhaps shifting Methot to a more defensive role.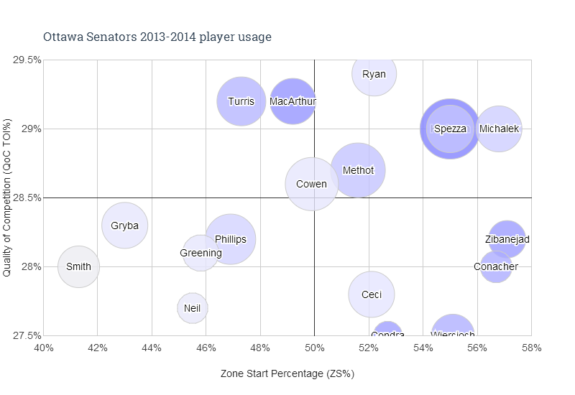 Are the Senators a playoff team next season?
At this time they would appear to be a bubble playoff team. One that will either make it in as a second wild card or miss entirely. They have some promising youth on the way but they are missing enough pieces to be three to five years away from being a legitimate Stanley Cup contender.
All player usage charts are from The Extra Skater.