The Ottawa Senators have seen better days. After making the playoffs for the previous two seasons they fell short this year with a 37-31-14 record. The offseason didn't go nearly as well as they had hoped when they went into the 2014 NHL Draft without a 1st round pick. To add salt to the wound, their franchise center, Jason Spezza, along with Ales Hemsky, left as free agents to join the Dallas Stars in the Western Conference. The team will be looking to ease the pain a bit by turning to their young prospects who have been waiting patiently for their chance to prove themselves in the NHL. Here's a look at the Senators' top 5 prospects.
Criteria:
Skaters can not have played more than 42 games.
Goalies can not have played more than 25 games.
5. Andreas Englund – SHL – Djurgarden – D
The highest pick the Senators had in the 2014 draft was their 2nd. They used it on a tall Swedish forward named Andreas Englund. The 6'3″ blueliner is a defensive specialist. His long reach allows him to break up plays with his pokecheck and he throws his body around to separate players from the puck. Englund will likely never be a point scorer, but he will do an admirable job as a shutdown defenseman. He's been taught (as so many Swedes are) that positioning and skating are two aspects to hockey that can make a player successful – Englund has both. He's still a raw prospect and needs a few more years to mature so Ottawa won't be rushing him into their lineup anytime soon.
4. Jean-Gabriel Pageau – AHL – Binghamton Senators – C/RW
It isn't the case anymore that small players have no place in the NHL. We've seen players like Nathan Gerbe, Daniel Briere, Torey Krug, etc. do just fine despite their lack of stature. Jean-Gabriel Pageau has the necessary tools to be an all-around forward even though he's only 5'9″. When he goes into a corner, he's tough to out-muscle and oftentimes comes away with the puck against much stronger defensemen. A knack for knowing what to do with the puck has allowed Pageau to be a prominent offensive force during his time in the QMJHL. He's grown as a player over the last two seasons in the AHL with the Binghamton Senators and has changed his style to accommodate all aspects of his game. He finished last year with 44 points in 46 games and will continue to get better with more conditioning and playing against smarter opponents.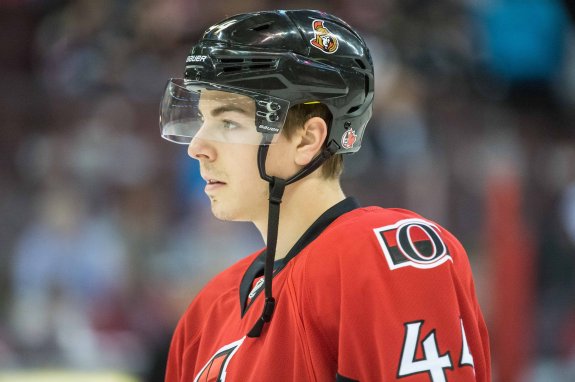 3. Mark Stone – NHL – Ottawa Senators – RW
Having NHL size and the hands to match is a hot commodity for many NHL teams. The Ottawa Senators got just that with their 6th round selection in the 2010 draft. Mark Stone is coming along nicely for the organization who let him finish out four years with the Brandon Wheat Kings and let him buffer his game in Binghamton. Over a point-per-game player last season, Stone has a mind for the game and can slow the pace down allowing for his players to get open. With Hemsky out of the picture, there is an opening in the Senators lineup this year – a spot that looks to be Mark Stone's to lose.
2. Matt Puempel – AHL – Binghamton Senators – LW
Having Matt Puempel in your pipeline is an advantage for any team who needs to put the puck in the back of the net. Puempel is a natural goal scorer since his OHL days with the Peterborough Petes and Kitchener Rangers. In his first full season of AHL hockey, he scored 30 goals in 74 games (a big accomplishment for a rookie). Puempel's offensive instincts around the net have allowed him to make great decisions in tight, ultimately leading to goals. His shot is one of his greatest strengths since he gets a good amount of torque to fire a wrist shot passed the goalie. He's not far from seeing consistent NHL action, but another full season in Binghamton can't hurt his game. He'll be lighting the lamp in the NHL before you know it.
1. Curtis Lazar – WHL – Edmonton Oil Kings – C/RW
Curtis Lazar has two gold medals, a WHL Championship, a Memorial Cup Championship, and has been the assistant captain for the Edmonton Oil Kings the past two seasons. He's average, yet bulky, and bulls his way around the ice to win pucks battles. Sturdy on his skates, Lazar has elite hockey sense and a dangerous shot making him very tough to play against. Last year, he led the way in goal scoring potting 41 goals in 58 games. He has his head on a swivel and can accelerate quickly to get into the play. Lazar is physically ready to play in either the AHL or the NHL next season, but depending on how his training camp goes will be the difference between him joining the pros or heading back to Edmonton to finish his last season with the Oil Kings.