One of the oldest adages in all of sports is that coaches are hired to be fired. History enforces the truth of that axiom for all NHL skippers unless of course your name is Scotty Bowman. Few can replicate what Bowman did after winning his ninth Stanley Cup in his 29th and final season and ride off into the sunset into retirement.
A brand new NHL season is a couple of months from us now and 30 NHL coaches and their staffs are preparing for the 82 regular season. There are seven coaches about to begin their first year for the team that employs them. There are only three coaches that have been behind their team's bench for more than five years.
No division has more rookie coaches than the Atlantic with three. The Central division is the most tenured as five of their coaches have three or more years' experience. The Pacific has some familiar names in familiar cities like Bruce Boudreau, Dave Tippett, Darryl Sutter and Bob Hartley and some familiar names in very different cities like Todd McLellan and Peter DeBoer. In the Metropolitan, who would have thought that Jack Capuano would be the dean in the division beginning his sixth season behind the bench for the New York Islanders.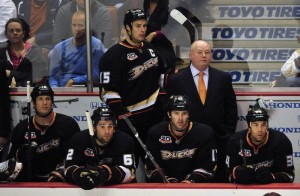 Hottest Seats
Central: In this highly competitive division it is ironic that the coach with the most heat is the coach who just won the division. There was some speculation after their first round playoff loss to the Minnesota Wild that Ken Hitchcock was going to decide to step down as the coach of the St. Louis Blues. Now that he's coming back, Hitch's objective is to shoot for a back to back divisional title but more importantly, to lead the Blues to a deep playoff run. Falling short of that and Hitchcock or Blues management may feel the time for change is upon them.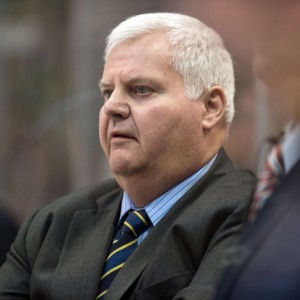 Pacific: The two coaches with the most longevity in the division are arguably the two sitting in the hottest seats for two very different reasons. Boudreau in Anaheim must break the perception of not being able to win in the playoffs. General Manager Bob Murray has doubled downed in the Ducks chase for the Cup by signing six free agents thus far who played on other NHL teams last season to offset the loss of Francois Beauchemin and playoff sparkplug, Matt Beleskey. Dave Tippett is a solid coach for a team that has challenges at the franchise level that could negatively effect the coach and his players with little to no notice.
Metropolitan: Ron Hextall is about to begin his second full season as the G.M. of the Philadelphia Flyers. He's about to do so with his second coach in as many years. Dave Hakstol was a creative choice as Philly coach but the warmth of his seat is directly proportional to his quick trigger G.M. The only other coach in the division who may swelter a bit is Bill Peters in Carolina. Peters is at the helm of a bad team that has remained stagnant in a division that saw the influx of some big names like Phil Kessel, T.J. Oshie, Justin Williams and Brandon Saad. Sometimes, it is the moves a team makes, sometimes it is the moves a team doesn't make that ultimately costs the coach his gig.
Atlantic: Every coach in this division has been on the job less than three years except one. Boston's Claude Julien is entering his eight season for the Bruins. With the apparent wholesale changes so far this off-season in Beantown, conventional wisdom dictates that some heat might be pointed Julien's way. Could be or he could be seen as a stabilizing force for the locker room. Probably depends on their start.
Middle of the Pack
Central: Of the four coaches I've cast in this group from this division, there are two subgroups. There are two of the four coaches that will be expected to build on their team's playoff berths and performance from last season. Mike Yeo of Minnesota and Paul Maurice of Winnipeg should continue on the path they seem to be on in the tough, competitive division they find themselves in. Patrick Roy of the Avalanche and Lindy Ruff in Dallas both have a bit of a bullseye on them. In Roy's case to bounce back from a down year and for Ruff it is to take the Stars to the next level especially in light of the Patrick Sharp deal.
Pacific: Two veteran coaches are in new cities in this division. McLellan in Edmonton and DeBoer in San Jose both face tremendous challenges this year. Those two along with Willie DeJardins in Vancouver must lead their teams to be in the hunt for the playoffs in March.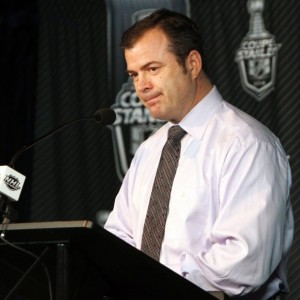 Metropolitan: Three of the four coaches in the middle of the Metro led their teams to the playoffs in the recently completed season. Capuano for the Islanders and Mike Johnston in Pittsburgh have to improve to get past a first round playoff loss. For Alain Vigneault of the Rangers, the biggest challenge is to hold it all together. Two years ago, Vigneault led New York to the Stanley Cup Final, last year it was the Eastern Conference Final and the Rangers lost both series. Can Vigneault reverse this trend?  The only team in the Metro's middle pack that missed the playoffs was the New Jersey Devils. New coach, John Hynes may feel a little warmth as he navigates his team in this tough division.
Atlantic: Dave Cameron in Ottawa and Michel Therrien in Montreal are coming off playoff runs. Early exits for both teams may set up shaky ground for both coaches but these are two solid teams that should be in the playoff hunt. Falling just short of their playoff bid last spring, Gerard Gallant of the Florida Panthers hopes to jump to the next level. Two first year coaches, one familiar, one not, close out this group. Dan Byslma in Buffalo and Jeff Blashill add strength to the coaching ranks within the division.
Solid as a Rock
Central: In Chicago and Nashville Joel Quenneville and Peter Laviolette have no concerns other than to continue their team's playoff success. Yes, the Central is arguably the toughest division in the NHL but these two are veteran Stanley Cup winning coaches, enough said.
Pacific: Darryl Sutter's resume is impressive with two Stanley Cups in three appearances. Los Angeles continues to ride Sutter's lead back into the playoffs. Bob Hartley in Calgary also has a Stanley Cup victory in his past and is leading this up and coming team.
Metropolitan: Barry Trotz is a defensive minded coach with quite a few offensive weapons. To add Justin Williams and T.J. Oshie to a roster that includes Alexander Ovechkin, Nick Backstrom and Evgeni Kuznetsov adds firepower but the loss of Troy Brouwer and Joel Ward hurts them defensively. Trotz needs to keep his team focused on defense to improve upon last season. Todd Richards in Columbus landed a prized player in Brandon Saad and with that expectations in Ohio were raised for a team on the outside looking in last year.
Atlantic: Jon Cooper in Tampa and Mike Babcock faced each other in the playoffs last spring. The Lightning beat the Red Wings led by Babcock in the first round. Toronto hired away Babcock and traded away Kessel to Pittsburgh. Cooper led Tampa to the Stanley Cup Final in his second full season at the helm of the Lightning. High expectations abound for both these teams and their coaches are solidly entrenched in seeing this through for the next few years.