I swore I would never do this.
I usually don't care who the Captain is on a hockey team, and most of the time I just recuse myself from the conversation because it's subjective and everyone has their mind made up already, so there is no point.  Also, groups of people tend to naturally choose their own leaders and besides being designated to speak with the referee, it's a mostly ceremonial posting and doesn't seem to be worth arguing about.
Usually.
But something about the way the Toronto media/fans are treating the best players they've had for the last five years is getting to me. Whatever you may think of  Dion Phaneuf, I probably don't agree with it, but I can understand it. He's the highest paid, highest profile, Captain and one of the best players on the league's premier team, so I get it. Knowing that, I have (usually) been able to ignore the unjust hatred and criticism he has taken from a fan-base that is frustrated and just doesn't know where else to channel its rage.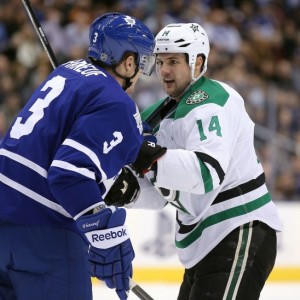 I mean, why fight with people when they're just being emotional? I think most people who take hockey serious enough to move beyond their emotions understand that Phaneuf isn't close to as bad as the people who call talk-radio make him out to be.  But again, that rage has to go somewhere.
Ideal targets would be Brian Burke, Dave Nonis, Ron Wilson and Randy Carlyle, along with Claude Loiselle, Dave Poulin, Cliff Fletcher and Dave Morrison. Am I forgetting anyone?  Either way, you might notice two names absent from the list of guys it's OK to blame.
Things Kessel and Phaneuf Didn't Do:
All Phil Kessel and Dion Phaneuf have done is be the best players on a bad team. They did not fail to acquire additional top-line centres and defensemen. They did not handicap the team with brutal asset management and salary-cap handling. They did not draft worse than a child picking names out of a hat could have.
Dion Phaneuf did not trade Alex Steen for Lee Stepniak. He didn't force the team to buy-out Grabovski while not only signing the inferior Tyler Bozak, but actually giving him an 18 team no-trade clause.
Neither Phaneuf nor Kessel are responsible for having Tim Gleason take up salary-cap space until 2075. They didn't insist on the dressing of enforcers at the expense of keeping Joe Colborne and neither did they give up assets to trade for a superfluous goalie, nor sign a winger to a top tier free agent contract against the advice of virtually anyone who was paying attention, when the team's only strength was wingers.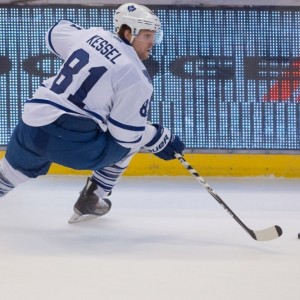 No, Phil and Dion weren't responsible for those or the many other errors of the last six years. To reiterate, all they did was perform as the team's best two players for a half decade while everything around them went to shit.  
In return for their dedication, they were treated like a couple of pariahs. I'm not too sure what standard they were being held to either, I mean, in many other cities there are whispers about drinking, drugs and late nights.  Some players are arrested for domestic abuse, linked to gambling circles or worse.
But in Toronto, no one has ever heard those things about Phil and Dion. They're a couple of choir-boys. They have had literally zero off-ice controversy.
The worst thing either of them have ever done is fictionally finance a make-believe hot-dog cart.
Oh, well, technically there was the whole not-saluting-the-fans thing, but that was controversial in the way that putting the spoon on the wrong side of the plate is controversial – i.e even your grandma probably didn't care about it, and you mocked anyone who did.
Neither of these guys brag about their charity work. They don't come out and say "Hey, why are you trashing me, do you have any clue what I do for this city?"
Of course they don't. They don't because, even though they both do an absolute ton of charity work and good deeds in an attempt to give back, they are class-acts all the way.
I've never heard of one fan who met either guy and didn't say something along the lines of "So nice and down to earth. One of the nicest athletes I've met." Etc. Etc. Etc.
The only thing people don't like about them is that they were the best players on bad teams. Not teams that failed, mind you, teams that were built improperly and for whom any success was hitting above their weight.
I think Phaneuf and Kessel were just unfortunate to be the keystone players of a team that happened to be bad during a time when the Leafs have only made the Playoffs once in decade, and in a time when the internet hit its apex and fans were able to voice their immediate (and usually not well thought out) ideas and thoughts.
That is the only way to explain the level of hatred, and the shoddy way the fans of treated two players who were/are model athletes on and off the ice.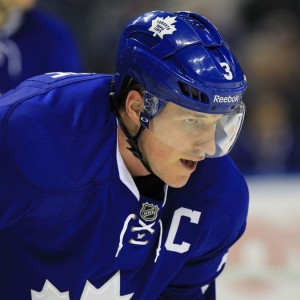 So Enough Is Enough
I see and hear so many people say things like "He's a good player, but he never should have been the Captain." or "He isn't a good leader" (Like anyone not on the team can know that).
It's all ridiculous.  Let us review the facts:
Dion Phaneuf, in his time with the Leafs has never embarrassed the team. He has been nothing but 100% professional during some of the worst years in franchise history. He never once complained through the media, despite being misused by a string of incompetent, outdated head-coaches.
He didn't once say "Hey you know my stats would be better if you had a peer for me to play with in this defense corps? You know I'd do better if I wasn't the teams #1 offensive dman, their #1 defensive shutdown defenseman, the #1 penalty killer, the #1 power-play guy;  If I didn't have to face the best forwards in the NHL night in and night out. If my team employed a top centre who could play defense." Etc etc etc.
He hits, he fights, he sticks up for teammates, he scores, he listens to the coaches and he does it all with class. He hasn't even ever said a controversial statement, let alone done something to deserve the crap he takes. Sure, he's no eloquent speech-maker, but he shows up for his interviews after the game, takes responsibility and does everything asked of him.
He is one of only eight men who've been the captain of the Leafs for five or more seasons. Should he stay a Leafs for next season, he will, around Christmas, have served more games as Leafs captain than Clark and Gilmour combined. No one is saying he is as good as Mats Sundin or Doug Gilmour or Syl Apps as a player. But as a Captain? There is not reason to criticisze the job he's done- outside of team success, which really should tell us something about how people judge Captains.
So sure, the team hasn't had any luck with him at the helm, although that isn't his fault. And sure, he has been miscast and misused, but that isn't his fault either.  In the end, he's conducted himself with class and dignity during some of the franchise's worst years, and through one media controversy after another.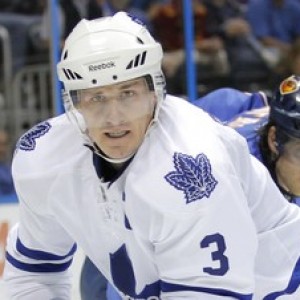 For that reason, for his consistency, his outstanding charity work and for doing it all while being one of the most scrutinized, and unjustly criticized players in NHL history, he deserves to be called one of the greatest Captains in Leafs history.
Let us hope he's still here when the team is actually good and he can be remembered as part of somethings besides captaining the team that wasted Phil Kessel's prime.
A Message From James Tanner and the Hockey Writers:
I learned this week from one of my readers about about a Leafs fan in one of the Facebook groups I post these articles in sometimes.  This guy is raising money to help out his brother, sister-in-law and nephew after their house burned down and they lost everything.  Because I have a forum here I figured I could pass it along and help more people see the fundraising page.  Click Here to see it. 
Thanks for taking the time, and thanks for reading.