"Great moments are born from great opportunity." – Herb Brooks
That's what the Pittsburgh Penguins have right now: A fantastic opportunity to push through fear and doubt and come out swinging. Refocusing the team concept, the Pens are shifting away from trying to squeeze a stout defense into the wide open style of play that the team was once known for.
The Pens have the look of a team seeking a fresh start.
Last off-season was chock full of stories about toughness. Grit became a buzz-word, and the role players fell into place like so many dominos.  Steve Downie was brought in to do what Steve Downie does – and boy did he ever do it.  Sadly, he did his thing a little too much; to the tune of 238 penalty minutes.  That's the most he's had in any season of his career and amounts to roughly 25 percent of his career total.
Thank about that for a moment: A guy who is known to bend the rules of the game put up numbers that were gaudy even for him.
Now that he's moved on to the sun-parched ice of Glendale, Arizona; Pens fans can rest a little easier knowing the refs won't be calling cheapies simply because Downie is Downie.
Maxime Lapierre was a gritty acquisition that is currently on the unemployment line.  While he did his best work in the post-season, his regular season game was invisible.  That he remains unsigned speaks to his current value, and while serviceable, teams will exhaust all other options first.
Daniel Winnik was a solid role player acquired to continue to "grit-ify" the roster. It was, however, a grit-for-grit move, where Zach Sill and 2 draft picks went the other way.
All of these gritty guys, forged in iron and brought on to withstand the onslaught of an NHL post-season, are gone.
A New Hope
Enter Phil Kessel.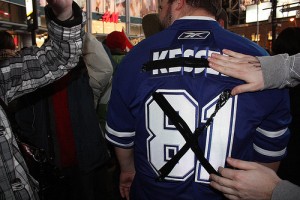 Kessel harkens back to the players of Pens' past, such as Jaromir Jagr, Ron Francis and Alexei Kovalev. He's a legitimate threat that is about to play with other legitimate threats in Sidney Crosby and Evgeni Malkin.  It's expected to result in an offensive output so epic that only J.R.R. Tolkien would be able to capture it's scale.
Kinda like how it used to be.
While the Pens have sported the likes of Ulf Samuelsson and Jarkko Ruutu in gritty roles, they were never known as a defensive team.  The Pittsburgh Steelers are synonymous with defense, just as the Pens were synonymous with offense.
Mario Lemieux made sure that the "biscuit was put in the basket," on a regular basis, and winning games 7-5 was not uncommon.  The Pens of the past simply imposed their will on you – an offensive will that they took your punches but would out-score you.
As they transition away from gritty role players, the arrival of Kessel should be what a breath of fresh air is to a stale room. As for Kessel, he's just looking forward to being free from the suffocation of Toronto. It's a return to the roots of Penguins hockey, and it just feels right.  Brooks would go on to close in his famous speech about opportunity with, "Now go out there are take it."
With an offense like this one, it could be a special opportunity to do just that.