When the Buffalo Sabres lost winger Will Carrier to the Vegas Golden Knights in the expansion draft, the task of Sabres' General manager Jason Botterill to take a mediocre roster and guide it to within spitting distance of the playoffs became that much harder.
Not because Carrier was an integral part of the Sabres' future, but rather the team was left with players on the roster who hurt Buffalo on the ice and on the spreadsheet. I'm looking at you Zach Bogosian, Tyler Ennis, Josh Gorges and Matt Moulson.
Despite the lack of help from the Golden Knights, the Sabres have some positives to build on.
Improving the Defense
Since taking over as GM in May, Botterill has made two solid player transactions that will pay dividends for improving the Sabres' defensive corps – signing Victor Antipin from the KHL and trading a third-round draft pick to the Montreal Canadiens in exchange for Nathan Beaulieu.
These newcomers are by no means saviors, but they should easily replace the uneven performances of Dmitri Kulikov and Cody Franson. And their skill set will complement the style of play new head coach Phil Housley wants to implement.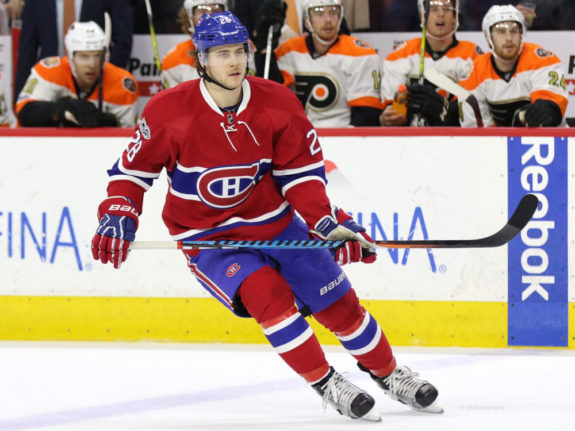 "I think the brand of hockey is just being an attacking mindset, playing with speed, playing with pace, playing fast," Housley told reporters during his introductory press conference in Buffalo. "That includes a five-man attack, so our defense are going to be very involved in the play."
The Sabres now have a solid top duo in Rasmus Ristolainen and Jake McCabe, and decent potential with Antipin and Beaulieu.
But a word of caution: Housley's tutelage may help revitalize Bogosian, but it cannot hook Gorges up to a rejuvenation machine or turn the Sabres' Justin Falk into the Carolina Hurricanes' Justin Faulk.
Plugging Holes at Forward
Similar to the defense, talent among the team's forwards trails off abruptly.
Jack Eichel, Evander Kane and Sam Reinhart form an excellent top line. The second line with Ryan O'Reilly and Kyle Okposo could be nearly as good if it were not for the gaping hole on their left wing.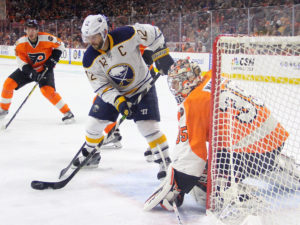 The rest of the team's forwards currently consist of Moulson, Ennis, Marcus Foligno, Johan Larrson, Zegmus Girgensons and Nic Deslauriers. It remains to be seen if team captain and unrestricted free agent Brian Gionta will return.
No matter how you mix and match this group of players, it's clear that help is needed and Botterill understands this will require outside assistance.
"We're still addressing a lot of different positions in our organization," Botterill told Sabres.com last week. "We want to bring more depth obviously, and whether that's through free agency or through trades we'll continue to look at different things."
Shopping the Free Agent Market
Looking to free agency, it's safe to say players like Kevin Shattenkirk, Patrick Marleau, Justin Williams and Martin Hanzal can be crossed off the Sabres' wish lists.
And unless Botterill decides to move Kane in a trade for a defenseman, no other big names are heading to Western New York.
Instead, think Nick Bonino, Alex Chiasson or Beau Bennett.
Grumblings about bringing in free agent center Nick Bonino are inevitable because of Botterill and the connection to the Pittsburgh Penguins.
Although his 37 points in 2016-17 would have ranked just above Gionta and Moulson, swapping the 29-year-old Bonino for the 38-year-old Gionta could make sense. He has proven to be an effective two-way center who would bring leadership and playoff experience to any team. It also allows the Sabres to move Girgensons to the wing where he is more effective.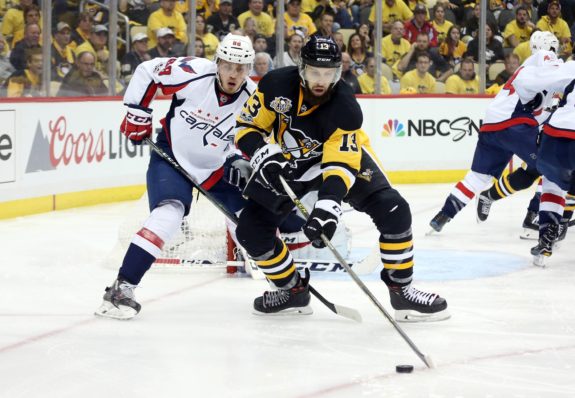 Meanwhile, Chiasson could be an interesting option should Housley believe Moulson or Ennis are top-six worthy. The 26-year-old has bounced between the Dallas Stars, Ottawa Senators and Calgary Flames and never produced more than 35 points in a season. But his underlying stats show potential.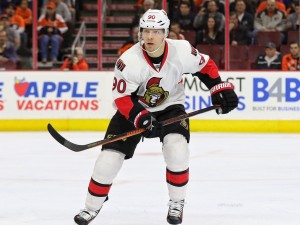 Last year, for example, Chiasson's even-strength goals per 60 minutes played ranked above teammates Johnny Gaudreau, Matthew Tkachuk and Sam Bennett. He did not receive a qualifying offer from the Flames and is now an unrestricted free agent.
Another low-cost possibility for Buffalo to consider is Bennett.
A 2010 first-round draft choice of the Penguins when Botterill was in Pittsburgh, Bennett has shown the gift for offense, but also for getting injured. Traded to the New Jersey Devils last summer for a third-round draft choice, the Devils chose not to extend Bennett a qualifying offer after a disappointing 2016-17 campaign.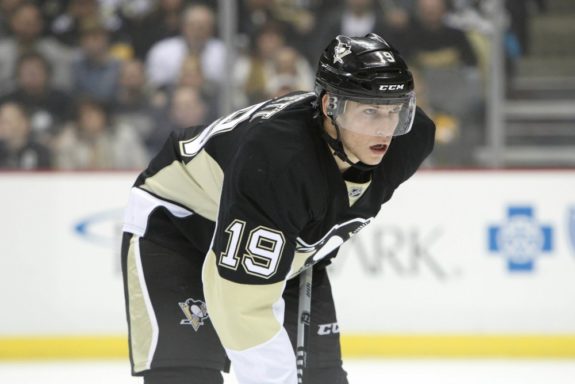 Worth the gamble? Well, over the past three seasons, Bennett's even-strength goals per 60 ranks above O'Reilly as well as Ryan Kesler, Paul Stastny and Ryan Johansen. Given the injury history, Bennett could make him a low-cost/high-upside gamble worth examining while awaiting the arrival of players such as Alex Nylander from the AHL.
Whichever direction the Sabres plan to go with the roster, fans should not get their hopes up for a major free agent addition this summer.
In fact, Botterill said it best before the draft: "I don't think there's as much of that sort of a 'big bang' [free agent] on July 1, but you can find some good value and good depth."