Prior to the 2017 NHL Draft, rumours of a potential Edmonton Oilers and New York Islanders swap began circulating rapidly. Where there was smoke, there was fire as Jordan Eberle was flipped for Ryan Strome the day before the first-round. From Oilers general manager, Peter Chiarelli's point of view, the deal was necessary to shed salary cap space in order to sign an unrestricted free agent on their blue line.
On the morning of the NHL Draft, the Oilers took care of some more business re-signing the NHL's reigning shot blocking leader, Kris Russell to a four-year, front-loaded contract worth a total of $16 million. The Alberta native had an extremely successful season with the Oilers, leading the team in shorthanded time on ice per game and second among defenders in takeaways.
The Oilers locked up another piece to their core group of character players, re-signing Zack Kassian to a three-year deal worth a shade under $2 million per season. Kassian's teammates have a great respect for his competitive nature and the style of game he plays. Next on Chiarelli's list was signing another hard-nosed player that has garnered his teammates' respect, Eric Gryba.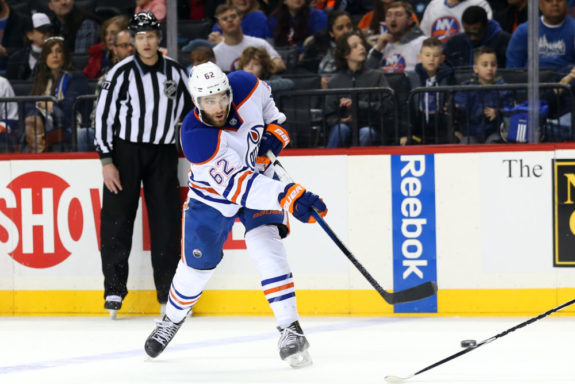 Oilers Needed a Depth Defenceman
While college free agent Spencer Foo is still a large priority on the Oilers' priority list, their open roster spots for depth defenders needed to be addressed. The Oilers' defensive depth chart broken down balances quite well. Their first pair is the Swedish duo of Oscar Klefbom and Adam Larsson.
Last year, their second pair consisted of Andrej Sekera and Kris Russell, however, with Sekera's injury likely to keep him out of the lineup into 2018,  youngster Matthew Benning could make the jump into the top-four. This leaves left-handed Darnell Nurse and one open spot on the right side in the third pair.
The free agent market appears to be weaker every season and this year's crop is no anomaly. That is why Chiarelli had no issue committing to Gryba on a two-year contract worth a total of $1.8 million as TSN's, Bob McKenzie reports. Some believe the Oilers would have been wiser to sign a more offensive-minded defenceman like Nikita Nesterov or Paul Postma but the familiarity of Gryba in the Oilers organization increased his value.
With five seasons under his belt earning a total of seven goals, it is safe to say Gryba was not signed as a point producer. I know, it's hard to believe a 6-foot-4 bearded beast fits with the Oilers like a couple of puzzle pieces, however, Gryba proved his worth the last two seasons in Edmonton standing up for teammates on the ice and a calming presence off the ice.
Why Gryba Fits
With the long-term Sekera injury combined with the loss of Griffin Reinhart in the expansion draft to the Vegas Golden Knights, there were open positions to be battled for in training camp. Oilers management had no intention of gambling on the uncertainty of Bakersfield Condor Dillon Simpson, who saw his first NHL game last season, is ready for a full-time job in the big league.
https://twitter.com/NHLbyMatty/status/879771758810742784
Mark Fayne, who spent the majority of last season in Bakersfield, is weighed down by his unreasonable cap hit of $3.625 million. Fayne can get by at the NHL level but until he can structure a cheaper contract next offseason, it is unlikely he sees consistent time. Gryba, at what should be an extremely affordable cap hit, led the Oilers with 3.6 hits per game, intimidating opponents from entering the blue paint and shying away from board battles.
With a healthy Oilers lineup, Gryba is not likely to dress every night but provides stability when stepping into the lineup because of the simplicity of his game. Players that do not see regular time in the lineup must have positive attitudes, leadership abilities and be respected by their peers. The Saskatoon product checks all of the required boxes and the Oilers brass recognized that.
Hockey player by night, huntsman by day, Gryba is used to the pursuit of his prize and can patiently lock-in his target – a spot in the opening night lineup.