It's no secret. Justin Williams is Mr. Game 7. He's earned that name from being widely considered the most clutch player in game sevens in the NHL playoffs in history. While with the Los Angeles Kings, Williams saw his fair share of do-or-die situations. The playoffs are fickle like that. Still, he and his teammates managed to persevere more times than once, prompting Williams to step up on the big stage when he needed to. He's scored seven goals in game sevens in his career – a tremendous feat that has led William to three Stanley Cup victories and a Conn Smythe Trophy in 2014.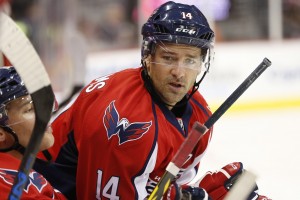 While Williams most recent heroics didn't happen in game seven, they were still just as big for the Washington Capitals. In game five against the Toronto Maple Leafs, Williams came up big for the President's Trophy winning Capitals in overtime, burying a puck and giving his team the 3-2 series lead heading into game six. Heading back to Toronto for game six, it was crucial for the Capitals to win the game and avoid playing in an elimination game on enemy territory.
This isn't the first time that Williams has come up big in a non-game seven playoff game. In fact, Williams scored two goals in game one to force overtime and has posted five points in five postseason games so far this year. When with the Kings in 2014, Williams and his teammates were staring elimination in the face down 3-0 in the series to the San Jose Sharks. Williams scored two goals in game four which ultimately served as the turning point in the series. The Kings went on to win the Stanley Cup – Williams' third in his career.
Impact With the Capitals
When the Washington Capitals signed Williams, they knew the type of player they were getting. He wasn't signed with expectations of 30 goals or 60 points. In fact, Williams hasn't scored 30 goals or 60 points since the 2006-07 season. Still, in the two years since signing in Washington, the 35-year-old has played in 162 of 164 possible games, reached the 20-goal mark in both seasons and has recorded 100 points.
But Williams is so much more than the points he produces.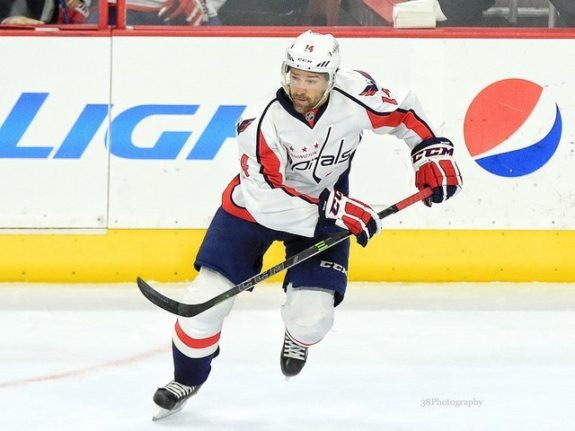 Williams most prominent traits come in the form of his leadership and inherent clutch gene. On a team that was missing a playoff pedigree in Washington, Williams was simply the perfect fit. He proved that in game five by rallying the troops and allowing them to take the series lead.
"He helps in getting the story out," Capitals' head coach Barry Trotz said. "Anytime that he talks about his journeys and winning the Cups, those resonate with the other veterans. He's a really good voice. He's had some experiences that a lot of us want and a lot of us pursue."
Time Running Out
Not everybody is Jaromir Jagr. Not every player can perform until they are in their mid-40s at such a high-level. For Williams, that isn't a secret. At 35 years old, there's only so much time left in his career. Despite winning three Stanley Cups, however, his will to win is still at an all-time high.
We know our aspirations. Our aspirations are as big as they get. I think the whole 'favourite' thing and expectations are certainly put on by ourselves more than anyone else. Everyone will talk about them, but when you feel you have an opportunity, and I know this very well, you want to seize that opportunity, because you really don't know how many more you're going to get.
For the Capitals, the window also looks like it could be closing. Following this season, the team will have only 11 players on their current roster under contract. Their pending free agents include T.J. Oshie, Evgeny Kuznetsov, Daniel Winnik, Andre Burakovsky, Brett Connolly, Chandler Stephenson, Paul Carey, Karl Alzner, Kevin Shattenkirk, Dmitry Orlov, Nate Schmidt and backup goaltender Philipp Grubauer. The list is extensive and there is almost no chance that the team can retain every player listed above. Still, that isn't the team's most pressing concern. For the time being, all that matters is this current postseason run.
Only time will tell the future of the Capitals. For now, Williams and his teammates have a golden opportunity to advance to the second-round and continue their quest to bring the Capitals their first Stanley Cup in franchise history. It won't be easy, but if anybody can make it happen, it's Mr. Game 7.