Ladies and gentlemen, we have our first trade of NWHL's 2017-18 season. The Connecticut Whale just bolstered their roster and scoring prowess in a major way. Word came out on the afternoon of Nov. 8 that the Whale had acquired NWHL rookie Paige Savage from the Boston Pride.
With Boston receiving a conditional pick in the 2018 draft, the Whale seemingly got away with highway robbery. Savage, the 15th overall pick in 2016, adds immediate firepower and finish to Connecticut's roster. Oddly enough, Connecticut was the team that originally drafted her even though the first NWHL club she signed with was Boston.
CONFIRMED: The Whale have acquired F Paige Savage from the Boston Pride in exchange for a conditional draft pick.
🔗:https://t.co/mropj5mTvA pic.twitter.com/IJjqRtQ3qT

— Connecticut Whale (@CTWhale_NWHL) November 8, 2017
THW takes an in depth look at the trade. Taking everything into consideration, the Whale just added a sizable gem.
Savage Has a Coveted Scoring Touch
Tied for 24th in school history, Savage finished her collegiate career with the Northeastern Huskies with 37 goals and 69 assists. She compiled those 106 points in 149 games across five seasons. In four of her five seasons she recorded at least 23 points. This young lady can score. That is a huge part of why Connecticut is so excited to have her join their squad.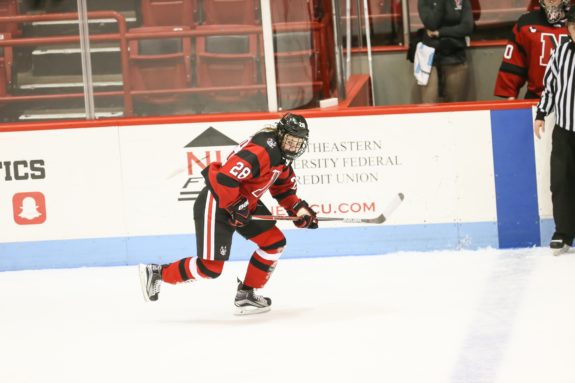 The Whale's head coach, Ryan Equale, shared the following about the Savage acquisition via an NWHL press release:
"We are excited to have Paige join the Whale," said Equale. "As Paige makes the adjustment from college to the NWHL, we will look for Paige to bring her scoring touch, intensity and work ethic to our team."
Savage stayed consistently productive throughout all five seasons with the Huskies. Her highest career goal total came during the 2015-16 season when she notched 11 goals in 38 games.
Savage is also a very solid playmaker. In her sophomore campaign (2012-13), she set up her teammates 22 times in 33 games. Those 22 helpers led all Northeastern players. Her plus-14 led all Huskies forwards in plus/minus. Her 69 career assists have her tied at 12th overall in the school's history.
Savage Brings Good Size and Physical Play
Savage played more games for the Huskies in a career than any other player. She is also a robust, physical player that combines a wonderful blend of skill and physicality. Eric Lindros-esque, in a way. Her 136 career penalty minutes means she nearly averaged a penalty minute per game. At 5 feet 8 inches and around the 150-pound mark, she has size and skill that can make other teams green with envy. Green as the Whale's crest.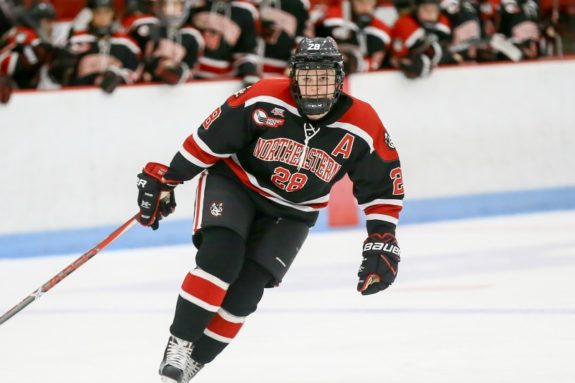 Only one Connecticut forward (Sophia Agostinelli) is taller than Savage. Size is paramount in today's NWHL. Proof of that was just witnessed this past weekend when the Buffalo Beauts and the Metropolitan Riveters slugged it out through hard, physical play. A player like Savage increases the Whale's own size and sense of ruggedness. They can get in on the fun too.
Looking for Her First Bit of Regular-Season Play
Though the Boston Pride have played two regular-season games thus far, Savage has not yet taken to the ice. That means that she will make her official NWHL debut and play her first league game as one of the Whale. The Connecticut faithful will be waiting anxiously to get their first opportunity of seeing her play professionally. Coach Equale is particularly excited over what Savage will add to his hockey club.
"We have a great group of players on the Whale and an even better group of people," said Equale via the same NWHL press release, "and we expect Paige to fit right in to an already strong and healthy locker room and team culture."
ICYMI: We made a trade earlier today, acquiring F Paige Savage from the Boston Pride.
🔗:https://t.co/B5gVulAhlh… pic.twitter.com/M6o13Lz3CB

— Connecticut Whale (@CTWhale_NWHL) November 9, 2017
This is a timely move for the Connecticut Whale. Just two games into the season they will now have a full campaign to reap the benefits of having Savage on their roster. That is one other thing to look forward to about having her with the Whale—Savage is all about timeliness. In her collegiate career she scored the game-winning goal on nine different occasions. The most came during her freshman year, when she scored the decisive tally four times in 33 games.
Every facet of Paige Savage's game is a plus for Connecticut. There is seemingly no aspect of the club's play upon which her acquisition will not make improvements. The Whale stole a good one here, and that is an understatement.
General Manager of the Buffalo Beauts (NWHL). Hockey history writer "The Hockey Writers". Credentialed media for the NHL Combine and 2018 IIHF World Junior Championships in Buffalo, NY, USA. Born and raised in Buffalo, NY. Lifelong hockey fan for over 40 years. Proponent of the women's game.