Based on the ongoing preseason narrative, the Wells Fargo faithful is preparing for a season in the Metropolitan Division basement. But despite another sluggish start to the preseason, the Flyers aren't waiving a white flag, nor should they. So why should fans in Philadelphia gauge their team's preseason performance more forgivingly?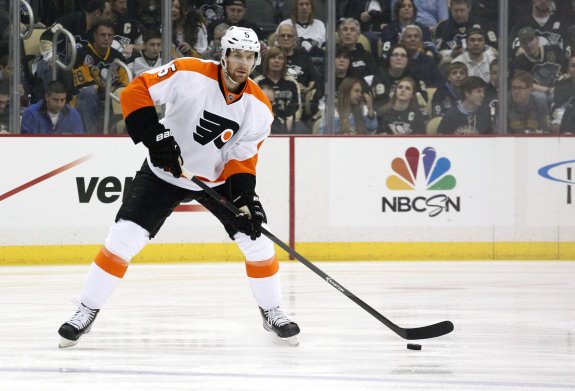 The Mirage of Winning
The preseason is an invaluable set of games that answer a various batch of questions. From roster decisions and previewing the cohesiveness of pairings, to executing the implementation of a system, the preseason has a purpose. That purpose, however, has little to do with actually winning. Sure, winning is nice. And while nobody hits the ice without that goal in mind, it's not the bottom line dividend in measuring a successful preseason.
"I want to be better, I have to be better," said Flyers goalie Steve Mason after a 6-3 preseason loss to the New York Rangers. "For us to come in here with the lineup we have, I have to be a better player.
"It's tough these preseason games with the lineups we have. It's tough to play when you have different people but at the same time, we have to be better … you have to treat this as a regular-season game because we can't have that kind of effort."
While the loss at Madison Square Garden was riddled with defensive breakdowns and absent energy throughout the tilt, the lineup Mason was speaking of was one without the majority of their established starters. The Flyers were overwhelmed by New York without the services of nine of their projected starters.
To illustrate a wider perspective, the absences of Claude Giroux, Jakub Voracek, Wayne Simmonds, Sean Couturier, Matt Read, Mark Streit, Nicklas Grossmann, Luke Schenn, and Michael Del Zotto against the Rangers meant that winning wasn't the end all be all – not with Zac Rinaldo logging 15:17 of ice time. And although the top pairing of Braydon Coburn and Andrew MacDonald labored to get into position at times, their criticized efforts were due in large part to the inexperience and unfamiliarity skating in front of them.
"Before the game, Berube acknowledged that there were two positions – center and right wing, both on the fourth line – that were still open.

That means the defense figures to look like this when the season starts Oct. 8 in Boston: Andrew MacDonald and Braydon Coburn; Mark Streit and Nick Grossmann; and Luke Schenn and Michael Del Zotto. Nick Schultz is penciled in as the seventh defenseman.

"Coburn and MacDonald were the only regular defensemen who dressed Monday, while the Rangers used a more seasoned lineup." — Sam Carchidi, philly.com
#Flyers only have like 5 confirmed starting skaters in the lineup anyway so.

— Flyers Nation (@FlyersNation) September 29, 2014
Does this exonerate Coburn and MacDonald's average to pedestrian performances? Not at all. But in three appearances together through Sep. 29th, the Flyers are 1-2-0 with their top defensive pairing in the lineup. The two have also combined for two points, a minus-one rating, five shots, six hits, and five blocked shots. And although their numbers certainly don't raise expectations for any Norris Trophy candidacies, their contributions aren't single-handedly costing the Flyers wins that don't even matter in the first place.
If winning in the preseason truly mattered, teams such as, the Pittsburgh Penguins, St. Louis Blues, Colorado Avalanche, and Anaheim Ducks may have more to worry about than the Flyers do. And within the Eastern Conference, only the Columbus Blue Jackets and Toronto Maple Leafs have scored more goals than Philadelphia's 15. But before a 2015 parade is scheduled for Broad Street, the Flyers' 20 goals allowed are the highest number allowed throughout the entire league.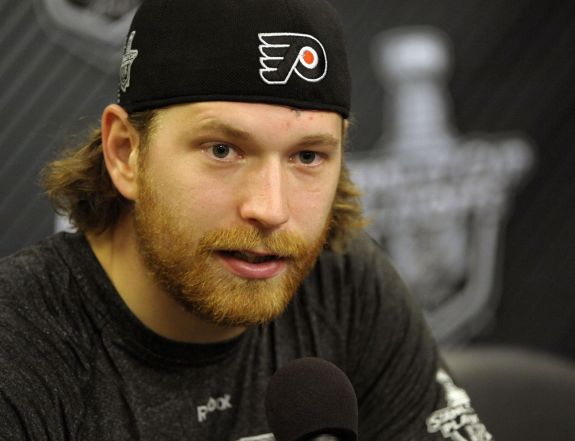 The Claude Giroux Factor
Lost in all of the exaggerated concern has been the absence of the Flyers' best player, Claude Giroux. As the captain is set to play in the team's final two preseason games, the lower body injury suffered on the first day of training camp didn't exactly help polish an unfinished product.
"Giroux has already missed six preseason games, but resumed practicing with the squad within the last few days. The team says it is unknown if Giroux will also make the trip to Washington to take on the Capitals in the Flyers' last preseason game.

"Assuming Giroux is indeed fully healthy, his early return is clearly welcome news for the Flyers. The talented center was a Hart Trophy finalist last season after posting 86 points in 82 games. He did have to overcome a painfully slow start, so it's not really a mystery why Giroux was so adamant to get at least one preseason game under his belt before getting going in 2014-15. Hopefully he's not rushing back too soon, though." — Chris Peters, CBS Sports
How important is Giroux to the Flyers? Giroux's production breakdown last season alone can answer that, while excluding his influence in the dressing room. Of Giroux's 86 points, 64 of them were scored when the Flyers won. And when Giroux lit the lamp, the Flyers were virtually a lock to win. Philadelphia lost only three times when their captain found the back of the net last season. It's no surprise the Flyers have sputtered without their best player. Giroux has earned that regard for a reason.
Finally, a preseason game worth watching: Giroux returns, #Flyers going with full lineup (minus MacDonald) tonight at home vs. Rangers.

— Frank Seravalli (@frank_seravalli) September 30, 2014
Giroux was initially slated to miss the entire slate of the preseason, which explains the cautious optimism of his early return. But not only is it an added bonus for Giroux to get some ice time before the season begins, he's also responsible enough to know which games matter more than others.
"If I start thinking about it, something bad could happen, I am just going to play the game," said Giroux. He said how he feels after the game will determine whether he plays in Washington.
"If I didn't think I was 100 percent, I would not be playing. I've been battling and last few practices I feel good."
With Claude Giroux in the lineup, the Flyers are instantaneously a better team. And for a fan base that's looking for anything to feel good about heading into the new season, Giroux's return will either help mask their warts, or take the attention off of them.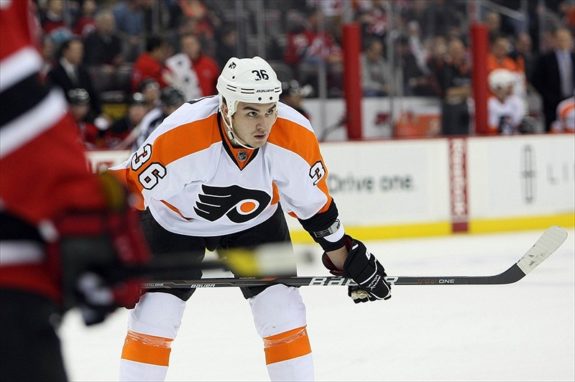 Unlikely Lineups
If we were judging the Lehigh Valley Phantoms based on their performance against NHL squads, the expressed pessimism to this point would be warranted. As we all know, though, that's not the case. So why are so many people ready to seek out a bridge?
"Am I concerned?" asked Flyers coach Craig Berube. "No. Listen, these guys need to get themselves mentally ready to go. Okay? And they've got to handle adversity better. Bottom line. Things always don't come easy in this league. You've got to be able to work your way through it and handle it."
The 82-game grind makes adversity for every team inevitable. The Flyers, of course, are hardly the exception to the rule. But if the adversity they face this season involves players like, Zac Rinaldo, logging 15:00 a night, or Zack Stortini paying overhead expenses in the penalty box, then there should be panic.
The Rinaldo preseason project makes sense. He was re-signed to a cheap two-year deal by GM Ron Hextall, who seems to have seen something in the fourth-liner since his NHL debut. Hextall and the Flyers want to make Rinaldo a more skilled contributor who can tangibly aid the special teams units. But if Stortini is hanging on to a roster spot for his fighting, it's nothing short of a strung out process that breaks character from Hextall's philosophy of a disciplined team that can skate.
"Let's think about this out loud: if fighting deterred violence against your team, there would be a pretty strong link between the number of fights your team participates in and the number of violent penalties taken against your team, right? We're talking things like boarding, spearing, slashing, cross-checking, roughing, kneeing, etc. We're not including obstruction penalties like hooking, holding and interference.

Fighting would lead to fewer of those violent penalties against your team. That would make sense.

"As it turns out, there's zero link between those things. The number of fights your team gets in has no bearing on the amount of violent penalties taken against your team. Pension Plan Puppets ran this data for the whole league across a six year span and found no link." — Travis Hughes, Broad Street Hockey
Per @jaygeemsg,Zach Stortini yelled at #NYR bench to "prepare for a long $&#% night." So Derick Brassard answered: "Have fun in the minors."

— Brady Trettenero (@BradyTrett) September 30, 2014
Even if the Flyers wanted to have an attitude that's unafraid to throw down in the lineup, Stortini isn't it. The Flyers have others who can do that, while adding value in other departments a la Wayne Simmonds. And since Hextall appears to be invested in Rinaldo, last year's penalty minute hero, seeing Stortini with the Flyers is enough to make one to long for Riley Cote.
The Flyers may not be favorites to win, or even play for the Stanley Cup this season. They may even stumble somewhat out of the gate in October. But if the mistake of correlating the results from games with a large number of players who won't even make the team is made, the lowered expectations should be easy to exceed for this Claude Giroux led team.