Since being eliminated from the playoffs last April by the New York Rangers, the Flyers have been to hell and back. Whether it's their bloated salary cap, or mixing and matching their lineup, it's been a taxing offseason in Philadelphia. With other elements on top of that in play, the likelihood of another stumble out of the gate is on the horizon for Philadelphia.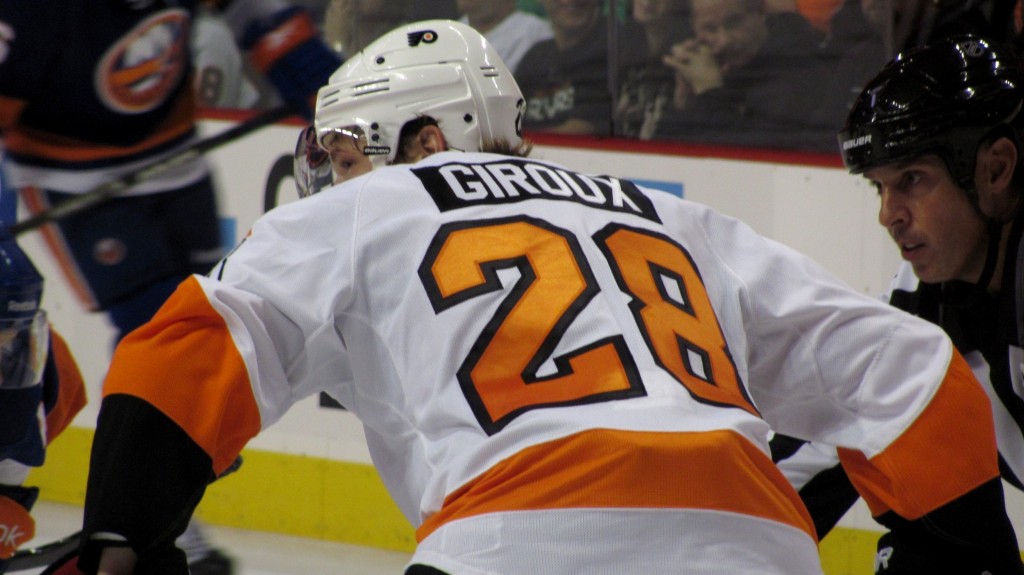 The Cost of Injuries
There's a lot to be said for an NHL team that can stay healthy. Familiarity and continuity develop at a more rapid pace when teammates get comfortable with their fellow linemates. No team knows this more than the Flyers, of course. Philly overcame their disastrous 1-7-0 start last season with one of the league's healthiest teams.
The Flyers boasted seven players who were healthy enough to appear in all 82 regular season games. Claude Giroux, Jakub Voracek, Wayne Simmonds, Mark Streit, Brayden Schenn, Sean Couturier, and Braydon Coburn all answered the bell for every game, a component that undoubtedly contributed to the Flyers righting the ship.
Even Steve Mason logged 1,7001 minutes in 61 appearances, despite suffering a concussion late in the season. But in spite of Philly's resolution, they were affected by Giroux's offseason injury, which resulted in the captain's absence in training camp. So while Giroux didn't miss a game that counted, his sluggish start was a root cause to the team's abysmal beginning.
"The way he plays, he can probably say whatever he wants," said former Flyer, Scott Hartnell, last season. "I'll follow him to the Ben Franklin Bridge and jump off if he will lead the way. He's just got a presence about him, I think.
"Maybe more so now than even last year when he got the captaincy. He's just a great guy. You talk to him for five minutes and you just love his energy. He's got great energy. It just flows through everybody."
7 (!) players have played all 82 #Flyers games this season: Giroux, Voracek, Simmonds, Streit, B. Schenn, Couturier, and Coburn.

— Philadelphia Flyers (@NHLFlyers) April 13, 2014
More importantly, Giroux put his money where his mouth was. At the bleakest time of the season, Giroux guaranteed a playoff berth, and later delivered. And even with the freak golf club accident, he finished third in the league in points with 86.
Fast forward to Philly's first day of training camp, and it's like deja vu all over again. In a matter of the Flyers' first 15 minutes of camp, Giroux was lost to a lower body injury. Not exactly the start Philadelphia had envisioned.
"We don't want to start camp like that but what are you going to do?" said Flyers GM Ron Hextall. "We'll battle through and be the best we can be."
The team announced that Giroux's most recent injury will sideline the 26-year-old forward for two weeks. This means the next true action Giroux will see will be on Oct. 8th in the season opener in Boston. And while Giroux is skilled enough to overcome a scoreless drought, such as the one he endured last season, this year's Flyers team cannot sustain another lethargic start – not if they have another trip to the playoffs in mind.
"On the heels of losing defenseman Kimmo Timonen for what could be a career-ending blood-clot issue, it isn't a dream start to camp to again be missing the NHL's reigning third-leading scorer." — Jeff Neiburg, philly.com
The plausibility of enjoying the luxury of health the Flyers had last season isn't probable. Injuries happen. They're a part of the game. But when the injury bug bites the best players on both sides of the ice, it's a tall barrier for a team who's already up against the eight ball – even if Giroux isn't expected to miss any real time.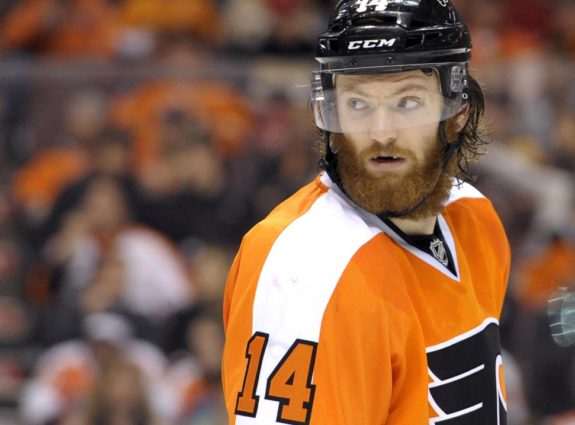 Solving the Pairing Jigsaw Puzzle
Giroux's injury will now temporarily nullify the progress made on putting together a complex puzzle of offensive line pairings. Even with Giroux, question marks still lurked. Especially on the top line that he centers.
"Every year in training camp, the lines never stay the same," said Giroux before suffering a lower body injury. "When the season starts, 82 games is a lot of games. You play with a lot of different players. Last year I might have played with everybody. It all depends on how the season goes and how we want to switch things up. It doesn't matter who you play with. You just have to focus on your game."
While Giroux's take on Philly's positional uncertainty isn't factually false, it's not exactly how a competitive team would want to enter the season. And with Giroux on the shelf for the rest of training camp and the preseason, the snowball effect now moves Brayden Schenn from the left wing on the top line, to anchoring that very line down the middle. The move may seem minimal, but the cause and effect doesn't end there.
"Moving Michael Raffl up also resulted in moving R.J. Umberger to left wing on Vinny Lecavalier's unit with Jason Akeson. That move changed the fourth line with Pierre-Edouard Bellemare centering Zac Rinaldo and Darroll Powe." — Tim Panaccio, CSN Philly
The continued mixing and matching may give coach Craig Berube added looks at certain players like, Jason Akeson and Pierre-Edouard Bellemare, but the ever so important vacancy on the top line is no closer to being filled with Schenn back at center.
"There's no guarantee that Schenn will hold onto the spot for more than a day, let alone through preseason, but the move is an interesting one. No matter when Giroux returns, the team is still in need of a top-line left wing; at first, Schenn seemed to be the choice to fill that position.

"But since Schenn has played primarily center and right wing, playing on the left is a bit different from what he's used to. One could argue Schenn should spend as much time as possible learning the wing. Instead, though, it was Michael Raffl's turn to take the spot." — Sarah Baicker, CSN Philly
Many anticipated 20-year-old Scott Laughton to bump up from the rookie group to the veteran unit, including the majority of pundits. But after Darroll Powe replaced Giroux on day one, and Chris VandeVelde absorbing the open spot on day two, it's likely the Flyers are staying patient with their first-round draft pick from 2012.
On Scott Laughton. No player ever suffered from getting some time in the AHL. If he doesn't make the Flyers not a bad place to be at all.

— Mister Jimmy 🇨🇦 (@JimmyHespeler) September 20, 2014
After destroying OHL competition for four seasons with the Oshawa Generals, Laughton's lack of professional experience suggests this is the responsible move. In six games with the Adirondack Phantoms last seasons, Laughton added a pair of assists to compliment a single goal. But even if Laughton is NHL ready, the surplus of centers on the current Flyers roster gives the organization the opportunity to mature Laughton down in the AHL.
On the other side, Berube's defense has had less difficulty adapting to Kimmo Timonen's absence. The defensive pairings appear to be set, even if the pairing of Mark Streit and Nicklas Grossmann have remained as the fourth set through the first two days. Coincidentally, the area most believe the Flyers are lacking (defense) looks to have the most stability.
But even with the pairings set, as of now anyway, there's no guarantee the new pairings will mesh. Braydon Coburn will be getting to know Andrew MacDonald better, as MacDonald is projected to jump to the top pairing. And although MacDonald was a workhorse in Long Island, it's a role that the former Islander will have to re-acclimate himself to.
"[Chemistry] is something that builds through the year," said Coburn. "Sometimes, it can be more about experience and talk. Sometimes the more you play together, the more you figure out each other's tendencies.
"Mac is not a totally new guy coming in here. I got to see him play last year with other guys and got a small chance to play with him, as well. There's things I know that he likes and certain places he likes the puck and certain places he likes to be. I can read off that. He can do vice-versa."
The advantage the defense has on the offense, though, is time together during training camp and the preseason. And even with Giroux expected back in time for the season opener, learning that chemistry with his new left winger (whomever it may be) will have to be done on the fly.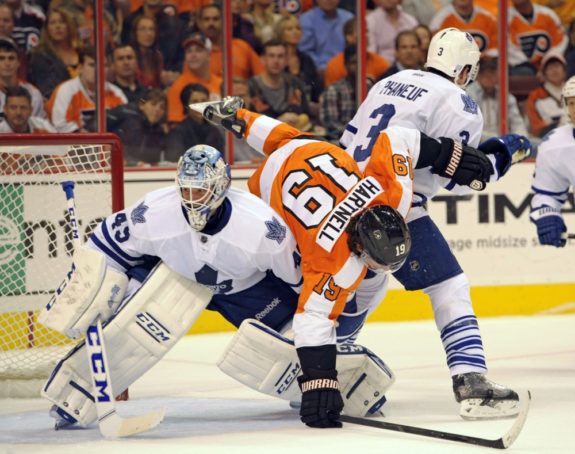 What's on the Horizon for Philadelphia?
The unofficial start to the 2014-15 campaign hasn't been optimal. Especially for a squad with certain deficiencies sprinkled throughout the lineup. But with Giroux, that same lineup touts six of Philly's seven 20-goal scorers from last season, as well as a 30-game winner in Steve Mason. And with an added emphasis on fitness and stamina, a slow start may be on the horizon for Philadelphia, but not in the fashion of 1-7-0.
"I think our fitness level was a concern last year," said Hextall. "You start out 1-7 and you've got to improve that. Fitness was a big focus. Our players did a really good job of coming in, in good shape."
While there's no doubt the Flyers will be a much improved skating team, they must become a better even strength team – even with their outstanding special teams units.
Teams that over-rely on their special teams to lift them tend to be the clubs that are more prone to inconsistency and the much-cited "lack of 60-minute performance." The Flyers are a good case in point.

Look at what happened to the Flyers during the lockout-shortened 2012-13 season. The team had the highest combined special teams success ratio of any club in the NHL. Nevertheless, Philly missed the playoffs by a significant margin.

Why did that happen? Poor five-on-five play.  — Bill Meltzer, Hockey Buzz
Again, Flyers even strength goals. Couts 5th, ahead of 19 and 17. Look at the # of shots he managed. With his usage.. pic.twitter.com/dE5d2NVOMR

— Bob Roberts (@BobRbrts) May 7, 2014
And while Scott Hartnell will be missed, it's an opportunity for a current Flyer to help Giroux, and Voracek for that matter, to punish the league with point production. In fact, Hartnell's departure was part of a discussion Broad Street Hockey recently had with The Cannon, a website dedicated to Columbus Blue Jackets news, information and insight.
"… With that said, Hartnell has never been the most skilled player on his team or really ever on his line, and when things would go bad for the top line, Hartnell would typically look pretty damn invisible (remember all that crap Giroux took for his bad first month of the 2013-14 season? Hartnell was awful in that time, too). Some of that is kind of just how Hartnell is — a lot of how successful he is will depend on the guys playing around him. A lot of people in Philadelphia, even before the trade, had wondered if maybe there's a better fit at top-line left wing than Hartnell. Like I said, I don't think the Flyers currently have a better, more skilled player to really put in that top-line spot than Hartnell. But I'm sure there are host of guys they could at least try there and end up with decent enough results, including guys who have different styles of play than Hartnell does." — Mike MacLean, The Cannon
If I've said it once, I'll say it again: anything can happen. Be that as it may, another slow start is likely on the horizon for Philadelphia. But even if they go into the TD Garden on Oct. 8th and get blown out of the building, don't anticipate an early hiccup or two to shape into repeat of last year's start. With Claude Giroux in the lineup, they're a playoff team, which is bad news for the rest of the league. Especially with the talent brewing in Lehigh Valley.
Andy is a contributor for The Hockey Writers, covering the Philadelphia Flyers. He holds a Bachelor's Degree in Communications from Walsh University. He enjoys spending time with his family, golfing, and reading. He is married with a daughter. You can follow Andy on Twitter @ADudones.