Just when it looked like Teemu Selanne was leaving the spotlight after a tremendous NHL and international career, he was quoted in his newly released biography shredding current Ducks coach Bruce Boudreau, as reported by Sportsnet's Chris Johnston. The most telling quote:
"It would have been wrong if we had won a Stanley Cup with a coach like [Boudreau]".
By that logic, even if Selanne had won a Stanley Cup in his final season at age 43, it would have felt wrong due to Boudreau's very presence. Normally when an athlete makes an offbeat comment about another individual to the media, it often comes right after a game in a heated playoff battle, where the player might still have emotions running high from the game without time to process them. Selanne does not have the benefit of the doubt that such a context would provide.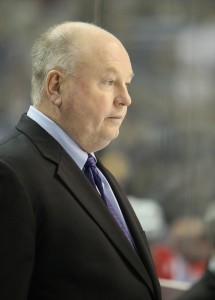 From A Hockey Perspective
As a veteran of 21 National Hockey League seasons, it goes without saying that Teemu Selanne will go down as one of the all time greatest players to have ever played the game, amassing nearly 1,500 career points, setting the rookie goal scoring record with 76 (!) goals, and serving as the face of Finnish hockey for the better part of two decades.
Even in his last season, where he was scarcely utilized, Selanne managed to be a decently productive player given his limited minutes. However, with the ascendance of young forwards such as Patrick Maroon and Matt Beleskey though, it's not difficult to figure out why Selanne saw his minutes plummet: younger, faster players in the upswing of their careers supplanted his spot in the lineup. The same thing happened to Daniel Briere for the Montreal Canadiens this season; a career top six forward in Briere saw his even strength and power play minutes slashed thanks to the play of younger players.
Whether the trend of older established players seeing their minutes cut by coaches in favor of youngsters is warranted or not, it is simply an age old reality of professional sports (unless your name is Jaromir Jagr). Selanne fell victim to it in the past two seasons, and he has every right to feel (emphasis on the word feel) frustrated, especially when taking into account the illustrious career he had.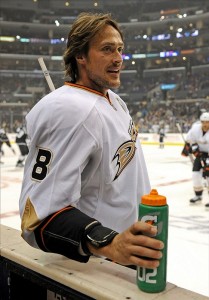 From A Professional Perspective
Is there any rational way to justify publicly trashing your former coach in your own biography? In the book all about his life, Selanne made sure that everyone who will read it knows how much he could not stand Bruce Boudreau. Interestingly, he re-iterates numerous times how much he likes Boudreau as a person. Not long after word spread about the biography, the Ducks released a statement in which Selanne once again affirms his fondness of the coach, but that "apology" is worthless.
If Selanne actually liked his former coach, then why would he publicly attack Boudreau's ability to coach, potentially hurting Boudreau's credibility when it comes to coaching veteran players? That trail of logic does not add up for the Helsinki native, and it's sad to see such a decorated player ride off into the sunset in a completely bitter and classless way.