To say new Florida Panthers general manager, Bill Zito had a busy offseason would be a massive understatement. He made moves to change his blue line such as signing Radko Gudas, moving Mike Matheson and trading for Markus Nutivaara. What he also did was try to improve his core of forwards by giving them depth and veteran leadership.
Related: Panthers' Overhauled Defense Built for Success in 2020-21
After losing both Evgeni Dadonov and Mike Hoffman to free agency this season, they're going to need their newly acquired forwards now more than ever.
Patric Hornqvist
This trade stole headlines across the NHL. After going through many hoops with trade clauses, Matheson and forward Colton Scevior were traded to the Pittsburgh Penguins in exchange for forward Patric Hornqvist on Sept. 24.
Hornqvist almost needs no introduction. He is a decorated forward with 2 Stanley Cups under his belt with the Penguins. With 770 regular season games played and 90 playoff games played, he has shown he can play in the NHL. Last season, he tallied 32 points (17 goals, 15 assists) with two points in the playoffs. It is somewhat of a drop off from his recognizable performances from years past but he can still put in at least 20 goals a season for a team with his pestering style of play.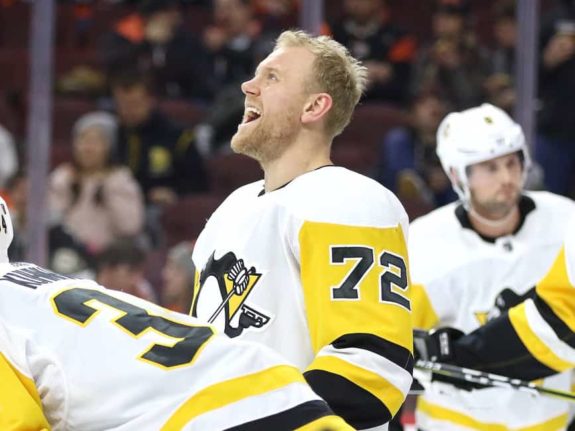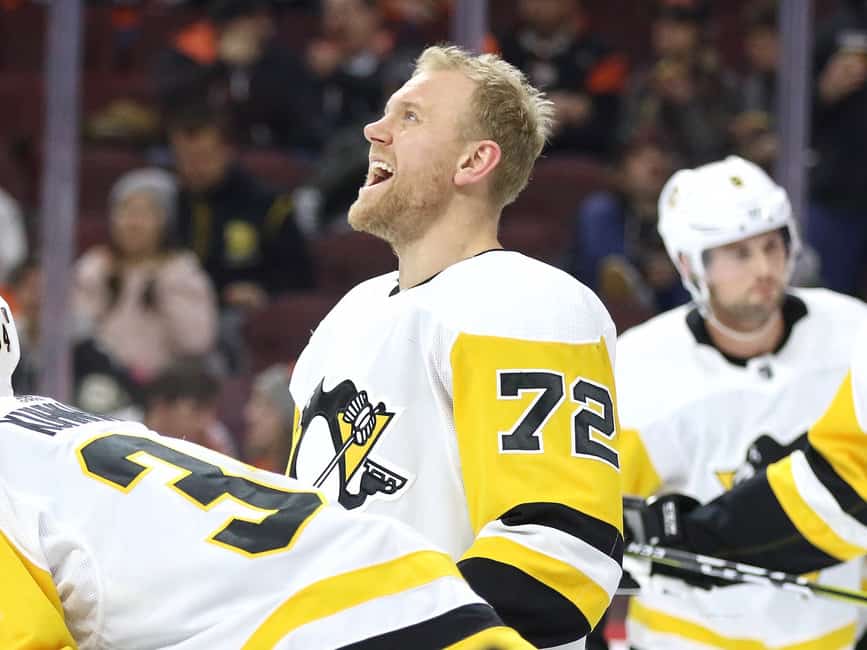 With that, he also does something that most Florida players seem to avoid doing, and that's going into the dirty areas of the ice to generate goals. In addition to assisting the offense, his experience will also pass down great advice to Florida's upcoming young prospects such as Anton Lundell and Owen Tippett.
There's only one issue with Patric that could become a massive problem if it isn't kept under control. He tends to get injured often as he hasn't played a full season since the 2015-16 season. With the shortened season in 2020-21, he shouldn't have an issue missing any games as he played 52 last season. However, we should hope that he'll stay out of injury trouble this season.
Alexander Wennberg
On Oct. 9, Alexander Wennberg decided to take his talents to Sunrise on a 1 year, $2.25 million deal. He was seemingly brought in due to his familiarity with Zito during their time in Columbus after the final year of his contract was bought out. However, he will more than likely be thrown into the bottom nine in the lineup.
Wennberg is a 26 year-old forward who brings playoff experience and skill to the forward lineup. In 52 games last season with the Blue Jackets, he tallied 22 points (5 goals, 17 assists) and played in 10 playoff games, tallying 5 points (3 goals, 2 assists). He is far from the player he once was, but if a change of scenery gets him even slightly back to form, he'll thrive with the forwards down here as he'll get a chance to play with talented forwards such as captain Aleksander Barkov and alternative captain Jonathan Huberdeau.
In addition, along with Zito, his familiarity with some of his former teammates in Nutivaara and goaltender Sergei Bobrovsky should make him feel right at home. Furthermore, much like Hornqvist, his experience will show the younger players how to make it in the NHL.
However, also like Hornqvist, he has had injury trouble throughout his NHL career and has yet to play a full season. If he can stay healthy, he can be a very vital asset to this Panthers team. And with the 2020-21 season being shortened due to the coronavirus pandemic, he'll more than likely play a full season for the first time.
Carter Verhaeghe
Durin the same time as the Wennberg signing, Carter Verharghe signed a 2-year deal worth $1 million a year. Originally a Toronto Maple Leafs prospect, Verhaeghe found a new home in Tampa Bay, playing 52 games and tallying 13 points (9 goals, 4 assists) in the 2019-20 season. In the 2018-19 season, he led the AHL in points with 82 points (34 goals, 48 assists) through 76 games. Additionally, he was featured in eight playoff games, tallying only two assists.
Furthermore, he reached the top of the NHL mountain and secured a Stanley Cup ring with the Lightning. At only 25 years of age, he's done what most NHL players would only ever dream of. As mentioned before with Wennberg and Hornqvist, he could easily mentor the young and upcoming forwards with his Cup experience and lessons he learned from stars like Steven Stamkos and Nikita Kucherov. Although, he's still young and could take some tips and tricks himself in some instances from the other veterans like Noel Acciari and Brett Connolly.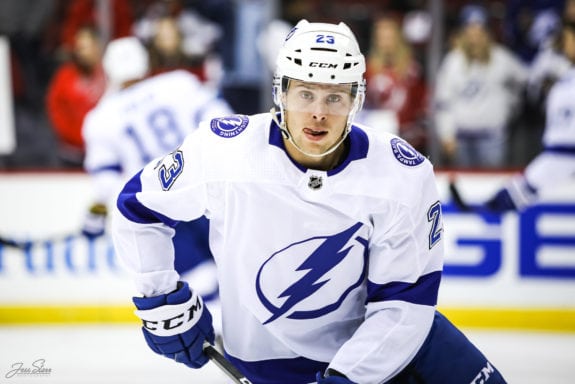 The issue with Verhaeghe is that he could not find his place in the lineup during the playoffs, so him playing time was limited during his time with the Bolts. Assuming he plays up to his potential, head coach Joel Quenneville should have no problem plugging him in somewhere in the lineup night in and night out. In addition, he's more than likely going to have young and fast players on his line because of his skillset. With all those pieces, he's should be able to flourish in an area just a little more than 250 miles southeast of Tampa.
Ryan Lomberg
On the same day as Wennberg and Verhaeghe were signed to deals, Zito signed 26-year-old Ryan Lomberg to a two-year deal worth $725,000.
Lomberg was featured in 11 career NHL games, all with the Calgary Flames. During his time there, he tallied only one point, an assist in 2017-18. During his time in the AHL with the Stockton Heat, he played 219 games and tallied 109 points (49 goals, 60 assists). For the most part, Lomberg was brought on as a young forward with a lot of energy and for his physical presence. However, he will more than likely be a bottom six forward and put on some sort of sand paper line that could feature Acciari. All in all, it seems he was brought on to be either a camp body or an AHL player.
Although, Florida has always struggled with depth stepping up when their big pieces are down. With that, Lomberg was brought in a a depth piece. So in the grand scheme of things, this was a good signing and its hopeful that he turns out to be something greater for this hockey club.
Vinnie Hinostroza
Vinnie Hinostroza signed a 1-year, $1 million deal with Florida during the same 24 hours as Lomberg, Verhaeghe and Wennberg were inked. Much like how Zito brought on Wennberg due to their familiarity, coach Quenneville assisted in bringing in Hinostroza due to their familiarity in their time spent with the Chicago Blackhawks.
Hinostroza is a 26-year-old forward that has been in the league for the past five seasons. With the Arizona Coyotes last season, he tallied 22 points (5 goals, 17 assists) through 68 games and was featured in seven playoff games last season. With that, Hinostroza has some experience and knows how to handle certain situations that most of the younger players have yet to experience.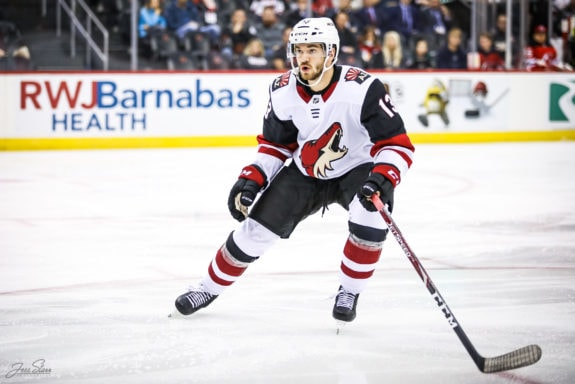 So much like Wennberg, Verhaeghe and Hornqvist, Vinnie can guide the younger faces in the right direction. In addition, Coach Q will know exactly how to use him night in and night out as he knows his skillset with their time spent together.
Will it Be Enough to Cover the Loss of Hoffman and Dadonov?
While these forwards may not have the goal scoring touch that Dadonov and Hoffman had in years past, they bring a sense of energy and toughness to the lineup. This is something that Florida has been lacking for a few years now as grit was always seen as optional in their lineup on some nights. In addition, they also bring leadership qualities to the team that everyone in the locker room can thrive off of. With all these pieces put together by Zito, it might finally claw the Cats back to the promise land this season.
---
---