Aleksander Barkov, the underrated captain of the Florida Panthers, deserves some love, even if the leadership he provides causes his team's season to end in heartbreak. There is no doubt that the unassuming player from Tampere, Finland is perhaps the greatest forward to ever wear a Panthers jersey. The center is the franchise's all-time leader in points.
"He might be the most humble man I've ever met, and he's certainly the most humble elite player I've ever met," Panthers head coach Paul Maurice said to NHL.com.
Yet, great has not been good enough for this team. There is no denying that Barkov is a fantastic player, and his teammates seem to want him to lead this franchise. The man does the little things and does them right without any flash or hot-doggin'. It's just that Barkov needs to add more relish to his game.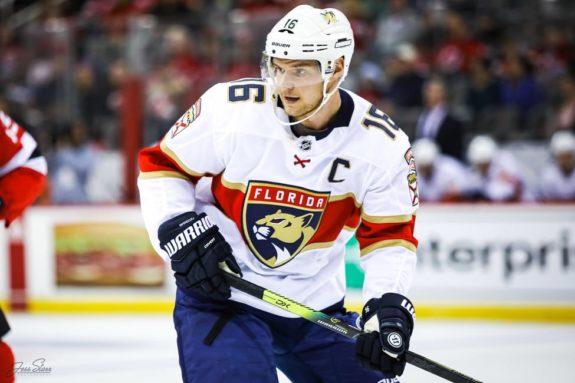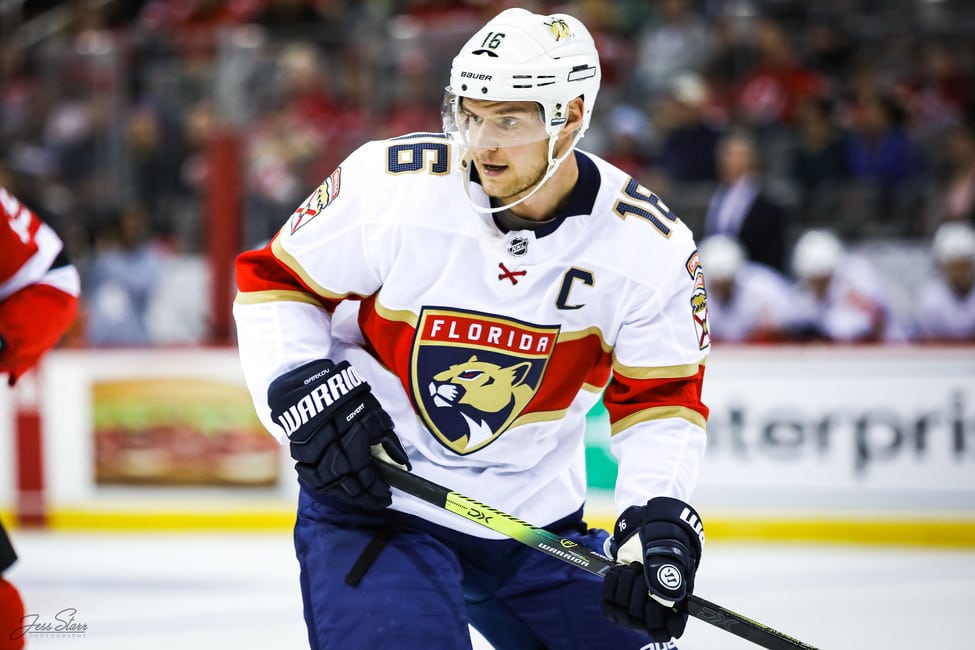 Barkov does set a wonderful example and might remind many South Floridians of another athlete who put up monstrous numbers for his team – Miami Dolphins legendary quarterback, Dan Marino. Just maybe without yelling at wide receivers and offensive linemen – and this might be the main issue.
Related: Panthers Can Beat the Bruins If…
It seems like Barkov has no problem getting hit in the corners – if it means the puck will be free for one of his linemates – he just needs to be more of an alpha Cat.
"He feels, as the all-time leading franchise player, that the 13th forward and seventh defenseman, in his eyes, are just as important as he is to the team, and he treats people like that every day," Maurice said to The Hockey News.
This team might need some more emotion and fiery presence on the ice, even if they get plenty already from top-scoring winger Matthew Tkachuk.
Panthers Need More From Barkov in Stanley Cup Playoffs
The Panthers hope that the comparisons with Marino end with numbers. No. 13 for the Dolphins made it to two Super Bowls, but never won it. Barkov has now made it to the playoffs twice in his first eight full seasons in the NHL and his team has won only one playoff round.
The tenth captain in the history of the Panthers, who is in his sixth season with the club, has been singled out by many for being too passive over the start of his career. Something his coach addressed following the Panthers' Game 4 loss at home to Boston.
---
Latest News & Highlights
---
"When you lose a game, you critique your best players," Maurice said to The Miami Herald. "We've got to play as a team. I've got to get the best out of each single guy that's in the lineup. He can be better (Barkov)." (from 'Panthers coach not worried about Aleksander Barkov's quiet series, but 'he can be better',' Miami Herald, 4/22/2023)
Yes, he has played with multiple players on his line and has had to deal with unnecessary goalie drama almost every time his team makes the playoffs. Oh, and he also lost his hockey bestie in Jonathan Huberdeau to a trade to the Calgary Flames after a first-round sweep by the Tampa Bay Lightning in last year's playoffs, but these factors shouldn't matter to an elite player who has yet to show that he can take over a series.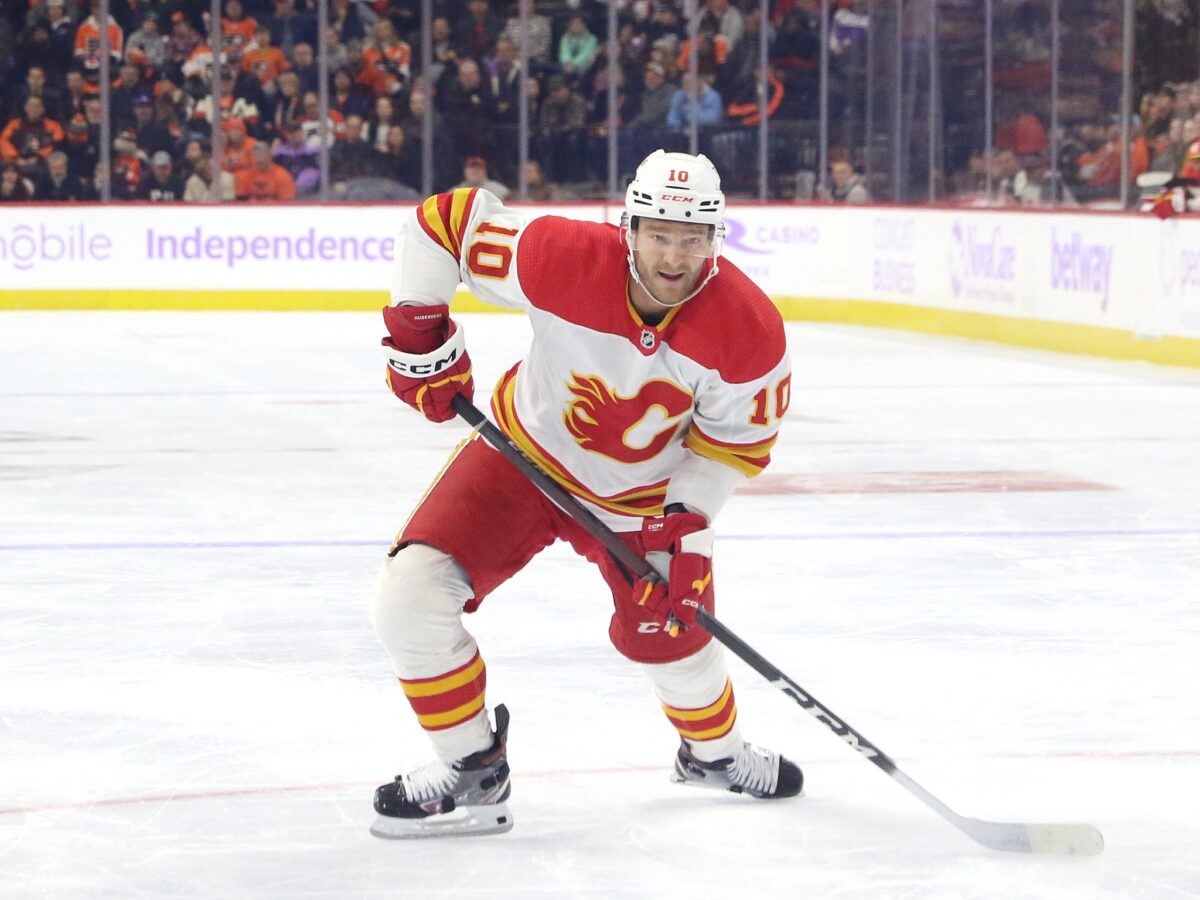 Even his coach sounds like he's waiting for Barkov to activate.
"I'm not worried about him," Paul Maurice said to Yahoo Sports. "The coach needs to find the right combination to get him going."
The coach should be worried. Last season, in the second round sweep against Tampa, Barkov was minus-5 and had one assist. This year, Barkov has done little to help his team defeat the Bruins, even if they were heavy underdogs coming into the series. He will probably be the first one to tell anyone that he has not met expectations. No one is saying he has to carry this team a la Doug Gilmour for the Toronto Maple Leafs in the early 90s, but Barkov has to do more when it matters most.
Barkov Has Failed to Shine vs. Boston
Barkov has failed, again, to be considered an elite player this spring. Even with the Bruins down their two top centers in Patrice Bergeron and David Krejci, he has not put up the numbers or taken control of any game against talent that he's supposed to master.
Related: Panthers' To-Do List to Reach the 2023 Playoffs
Barkov plays over 20 minutes a night on the top line and through five games, he has only amassed three assists. Charlie Coyle might be a pretty good NHL player, but Barkov is supposed to be all-world. The Panthers have no chance if their star and captain cannot win that matchup. He's a 6-foot-3, 215-pound man with a massive amount of skill, yet that has failed to translate into any real success.
"We've just got to keep going," Barkov said to NHL.com. "We had a good start and want to have the same start we had today. We need to try and play that way the whole game. That's our identity."
Those were Barkov's comments heading into Game 5 against the Bruins and they exhibit his most noticeable trait: passiveness. It is a personality mainstay for Barkov and has Panthers fans wondering if he is the guy to truly lead this team. The Panthers won Game 5 in overtime, but Barkov – again – did not factor heavily into the result. He will need to be better in Game 6 to push this series to seven games.