Earlier this morning, Florida Panthers forward Matthew Tkachuk showed why he was nominated for the Hart Trophy this season after he ended an epic playoff game with the most valuable shot of the season for the Cats. Thus far.
The power forward pivoted, turned the toe of his stick parallel to the surface below him, and roofed a perfect shot passed Carolina Hurricanes goaltender Frederik Andersen to win Game 1 of the Eastern Conference Final with 13 seconds left in the fourth overtime frame.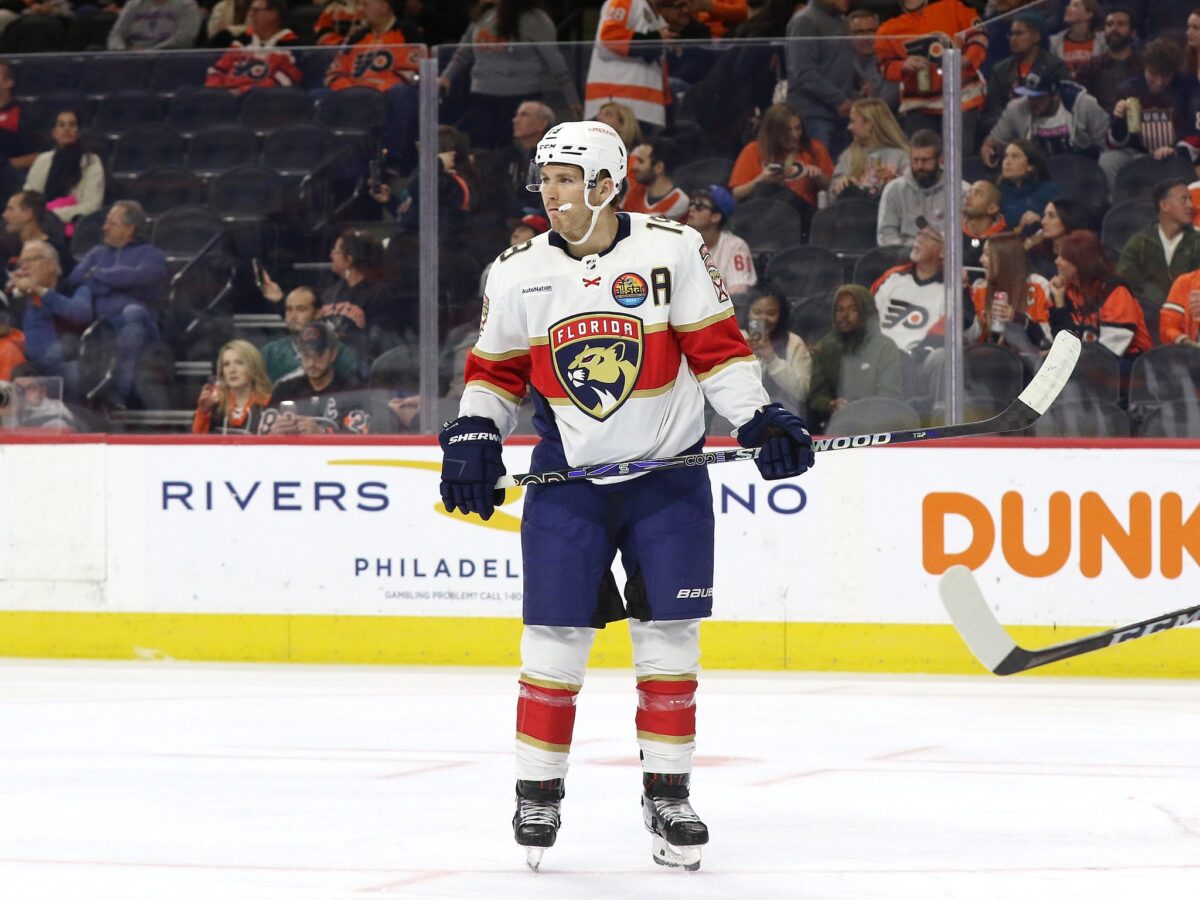 It does seem like Tkachuk walks on ice.
"Probably my favorite [goal] I've scored in my life," Tkachuk told NHL.com. "It was big to not let it go to five overtimes there."
He then raised his right glove, did some playful twirls, and motioned for his teammates to leave Game 1 behind them. Tkachuk left for the dressing room faster than his game-winning snapshot found twine. Maybe he was tired or hungry or both, but it sure seemed like a leader giving his team a sign. Battle won. Job not finished. Let's hurry up and rest so that they can win the series.
Tkachuk, who leads the Panthers in playoff points, appreciated the moment and the performance of his scintillating goaltender, Sergei Bobrovsky, who only allowed two goals on 65 shots through six periods of play.
"So many great contributions from everybody," Tkachuk said. "Just looking at this sheet quickly, Monty played almost 60 minutes. Barky took, like, 1,000 draws. We're not even in overtime if Bob doesn't make that save on the breakaway in the third. Bob played great and everybody followed. It was a full team effort for two games, basically."
Related: Panthers GM Bill Zito Should Win Top Executive Award
---
Latest News & Highlights
---
It was apparent that fatigue set in for both teams until one side had a spurt of energy that lasted a few shifts before settling back into a wait-and-see contest loaded with caution.
"Definitely tired. But I think you're less tired if you win," Tkachuk told The New York Times. "I'm sure both teams are gassed right now." (from '139 Minutes of Hockey, but No Record,' The New York Times, 5/19/2023)
In the short term, the Panthers and Hurricanes can boast that they became part of NHL history on Thursday night. Although, the Hurricanes may not want to remember it until some proper perspective is in place.
Panthers Win Sixth Longest Game in Playoff History
Only five games in league history went longer than Game 1 in the Hurricanes vs. Panthers series last night. It appeared that the Panthers had won a few minutes into the first overtime when forward Ryan Lomberg, who missed every game against the Toronto Maple Leafs, beat Andersen.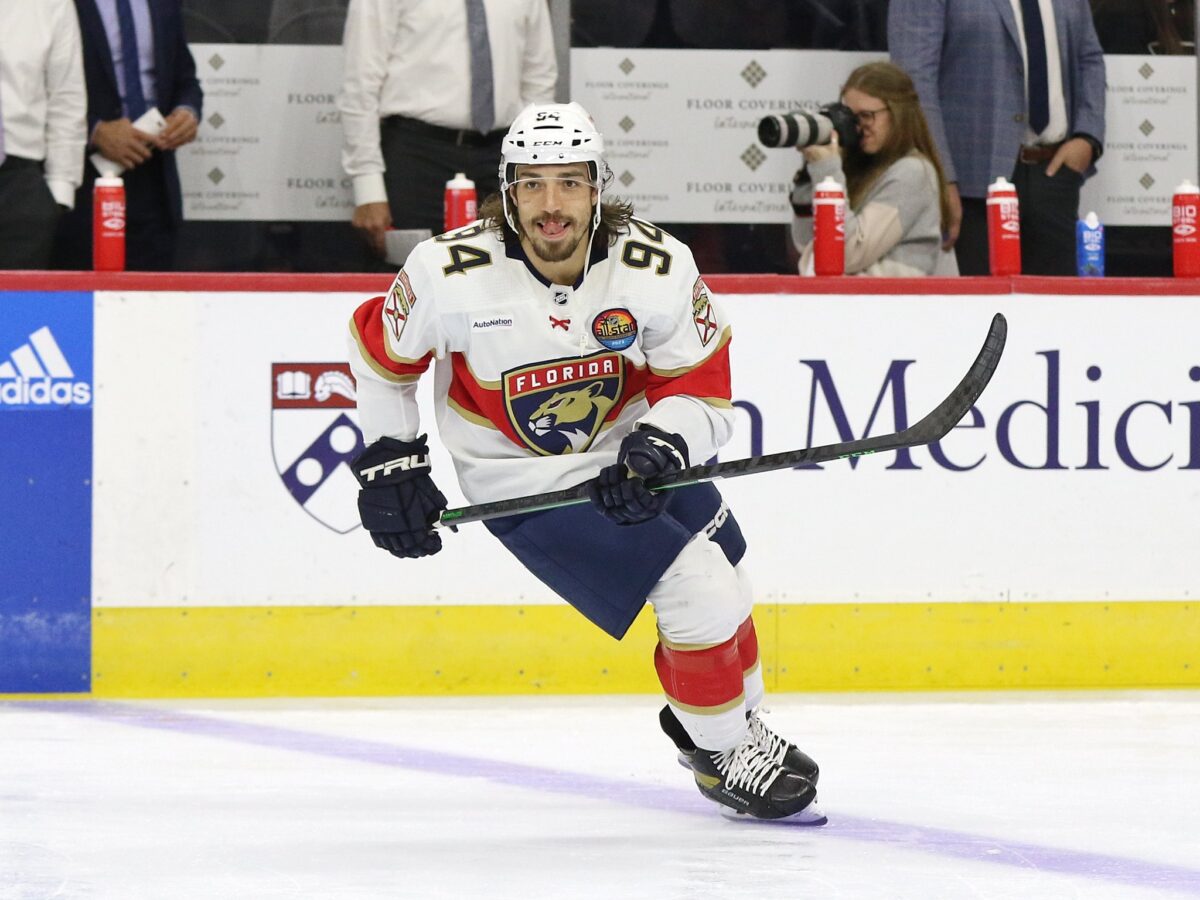 But it was called back after a lengthy review due to goaltender interference by Colin White.
"We've been through a lot of adversity throughout the whole playoffs and the season," Florida defenseman Radko Gudas told ESPN.com. "We don't really care. We put the working boots back on, and we just grind 'em down, and we just keep going."
Now the Panthers go into Game 2 with a win on the road. But there were important takeaways for both teams. Carolina seemed happy to play rope-a-dope in their own end at times — they kept everything to the outside and allowed Andersen a clear view of almost every puck that came his way. In fact, they didn't allow much down the middle in any of the three zones, playing an effective, modern-day trap that somewhat neutralized the Panthers' game plan.
Related: Panthers Using Clear Identity to Push Maple Leafs to the Brink
"It kind of becomes the game of attrition. You're just trying to be patient and wait for the moment and for the shot. Just one shot at a time. You don't think too much ahead," Bobrovsky told NHL.com.
Looking ahead to Saturday night's game in Raleigh, the tone of this series is set. It will be a chess match to the end. Even though the Panthers have a higher propensity to take penalties, they play a highly disciplined style that suits their team identity. Both the Panthers and Hurricanes are committed to a 5-man defensive unit that follows the puck wherever it goes.
Hurricanes and Panthers Put on a Defensive Clinic
Andersen and Bobrovsky were beyond superb; both goalies found a way to make a save when it looked like the winner would go in. Hurricanes captain Jordan Staal had a glorious chance, as did Panthers defenseman Brandon Montour, who found himself all alone below the hash marks after almost going to the bench for a change. Andersen deflected the puck away with the shaft of his stick.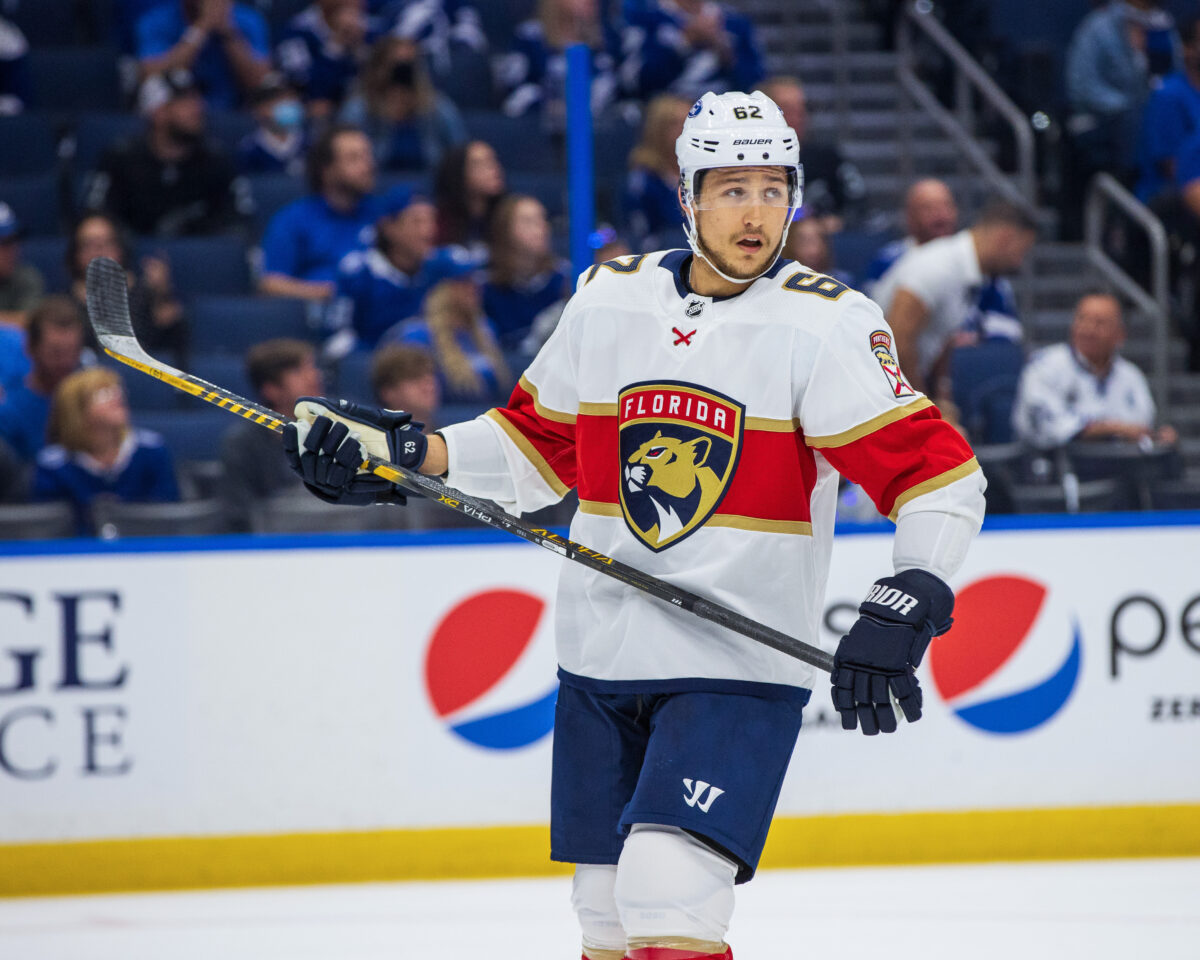 "You grind all the way to the end," Panthers captain Aleksander Barkov told FLA Hockey Now. "We had a lot of good chances in overtime, Chucky had a great shot. We had a hard training camp, so we're fine."
Montour was called on for close to 58 minutes of ice time — the equivalent of an entire game — and was clocked at traveling over eight miles. Defense definitely carried the game into the wee hours, and each side seemed to follow an exact blueprint of how to slow down the opposition. Florida continued their proclivity for flipping the puck out high into the neutral zone at any sign of adversity, which made things choppy for the Hurricanes; the home team had trouble getting into a cycle game, which wore the opposition down.
Carolina won a significant amount of d-zone faceoffs after long strings of icing calls against them, which the Panthers forced with their continuous push to hem them in. As the game moved from Thursday into Friday, the one thing that gave the Panthers an edge was their commitment to forcing the Hurricanes deep into their own zone.
Panthers Play an Aggressive, Responsible Forecheck
When the Panthers were down 3-1 in their series against the Boston Bruins, they changed their approach to enlist a second man high on the strong side on the forecheck. The results have been noticeable. It gave the Toronto Maples Leafs fits, who often seemed to pull off a miracle to get the puck out of their own end.
They even keep a third player high, and their ability to recuperate should the opposition get a clean break out has given the Panthers team a new identity that their opposition has yet to solve.
"To be honest, we're just playing a little differently. Last year, we obviously had great success in the regular season, but it doesn't always translate. We're playing a different style of hockey," said Panthers forward Carter Verhaeghe to NHL.com.
The Panthers' relentless effort on the forecheck has changed their playoff chances. It has given the team confidence and momentum, and they are now only three wins away from their second-ever Stanley Cup Final berth.
---
---