Following the statement by the Toronto Maple Leafs that the team would not be bringing back Kyle Dubas as general manager next season, President Brendan Shanahan met with the media on Friday. He walked everyone through a timeline of how the decision to move on came about and the overall plot was that Dubas dragged his feet on a decision to remain the GM and gave off an aura that he wasn't motivated to do the job any longer. Knowing that, Shanahan felt it was best for the organization to move in a different direction.
Why Did Shanahan Shift Thinking On Dubas?
Shanahan said he spoke with Dubas as early as last season about staying with the team but told the then-GM that he wanted him to finish out the fifth year of his contract before potentially offering an extension. He said Dubas was comfortable with that, but it didn't take the entire term for the organization to realize they were pleased with what Dubas had done as GM. They wanted to get him signed and actually had hoped to announce an extension just after the NHL Trade Deadline or between playoff rounds.
---
Latest News & Highlights
---
Unfortunately, Dubas wasn't quite sure. He mentioned to Shanahan that the year had been fairly taxing on his family and he needed time to decide. Shanahan understood and was still comfortable with moving forward… that is until he saw Dubas' end-of-season press conference.
What Did Dubas Say that Triggered Shanahan?
Shanahan watched Dubas answer questions from the media and was a bit taken aback by the candidness displayed and the comments about his family's struggles. While Shanahan admitted that Dubas had told him he needed time, it was at that moment he became unsure that Dubas was fully committed to being the general manager. He noted he kept Dubas at the top of his list and wanted him to sign the extension offer the team had presented, but he began to consider what the team might look like if a new GM needed to be hired.
Related: 4 Potential Options For Next GM of the Toronto Maple Leafs
All the while, Shanahan said he'd been talking to Dubas' agent and that things were positive. He reminded everyone that the franchise wanted to move forward quickly and he said he was under the impression that a framework was acceptable by both parties and that it reflected what he and Dubas' agent had discussed. He didn't have any more clarity on if Dubas would want to stay on or sign the deal, but as days passed and he hadn't heard from Kyle, he began to think more and more about a new GM being hired.
When Did Shanahan Pull the Trigger on a Change?
When Dubas did the media conference and then essentially ghosted him, Shanahan realized it was time to move on. When he finally received a new contract from Dubas and the financial terms they discussed didn't match, that seemed to solidify his decision that the Leafs go in another direction. He said he did receive an email from Dubas that Kyle wanted to remain on as GM, but it was too late. Shanahan drove to Dubas' office and said the team would not be offering him an extension.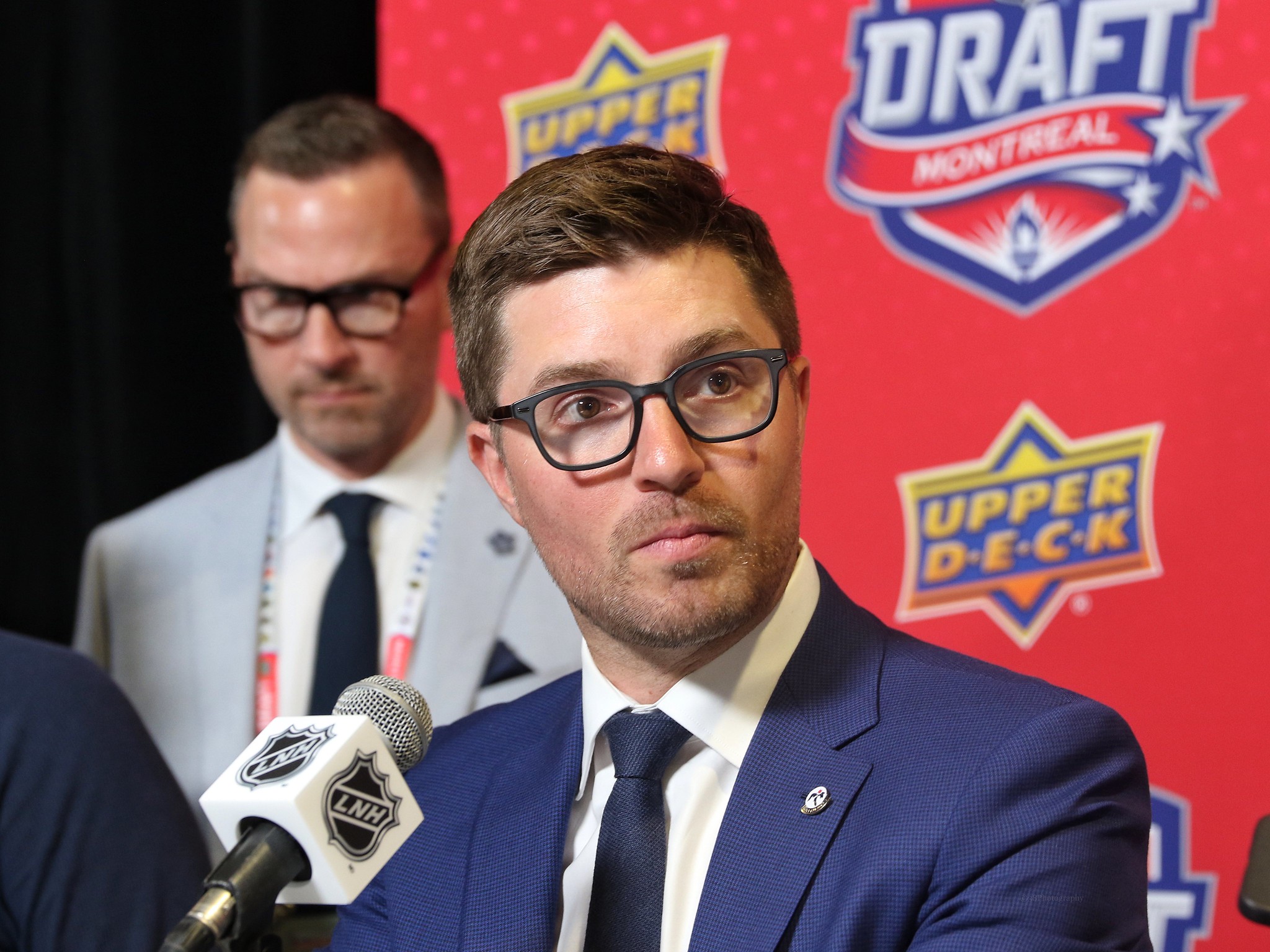 While he understood that working in Toronto or in any executive position in the NHL can be trying for families, it was the lack of urgency that Dubas displayed that had Shanahan questioning his GM's motivation. It wasn't necessarily about the new contract terms or what he'd done in his previous five seasons that forced the Leafs to move on. Instead, it was an uncomfortable level of uncertainty and it was hinted that the team simply wanted people working for the club that were totally committed to getting down to business and doing what was best for the team.
He thanked Dubas for the work he'd done and noted that his fingerprints will be all over the success this team ultimately has, but he's ready to take the Maple Leafs in a new direction and feels that hiring a new GM right away is the correct path to pursue. As for who he's looking at, Shanahan did confirm that an experienced GM would be his priority. He noted he won't rush a decision but wants to get the vacancy filled right away.
---
---