It's that time of year! With the draft lottery completed, it's now time for mock draft season. As we inch closer to the 2023 NHL Draft, fans are waiting in anticipation as to who they want to see potentially suit up for their franchises in the future.
Having the third-best odds to win the first overall pick, the Chicago Blackhawks won the draft lottery and the chance to select future superstar Connor Bedard. The Anaheim Ducks who had the best odds fell to second overall and while they would love to have Bedard in the fold, they still get an elite player at second overall.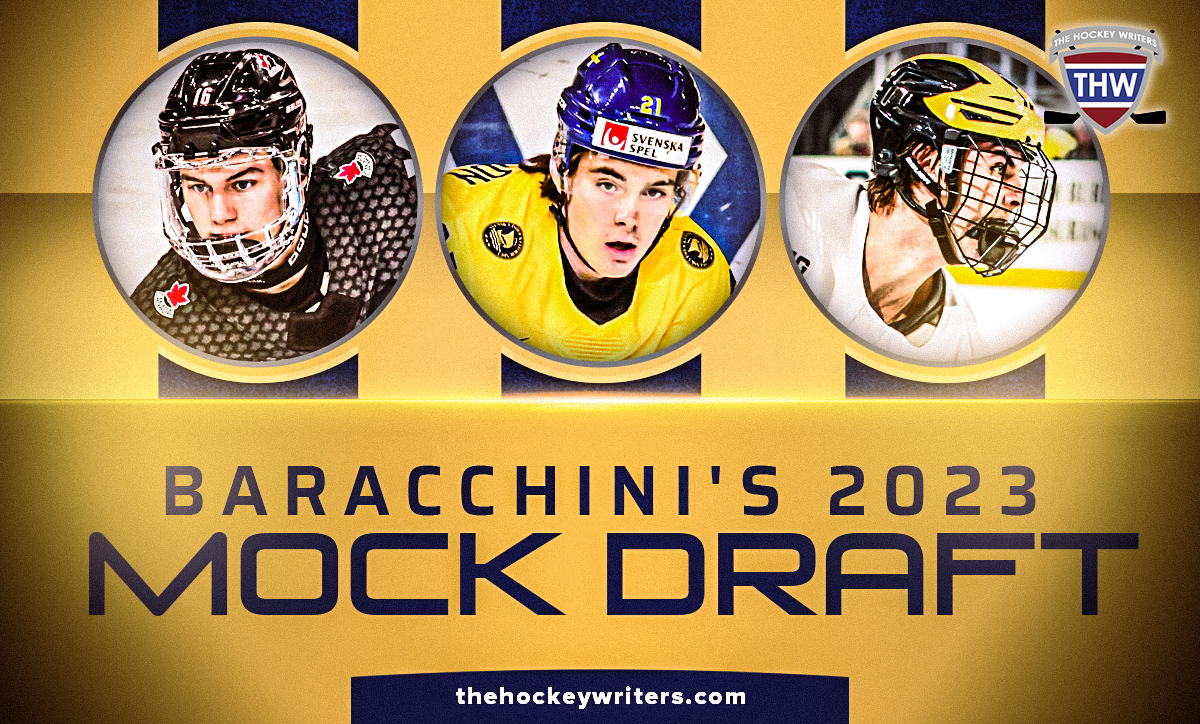 Before we get started, here are a few things to consider. This mock will include all 32 teams and their selection with the best player available and fits their needs. The placements are all based on the lottery selection and the remaining teams are based off of Cap Friendly's draft board. If there were any picks traded, they are included to reflect the current team selecting and where they received the pick from.
Without further ado, let's get into my mock draft for the 2023 NHL Draft.
1. Chicago Blackhawks: Connor Bedard, C, Regina Pats (WHL)
The passing of the torch is already underway in Chicago. As the Jonathan Toews/ Patrick Kane era comes to an end, the Connor Bedard era begins. This is a no-brainer for the Blackhawks as they have an elite level goal scorer in the fold. Bedard has an exceptional shot and pinpoint accuracy. No matter where he is on the ice, he will find a way to get the puck on net and score. He has excellent hands, great speed and the IQ that is already made for the NHL. He's going to be making an impact right away.
2. Anaheim Ducks: Adam Fantilli, C, Univ. of Michigan (NCAA)
The Ducks shouldn't feel discouraged on missing out on Bedard as Adam Fantilli is just as talented and dynamic to be a consistent offensive producer in the NHL. He reads the ice very well exposing holes in the opposition's game, he's very deceptive with his movements and is physical and engaging on the attack or on the cycle. He possesses a powerful release in his shot and his accuracy is up there with Bedard's. The Ducks already have a wealth of talent in the system and Fantilli will vault them over the top.
3. Leo Carlsson: Columbus Blue Jackets, C, Örebro (SHL)
Much like Bedard and Fantilli, Carlsson is ready for the next step as his play in the SHL shows that he is mature and can adapt at any level. He may not provide the high-octane offense that the first two picks bring, but he brings a sound and steady two-way game with great situational awareness. He has great confidence with the puck and displays great patience to not rush a play. He's great at identifying the open lanes and is very competitive in battles along the board.
4. San Jose Sharks: Matvei Michkov, RW, Sochi (KHL)
The Sharks are heading towards a rebuild and by drafting Michkov, time will be on their side until his contract in the KHL is up. Michkov is a very gifted goal scorer. He has a wicked release and has the ability to always be buzzing around the net. He's extremely difficult to contain in the offensive zone and extremely evasive with his movement. There's a good chance he can still fall in the draft, but seeing as the Sharks could still add some skill, Michkov has plenty of that.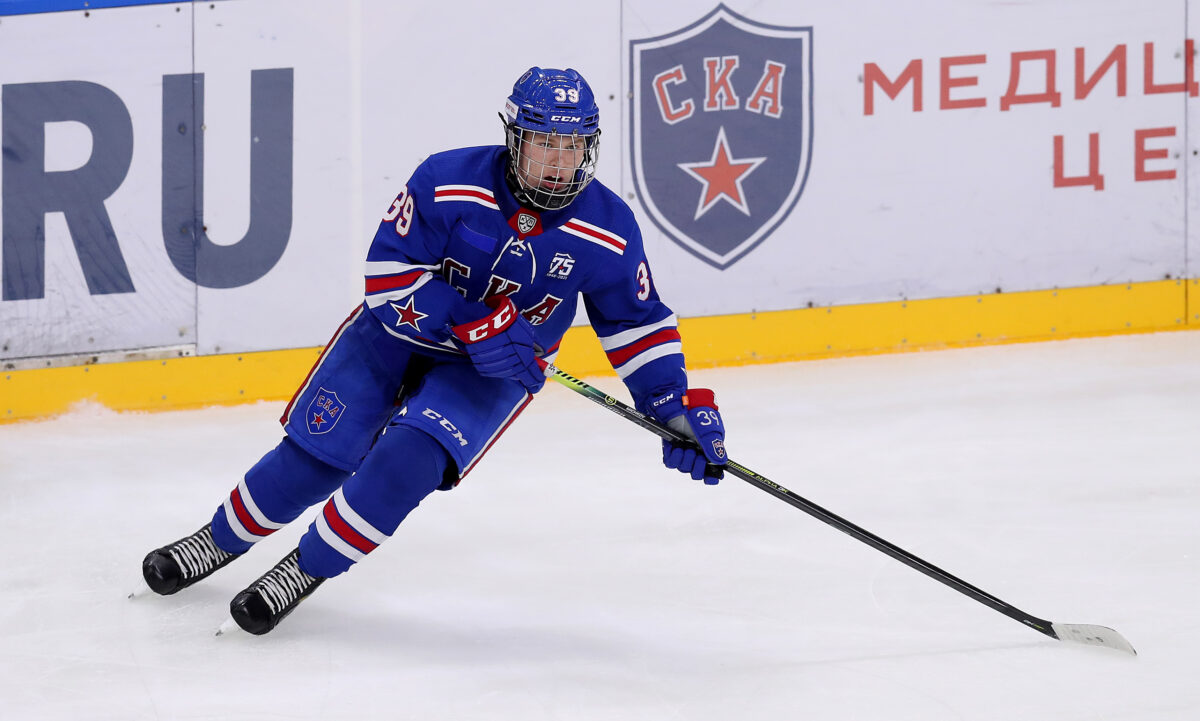 5. Montreal Canadiens: Will Smith, C, USA U18 (NTDP) 
How fun would it be to see a double dose of slick skill and creativity with Nick Suzuki and Will Smith up the middle? That would be really, REALLY fun. Smith decimated the competition at the World U18 Championship with 20 points in seven games taking home the MVP and best forward award. Smith can make moves at an incredibly high pace. He has soft hands in tight spaces, is very deceptive with his movements and can easily draw in players to open the game up. That kind of fast pace play will be a great addition to the Canadiens. 
6. Arizona Coyotes: Zach Benson, LW, Winnipeg Ice (WHL)
Based on his hockey IQ and work ethic alone, Benson is definitely a player that will get a lot of interest. The only downside is his size (5-foot-10, 159 pounds), but when a player displays this kind awareness and skill, you take him. After taking Logan Cooley in 2022, the Coyotes would get a winger with top line potential to play alongside their future centreman. Benson's motor doesn't stop as he's always getting in on the attack and being active on the cycle. His 98 points was third best in the Western Hockey League this season. 
---
---
7. Philadelphia Flyers: Ryan Leonard, RW, USA U18 (NTDP)
This seems like a perfect fit for the Flyers in regards to their tough, in your face mentality. Leonard is a power-forward in the making with great energy and a strong competitive nature. He displays a strong presence on the forecheck along with the ability to fight his way to the high traffic areas and front of the net. He's just as aggressive without the puck, showcasing great defensive awareness pressuring puck carriers. He had a phenomenal U18 Championship with 17 points and scored the game winning goal in overtime to secure the gold medal for Team USA. 
8. Washington Capitals: Dalibor Dvorsky, C, AIK (HockeyAllsvenskan)
The Capitals love players who can find the back of the net. Alex Ovechkin is still lighting it up and Ivan Miroshnichenko is another goal scorer in the making. Dalibor Dvorsky is just as lethal and creative with his offensive instincts and goalscoring abilities as he has excellent power in his release. He has been able to show his dominance and be a factor with his puck pursuit and ability to maintain possession in the offensive zone. He carried the load offensively for Slovakia at the U18 Championship with eight goals and 13 points, as his team fell short of a bronze medal. 
9. Detroit Red Wings: Colby Barlow: LW, Owen Sound Attack (OHL)
There's a lot of debate for Barlow being a top-10 player because he has matured so quickly. But if there's one thing that he excels at, it's putting the puck in the back of the net as he was close to the 50-goal mark in his second season in the Ontario Hockey League. He's great at establishing body position on the forecheck to regain possession and has the presence and mindset to always find the open ice. He has the qualities to be an effective power forward but also has a developing two-way game going which could benefit the Red Wings. 
Related: 2023 NHL Draft Guide
10. St. Louis Blues: David Reinbacher, D, EHC Kloten (NL)
Reinbacher just feels like a pick for the Blues as he can play a strong shut down game and always be a steady presence within his own end. He's great defending on the rush to break up plays and quickly counter the other way. He's establishing a strong foundation as a two-way defenseman and while the offensive game may not be there, that could come with time. He excelled playing among seniors in the Swiss League, gaining that experience to set him up well for the next level.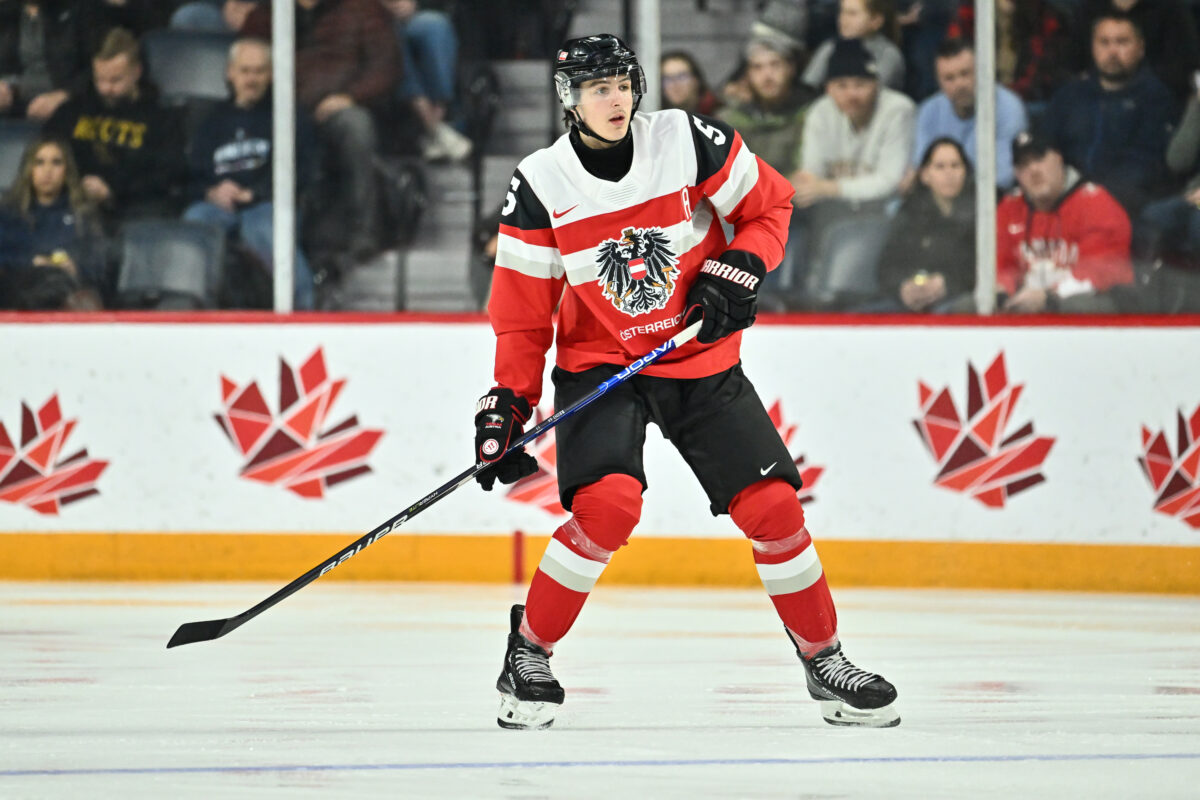 11. Vancouver Canucks: Axel Sandin Pellikka, D, Skellefteå AIK (SHL)
The Canucks need just about everything for their prospect pool as it's pretty bare. Drafting Sandin Pellikka would give them another strong, puck moving defender on the backend. He's excellent in transition with his skating and puck control and is constantly involved in the attack in the offensive zone. He can make crisp passes and make timely pinches. His defensive game is really underrated as he's very sound positionally and can be aggressive to break up plays. He would be a welcome addition to their blueline. 
12. Arizona Coyotes (via OTT): Oliver Moore, C, USA U18 (NTDP)
After taking Benson with their first pick, the Coyotes add another high octane and extremely crafty playmaking centre with speed in Moore. He's extremely deceptive with his movements and has quick reaction time to adjust how the play unfolds. He has great agility and acceleration and his speed makes it extremely hard to stay on him in coverage. With Logan Cooley being their first line centre, Moore will give them even more depth up the middle as the second line centre who can impact in all areas of the game.
13. Buffalo Sabres: Matthew Wood, LW, Univ. of Connecticut (NCAA)
The Sabres continue to get rich with talent. Wood was extremely productive in his freshman season with 34 points in 35 games, leading the team in scoring and being first in assists. He has been a goal scorer throughout his career and that'll carry with him to the NHL level. He has a quick shot with great power behind it and is always putting himself in the open ice for those prime scoring opportunities. That offensive mindset gives the Sabres another lethal goal scorer in their system.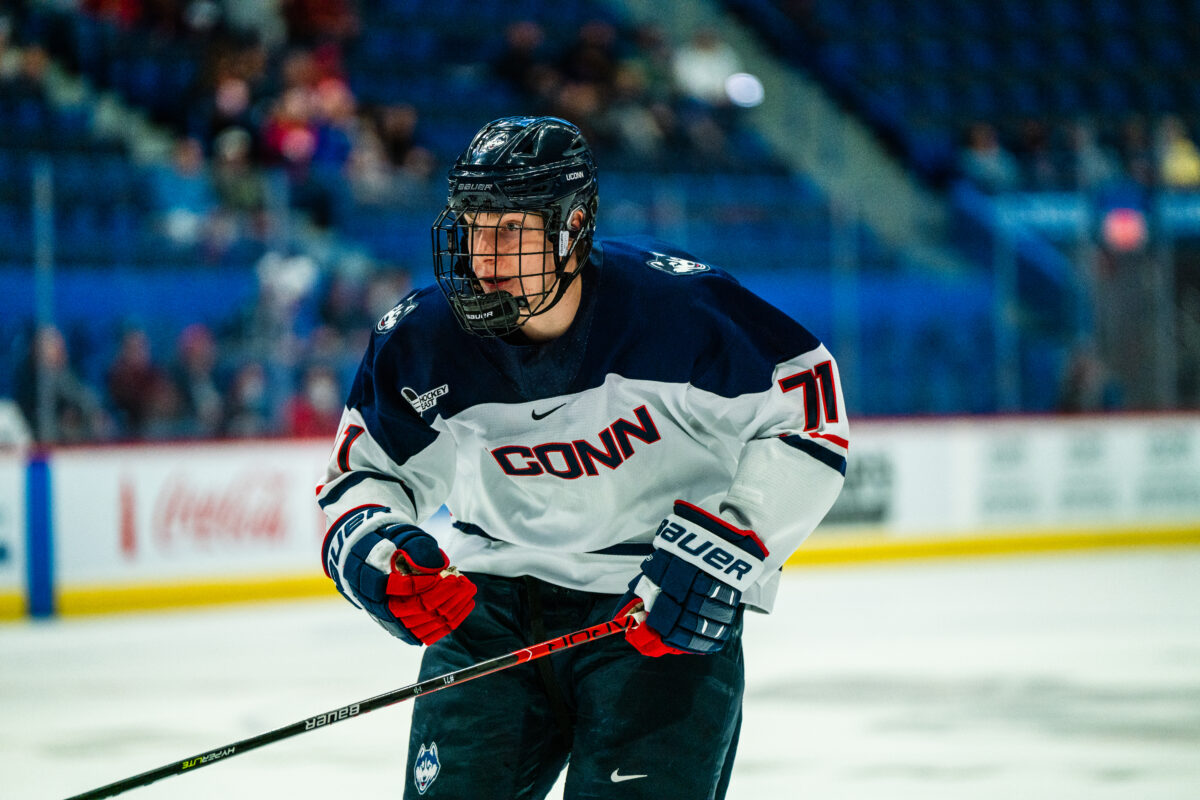 14. Pittsburgh Penguins: Eduard Šalé, LW, Brno (Czechia)
The Penguins are another team that needs to start stock piling picks and drafting for the future. Šalé possesses some of the best smarts and on-ice vision in this class. From his puck handling skills, to his shot and ability to be a deceitful playmaker, he's truly a versatile threat in the offensive zone. His attention to detail and IQ is what stands out as he's always scanning the ice looking for what his next move could be. Without any high-end names, he would be a promising player to add to a weak system.
15. Nashville Predators: Nate Danielson, C, Brandon Wheat Kings (WHL)
Danielson was the go-to offensive player with 33 goals and 78 points for the Wheat Kings. A dynamic, two-way centre with speed, he has continued to improve his draft stock largely in part to his high IQ and ability to the drive the play. He's a quick and agile skater, being able to carry the play swiftly in transition and defensively, he's very patient when it comes to his ability to attack the opposition, executing them at the right time. The Predators have done a great job finding talent in the middle to the late portion of the draft and they once again found another one. 
16. Calgary Flames: Brayden Yager, C, Moose Jaw Warriors (WHL)
The Flames have been going to the WHL as of late with picks like Dustin Wolf and Conor Zary and they'll go back with their 16th overall pick. Yager is a complete offensive threat, displaying a lethal shot and accuracy. Give him the time and space and he will make you pay as he can wire it on goal. He has a strong compete level and two-way game that still makes him a top name in this draft. He's added more of a playmaking aspect to his game with 50 assists in the regular season.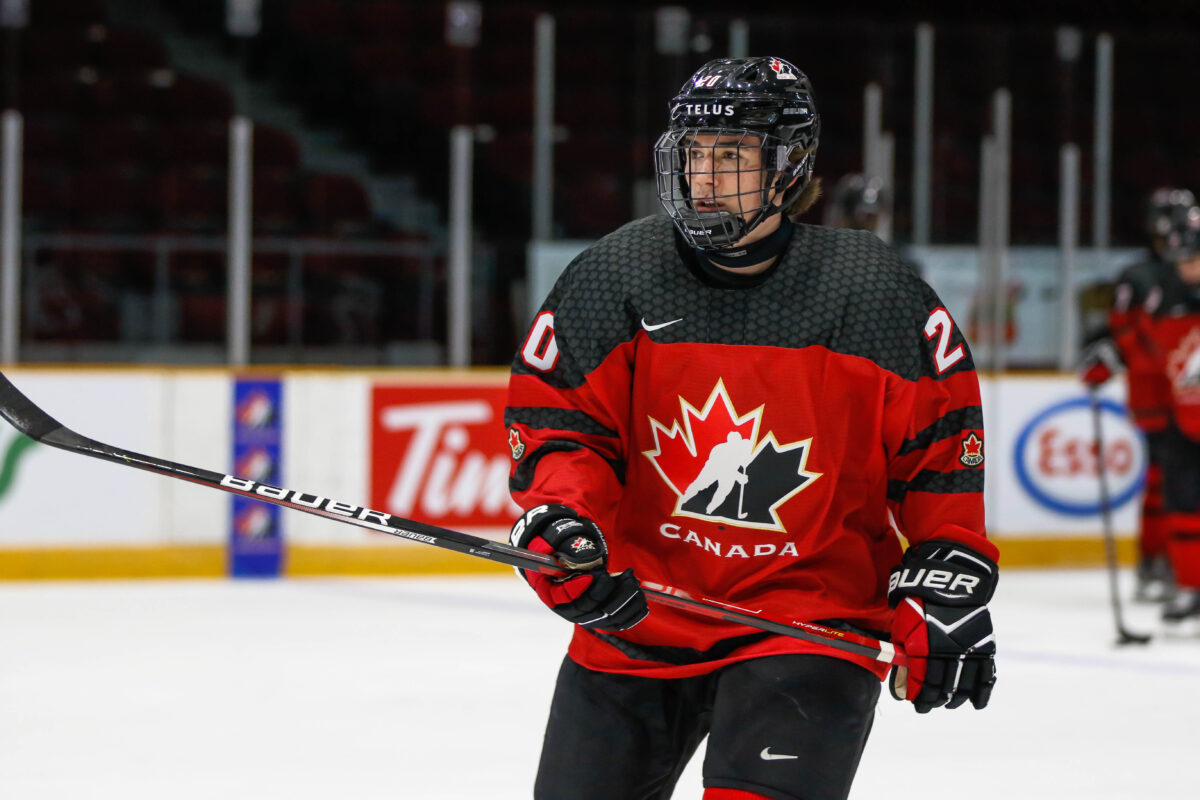 17. Detroit Red Wings (via NYI): Otto Stenberg, C/LW, Frölunda HC (SHL)
Despite having some ups and downs at the pro level, Stenberg continues to dominate his age group. A competitive, versatile and steady 200-foot player, Stenberg still has the vision and flash of offense that can make him extremely dangerous. His play at the World U18 Championship showed that he can rise in big moments and lead the way for his team. His ability to play both wing and centre gives the Red Wings options. Coming out of the first round with Barlow and Stenberg is great way to continue to stock pile their prospect pool.
18. Winnipeg Jets: Calum Ritchie, C, Oshawa Generals (OHL)
Despite a quiet first half of the season, Richie has been extremely productive and consistent in the second half. He still managed to be a point per game player in the OHL and was third in team scoring with nine points for Canada at the U18 Championship. He has great puck skills, is a deceptive playmaker and possesses a heavy shot when given the time and space. He's just as effective defensively, closing gaps and giving the opposition very little to work with. Given his well-rounded game and compete level, he would be a great addition up the middle. 
Related: 2023 NHL Draft: Baracchini's Top 96 April Rankings
19. Chicago Blackhawks (via TBL): Riley Heidt, C, Prince George Cougars (WHL)
After taking Bedard first overall, why not add a skilled and creative playmaker to give Blackhawks a strong one, two punch up the middle for the future? Heidt was fifth overall in WHL scoring with 97 points behind other draft eligible players in Bedard and Benson. He's a quick and agile skater with great edgework, being a factor in transition and in the offensive zone. He's a remarkable puck distributor as he has the vision to find the passing lanes with ease and is very deceptive with the puck.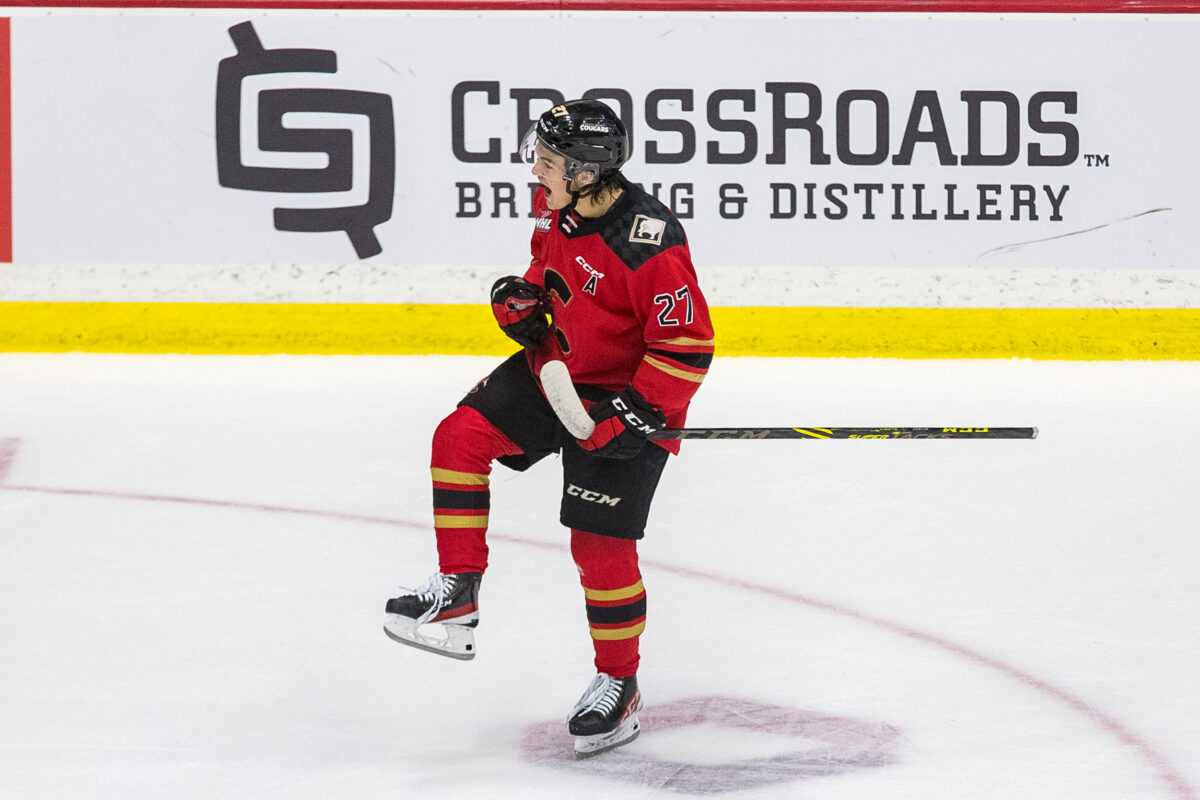 20. Seattle Kraken: Andrew Cristall, LW, Kelowna Rockets (WHL)
It seems like the Kraken have done a tremendous job to fill out their prospect pool. The skillset and creativity that Cristall has, will make them deeper as they continue to add players with creativity and skill. He was extremely productive in his draft year, finishing with 95 points in the regular season. Cristall oozes high-end skill when he has control of the puck. He's a slick and evasive playmaker with soft hands that even the most difficult of plays are a breeze for him to convert on. He's really entertaining to watch when he has the puck. 
21. Minnesota Wild: Samuel Honzek, LW, Vancouver Giants (WHL)
Like in 2022, the Wild once again add a determined, scoring winger with great size and drive in Honzek. He's a highly energetic and competitive player with great size. He's a smooth skater with good edges for a player of his size and has a great offensive skillset. He finished the season with 56 points in 43 games and would've had more had it not been for an injury he suffered at the World Junior Championship. 
---
Latest News & Highlights
---
22. Columbus Blue Jackets (via LA): Gabe Perreault, RW, USA U18 (NTDP)
After drafting a strong well-rounded centreman third overall, the Blue Jackets should take advantage of selecting a highly skilled and creative player in Perreault. With the U18 team, this season he had a staggering 132 points, which is incredibly impressive. He's a dynamic dual offensive threat when it comes to his goal scoring and high-end playmaking vision. Despite his 5-foot-11 frame, he does a great job at holding his own in board battles. His lack of foot speed and explosiveness could hold him back, but he can produce.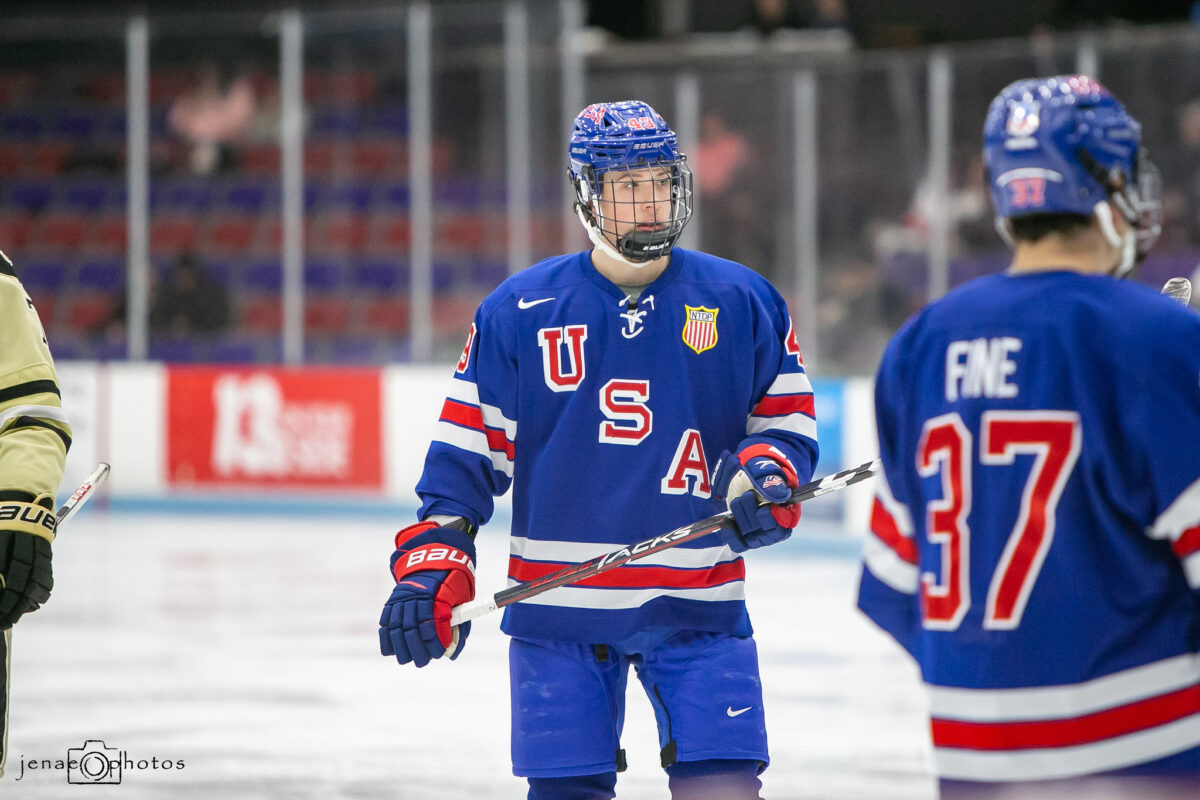 23. New York Rangers: Koehn Ziemmer, RW, Prince George Cougars (WHL)
Two years after drafting a competitive goal scorer in Brennan Othmann, the Rangers add another one of the top goal scorers in the WHL in Ziemmer. He finished seventh overall in goals with 41 and was ninth in points with 89. He has a knack for finding the back of the net as he has a lightning quick release and great velocity in his wrist shot. While he has the power to score from a distance, he can be a factor in tight, pulling off slick moves in crowded spaces or in front of the net. 
24. Nashville Predators (via EDM): Mikhail Gulyayev, Omskie Yasterby (MHL)
The Predators have drafted players from Russia in previous years. Now, they go back to address the defensive side of things in drafting a high-upside, puck moving defender in Gulyayev. He's strong in transition and can lead a rush quickly. He's constantly finding the open routes and making strong breakout passes to push the play forward. He can make great pinches and reads to jump into the play and make his presence felt in the offensive zone. His defensive game can use some fine tuning and can add some strength, but it's hard to ignore his offensive game.  
25. St. Louis Blues (via TOR): Ethan Gauthier, RW, Sherbrooke Phoenix (QMJHL)
Much like Reinbacher fitting the mold for the Blues, Gauthier would score a 10/10 in that regard as he has the skill and work ethic needed to succeed. He's a relentless, tenacious and energetic player whose motor just doesn't quit. He has great awareness on the attack as he's always engaging on the forecheck and is always hunting down loose pucks efficiently. He can make an impact in all three zones, being effective on both sides of the puck.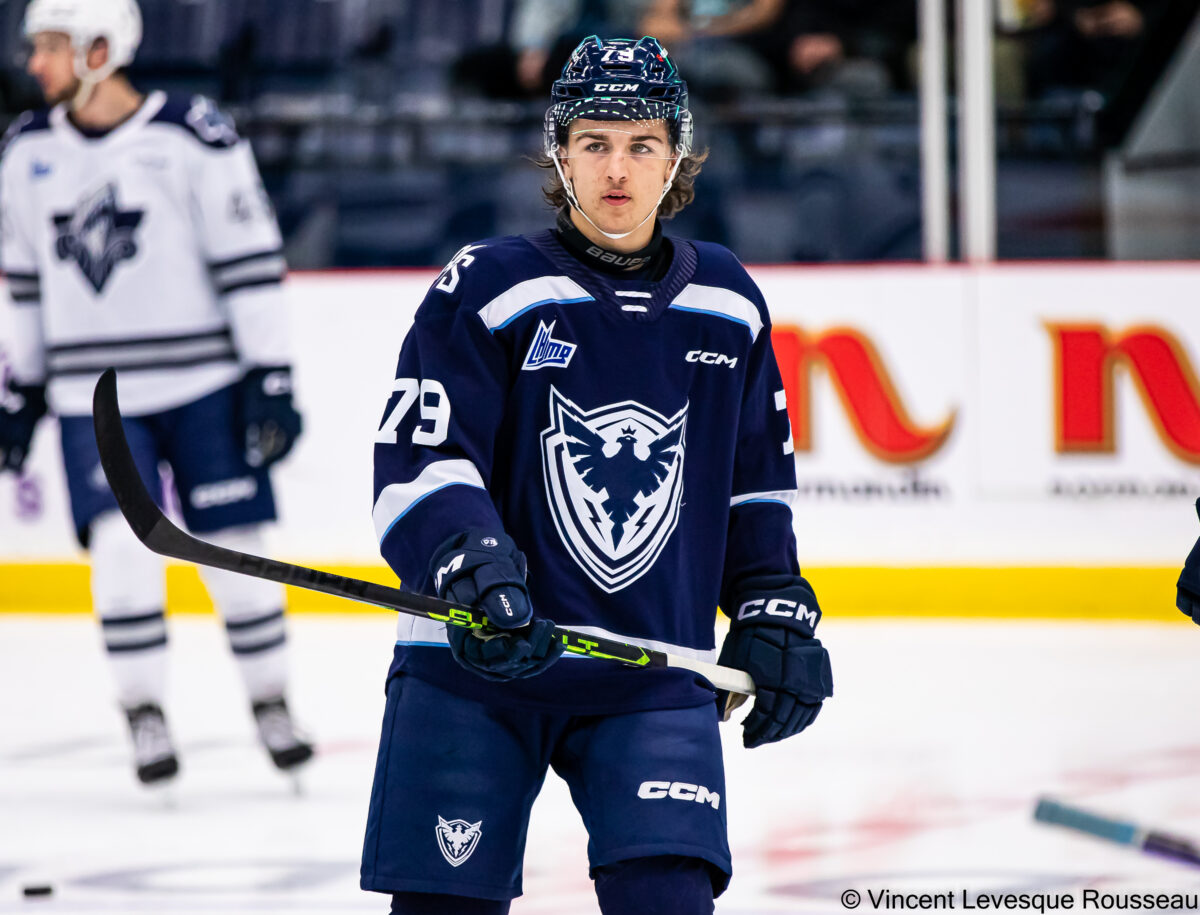 26. San Jose Sharks (via NJ): Trey Augustine, G, USA U18 (NTDP)
The Sharks would probably do well in taking a goaltender, as their previous top name in Ben Gaudreau would be re-entering the draft. Why not get one of the top netminders in the first round? Augustine back stopped USA to a gold medal at the U18 Championship, going 6-0-0 with .934 save percentage and 1.61 goals against average. He's got great composure in the crease, has quick lateral movements and reflexes with great vision to track the puck. He definitely has a promising future to be a starter in the NHL. 
27. Colorado Avalanche: Oliver Bonk, D, London Knights (OHL)
Another team with a bare system, the Avalanche need to start stock piling their prospect pool. They do just that by addressing their blueline, taking a smart and calculated defenseman in Bonk. He isn't flashy compared to other defenders in this draft class, but he simplifies things and executes plays effectively. He's a very confident and competitive player, displaying a great work ethic and making a positive impact every shift. His game has elevated to being a potential first-round selection.
28. Toronto Maple Leafs (via BOS): Tom Willander, D, Rögle BK J20 (Nationell)
The last time the Maple Leafs had a first round pick was back in 2020 selecting Rodion Amirov. After trading first round picks the last three seasons, they'll make this one count, selecting a mobile, two-way defender in Willander. He can make strong outlet passes and has the confidence to lead an attack. He's just as effective defensively, being great in one-on-one coverage and has the awareness to close gaps quickly. The smarts he possesses, is in line with the Maple Leafs' philosophy as they went down this road before.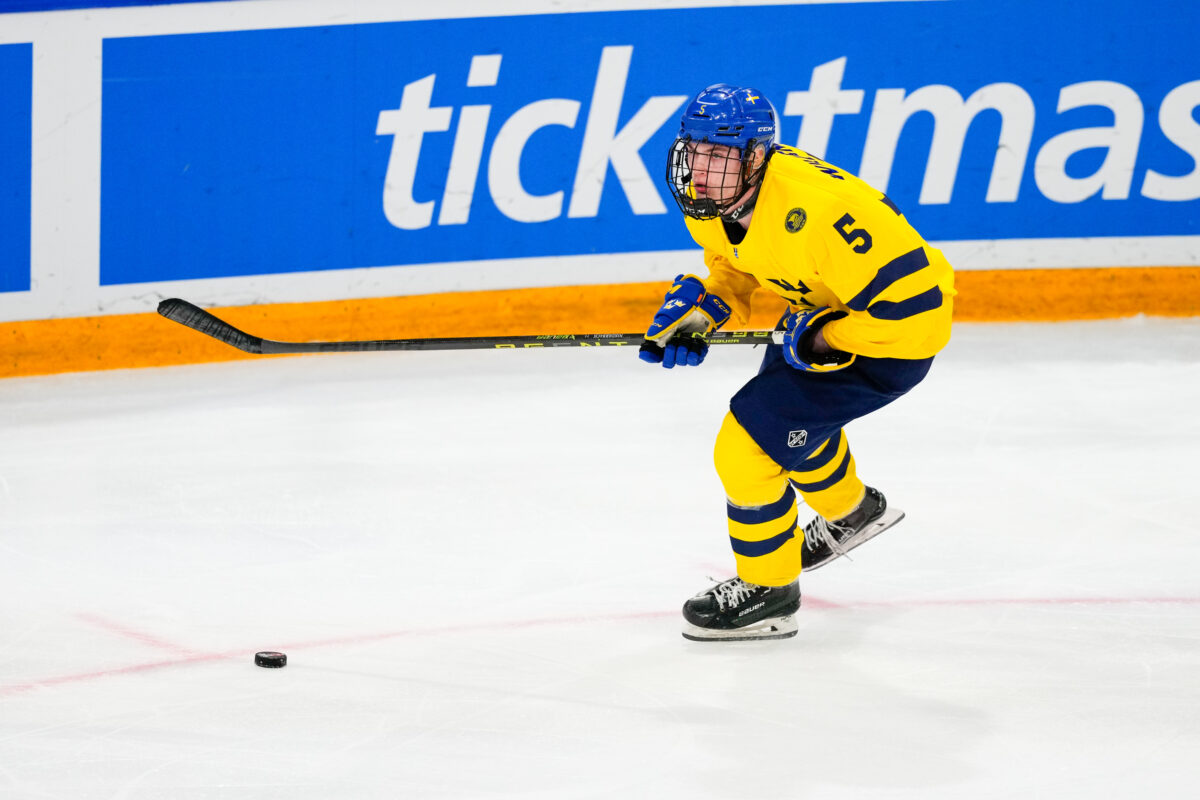 29. Montreal Canadiens (via FLA): Quentin Musty, LW, Sudbury Wolves (OHL)
Even though they added a player with a power forward first overall in Juraj Slafkovsky in 2022, adding another in Musty would make the Canadiens more skilled and aggressive up front. Musty is truly a force in the offensive zone displaying that aggressive mindset and ability to establish possession on the attack. He's very slick and confident with his puck handling as he has some of the best hands to make moves at a fast pace. His 78 points had him second in team scoring. 
30. St. Louis Blues (via DAL): Kasper Halttunen, RW, HIFK (U20 SM-sarja)
Halttunen had an up and down season, from inconsistencies at the pro level to dealing with a concussion. However, given the aggressive hard-nosed play that he possesses, there could be a team that can take a chance on him in the first round. He's the perfect blend of skill and physicality and there are going to be teams that will want that kind of offense and intensity as he showed that during the U18 Championship. He has a bullet of a one-timer and a quick release with his wrist shot. With the package that he brings, he is a force to be reckoned with. 
31. Vegas Golden Knights: Gavin Brindley, RW, University of Michigan (NCAA)
Despite being 5-foot-9, Brindley does not let that get the best of him as he's skilled, energetic and constantly on the attack with his movement and agility. He can win puck battles, lead an attack or even get in on the forecheck and be quick on the cycle. Brindley can do it all no matter where he is in the lineup. He had a strong freshman season with 38 points in 41 games and is looking to build on that next season.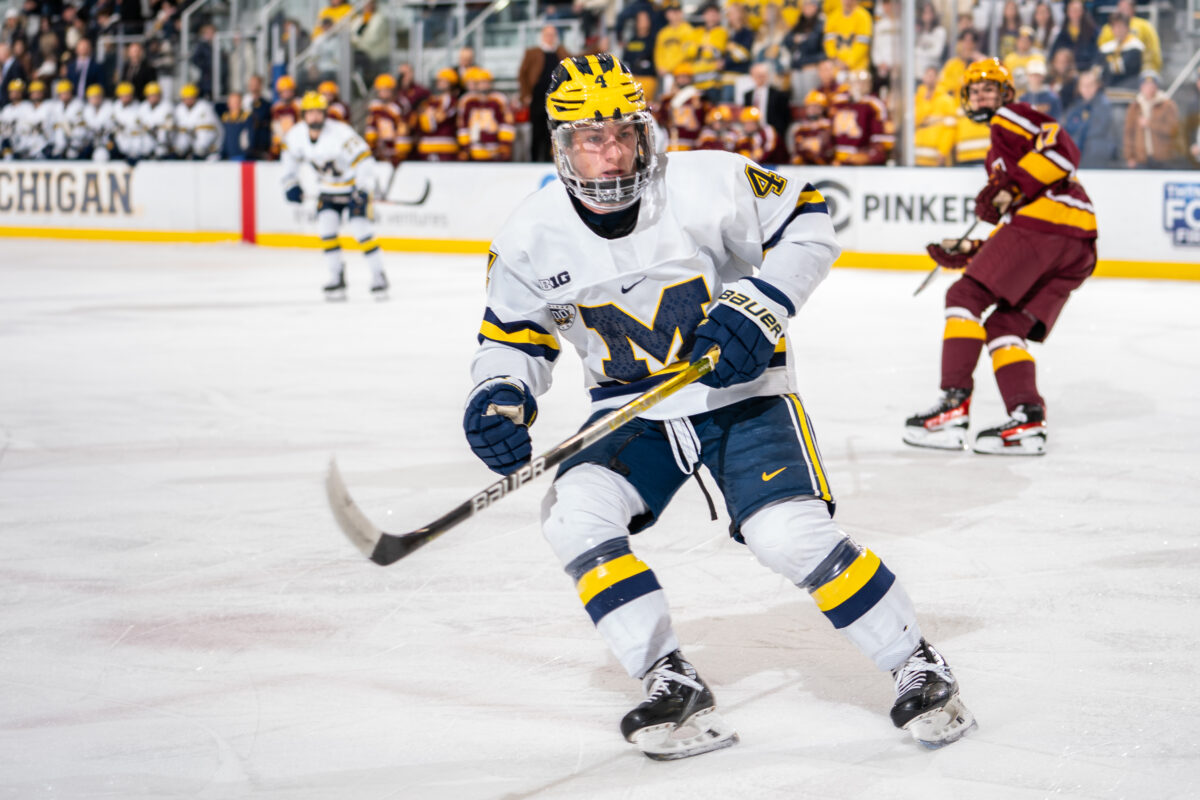 32. Carolina Hurricanes: Jayden Perron, RW, Chicago Steel (USHL)
The Hurricanes love players with strong skill and high upside, Perron has just that as they round out the first round. Perron is always scanning for open spaces, passing lanes and has the ability to attack the middle of the ice. He's got great awareness to provide support or find the open lanes to make himself available for a pass or get a play going. He feels like a great fit for an organization that always manages to find talent no matter where they are.