As New Year's Eve celebrations got underway all over the country, the Florida Panthers skated onto the ice for their final match-up of the calendar year against the New York Rangers. With Luongo on the bench for a bit of a rest since this was the team's third game in four days, Al Montoya supported a starting line up that consisted of Aaron Ekblad, Aleksander Barkov, Sean Bergenheim, Brad Boyes and Brian Campbell. The solid line-up and energy, however, weren't a match for the Rangers. Early in the second, the Rangers were up 2-0 and it was clear that playing three games in four nights had caught up with them. Though they didn't look slow, and almost made a comeback in the third, they just couldn't keep up with the Rangers.
Yet despite ending the calendar year with back-to-back losses to Montreal and New York, neither the team nor the coach seemed overly discouraged. In fact, Coach Gerard Gallant had a great deal of praise for his team on New Year's Eve.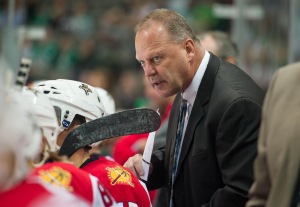 "That's the best team I've seen so far this year," he said of the Rangers. "But we had a good third period coming back, we were battling… it's difficult when it's 3-2 and it shouldn't be… But I'm happy, I'm really happy with them. We're playing well and the last 17 games, I think we're 9-4-4 or whatever, but I'm happy. It's a bad game, we're gonna forget about it and we're gonna start a good six-game road trip. Like I said, I still like where we're at and we've just had a bad game."
New Year, New Resolutions
The six-game road trip that started the new year for the Panthers went very well. Finishing with four wins and two losses, they beat Edmonton, Calgary, Vancouver and Buffalo. Apparently, Coach Gallant had some insight as to what his team was capable of and they did it particularly well on this trip.
The end of this road trip also marked the half-way point of the season, leaving the Panthers 5th in the Atlantic Division with a record of 20-12-9. However, they've played just 41 games while other teams have played as many as 45 (Tampa Bay) leaving four games in-hand for the Cats to make some major movement in the standings.
What's Different?
While it might be difficult to pinpoint exactly what is and has been changing for the team, a couple of things stand out. First and foremost is Nick Bjugstad. The 22-year-old from Minneapolis has not just stepped up to the plate, he somehow manages to knock it out of the park just when his team needs it most. Leading the team in goals (15) and overall points (25), he's become a major force that has been a deciding factor in the outcome of quite a few games.
In addition, Jonathan Huberdeau seems to finally be coming into his own, tied with Jussi Jokinen for third on the team in points (23) and more often than not in the right place at the right time when it comes to assists. Add to that the excellence of Jimmy Hayes (20 points in 33 games), the continued growth of rookie Aaron Ekblad (who's second on the team in points) and finally having an enforcer (6'5″ Erik Gudbranson has 40 penalty minutes as well as a goal and 5 assists), it feels like the team has turned a corner.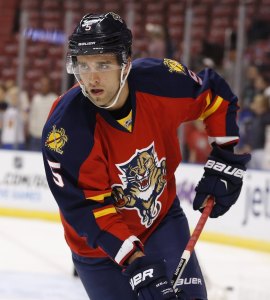 Top-Notch Goaltending
The other part of this team that cannot be forgotten is goaltending. Veteran Roberto Luongo is not only part of the glue that holds this team together, he's also representing the Panthers at the 2015 All-Star Game. The reasons he was chosen are too many to list, but as he continues to make incredible saves and brings his best game night after night, he is a big part of the reason the Panthers are doing so well. He is currently tied for fifth in the Save Percentage category overall in the NHL at .924, which is nothing to sneeze at. Especially considering the person who holds the top spot (Colorado's Calvin Pickard) with a save percentage of .936, has only played 15 games, compared to Luongo's 33.
In addition, back-up goalie Al Montoya has done his part on more than one occasion to keep his team in the game, despite lower numbers on paper. Affectionately known as "The Big Cubano," he's a solid back-up both on and off the ice, putting the Panthers in a good place in goaltending, morale and the standings.
What's Next?
If the Panthers continue on the path they've been on for the last 20 games or so, it's going to be an interesting second half of the season. Although they sit in fifth right now in their division, they trail Boston by just three points for the last Wild Card spot in the East. With three games in-hand, however, they could very well be on their way to the playoffs. If that's not a New Year's Resolution to work towards, what is?