The Florida Panthers can finally rest. With a record of 42-32-8 and 92 points through 82 games, they have clinched a spot in the 2023 Stanley Cup Playoffs thanks to losses from the Pittsburgh Penguins and the Buffalo Sabres on Tuesday night (April 12). This will be their fourth consecutive postseason appearance, which is the longest streak in franchise history. As a result of their loss to the Carolina Hurricanes, they will face the record-setting Boston Bruins in the first round, making them the biggest underdog.
After a shaky start to the season and a couple of bad stretches that gave the feeling of the season being over, the Cats defied all odds and punched their ticket. This was in large part to their recent seven-game point streak that started last month.
Panthers Go Streaking
Although their regular season ended on a sour note, the Panthers had a great point streak that would ultimately be the pathway to their playoff appearance. In their stretch of games ranging from March 29 through April 10, they were 6-0-1 and scored a power-play goal in six of those seven games.
Related: Matthew Tkachuk is Panthers MVP in First Season with Team
---
Latest News & Highlights
---
Regardless of how that night went, the incredible turn around from what seemed like a lost season for Florida is remarkable and something the team can build on now and in the future.
The "Lyon King" has Emerged Unexpectedly
In everything that has developed over the past couple of months, an unlikely hero emerged in the form of a 30-year-old American Hockey League (AHL) call-up in goaltender Alex Lyon. After goaltender Spencer Knight entered the NHLPA player assistance program on Feb. 24, Lyon was recalled from the Charlotte Checkers for the second time this season.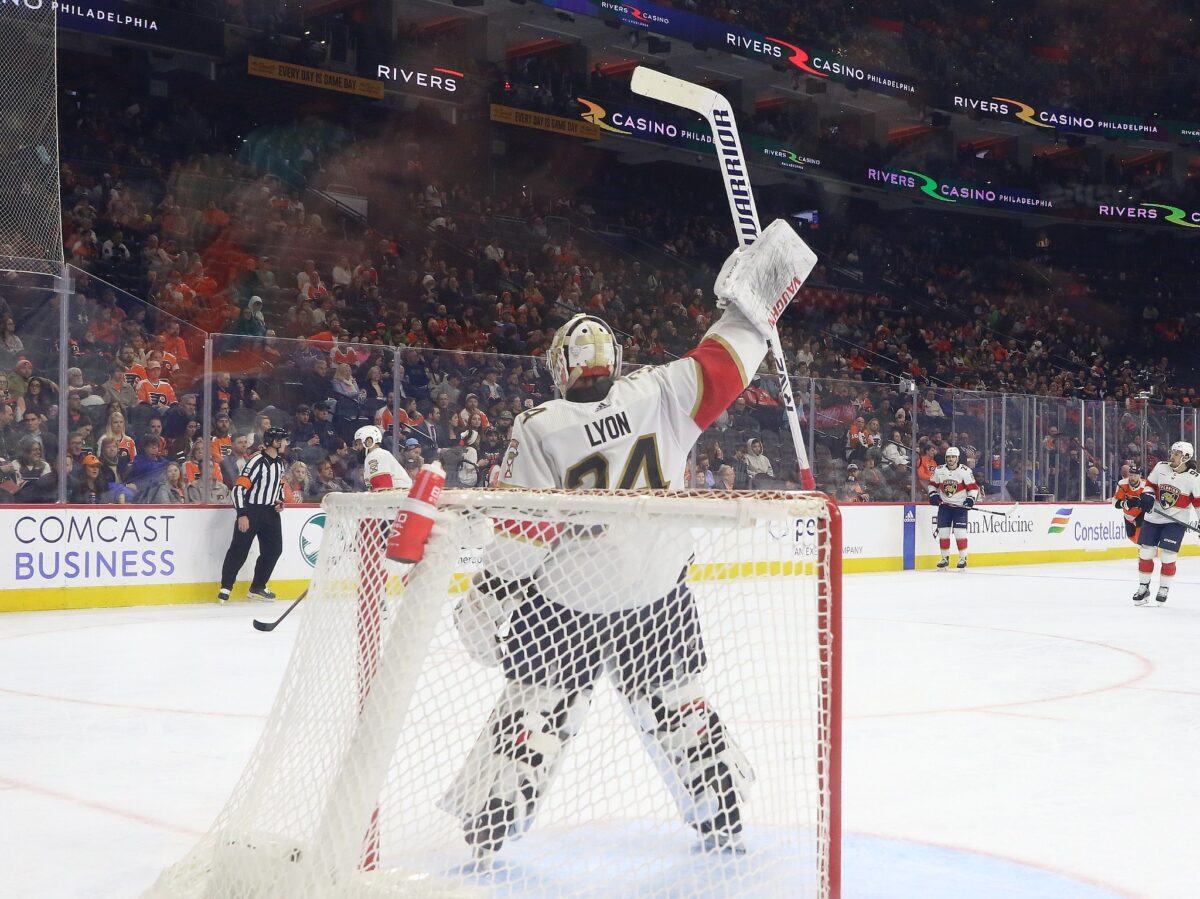 He had a bit rough of a go at first but since late March, Lyon has been locked into playoff mode. In his last seven games, he's tallied six wins, averaged around a .947 save percentage (SV%) a 1.57 goals-against average (GAA) and a shutout. His elite-level performances are just what the team needed.
"There's no quit in his game," Matthew Tkachuk said. "It brings so much positive energy and it's really been huge for our team down this stretch going into the playoffs to have that type of energy."

Matthew Tkachuk on Alex Lyon after a 2-1 victory over the Buffalo Sabres on April 5.
This creates a good problem to have for the Panthers for the playoffs as it'll be a tough decision with their veteran in Sergei Bobrovsky coming back from an illness. Lyon does have 25 games of AHL playoff experience and had a GAA of 2.03 in his most recent postseason stretch then. However, it is difficult to ignore the playoff performance Bobrovsky had in Round 1 last postseason.
Tkachuk "Cah-Ching!"
For the second consecutive season, forward Matthew Tkachuk has broken the 100-point mark and became the second 100-point player in franchise history. However, this season is a new career high for the 25-year-old from Arizona. He has tallied a total of 109 points (40 goals, 69 assists) through 79 games.
Related: Panthers' Tkachuk Deserves to Be Hart Trophy Finalist
At first, the trade that got him to Broward County may have seemed foolish with how much was given up. But general manager Bill Zito is likely glad he pulled the trigger on the blockbuster trade. Calgary Flames forward Jonathan Huberdeau currently has 55 points (15 goals, 40 assists) through 78 games. Because of that, he is on pace for the largest points decline between two seasons in NHL history.
Verhaeghe Turns his Swag On
In addition to Tkachuk, forward Carter Verhaeghe also had a career year. He hit a new career high in goals with 42 and points with 73 through 81 games. On April 1, he joined Pavel Bure and Mark Perrish as the only Panthers to score four goals in a single game. For what seemed like such a small signing back in 2021, he became easily the most important free agent acquisition of Zito's tenure.
Last season, he was the playoff hero in their Round 1 meeting against the Washington Capitals by tallying 12 points (six goals, six assists) in their 4-2 victory. If they want to go for another run, Verhaeghe has to replicate that performance.
Can Florida Pull Off an Incredible Upset?
It should be noted that the last time Florida went to the playoffs with 92 points, they ended up reaching the Stanley Cup Final. Their first opponent in that journey was none other than the Boys from Beantown, the Boston Bruins. In addition, the last team to break the record for most wins in a single season, the Tampa Bay Lightning in the 2018-19 season, was swept in the first round. Bobrovsky remembers that year as a Columbus Blue Jacket fondly.
However, nothing is guaranteed. It all comes down to if the team can play playoff hockey, which is what head coach Paul Maurice was brought in for, specifically. He believes its just what the doctor ordered to give the team around him the experience they need.
"It's the right challenge for us this year," Panthers head coach Paul Maurice said. "So exciting. Such a monumental challenge. That's where you want to be in the NHL. You want to be in the big game."

Paul Maurice on playing the Boston Bruins in the First Round of the 2023 Stanley Cup Playoffs
The roughest part of the Cats' journey to Lord Stanley's holy grail starts on Monday, April 17. If they can seize their moment this summer, a championship parade across South Florida could be in order.
---
---