The date was June 27, 2014 and many of you may know it as the 2014 NHL Entry Draft. That date is also very important in the recent history of the Pittsburgh Penguins. This was the day that one of the most prolific scorers, James Neal, was traded to the Nashville Predators for forwards Patric Hornqvist and Nick Spaling.
It was a trade that I was not a fan of when it happened, and my feelings have not changed within the 96 games that have been played since. Trading Neal, essentially for Hornqvist, was a move to spread their salary cap room, remove a "toxic" player and return another viable forward in Spaling. However, this trade was poorly timed and general manager Jim Rutherford did not take the largest offer he received.
Patric Hornqvist's Slow Start
Last year was one of the finest of Hornqvist's career. He played primarily with captain Sidney Crosby and spent a little time with fellow superstar Evgeni Malkin. Hornqvist finished the year with 38 points in 64 games, or .59 points-per-game which was the second highest mark of his career.
Last year, there was so much positive news surrounding Hornqvist. The media loved his dedication and gritty play style and many believed he could legitimately change the team. Yet, 14 games into the 2015-16 season and many of the same members of the media who were praising him, have already suggested potentially trading him.
Here's what Dejan Kovacevic had to say about Hornqvist on Oct. 18, 2014, which was four games into his career with the Penguins.
Still, what's been there from Hornqvist has not only silenced anyone who blindly criticized the James Neal trade this summer — this was my stance in support of it back at the NHL Draft in Philadelphia — but it's also been enough to make you wonder if he might not change the broader mindset of this organization.
And now here's what Kovacevic's top reporter, Josh Yohe, had to say about Hornqvist just a few days ago.
If you're interested in the Penguins becoming a better offensive team, I don't know that I'd be trading Pouliot. As for Hornqvist, yes, he would be a good trade chip. No question.
Just 14 games into the NHL season and a player who scored four points (two goals, two assists) and is a minus-6 skater, on a team that has struggled to score, is already being talked about as trade bait. Hornqvist was pegged by DK to "change the broader mindset of this organization" and now these same writers are pushing for him to be traded.
Sure, Hornqvist's low point total has not been good and he hasn't been the best player on the team. But he's been struggling alongside with Crosby and these two have phenomenal chemistry together. This isn't something that every player can say. Phil Kessel or Jarome Iginla anyone?
Hornqvist deserves the criticism he has received, but it's far too early to consider trading him. There's one thing that you can expect from Hornqvist every single night: he will leave everything he has on the ice. Don't believe me from just watching him play? Just look at the statistics.
PDO is a measure that was created to essentially track luck in hockey games. The abbreviation is short for the name of it's creator, but this statistic is considered one of the most vital in the current realm of hockey advanced statistics.
A normal PDO for players is around 100, anything above means the player is getting lucky and their success should not be sustainable and anything below means they have been unlucky.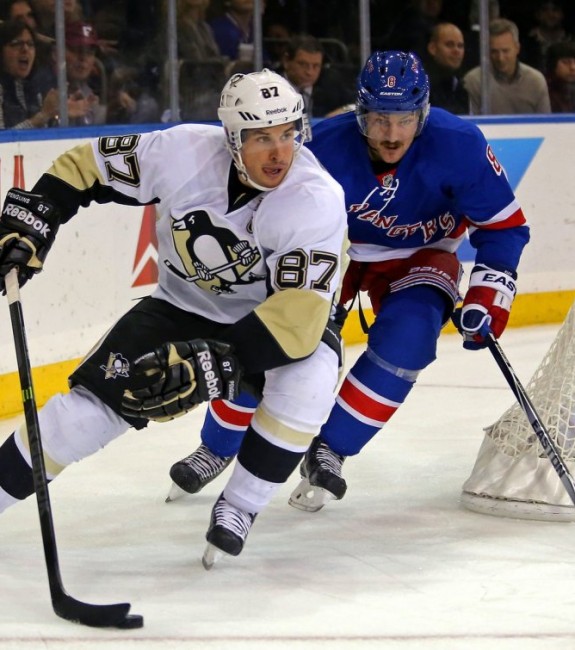 Hornqvist's PDO is 96.30 and Crosby's happens to also be 96.47. Last season, Hornqvist attempted 369 shots in 64 games, or 5.76 shot attempts per game and this season he's attempted 53 shots in 14 games played, or 3.78 shots per contest. Here's why Crosby and Hornqvist have been struggling. They both have not been shooting the puck again.
Dating back to the 2005-06 season, Crosby has been out shot by opponents three times in his career. He had a Corsi for of 49.97 percent during 2006-07, 49.02 percent in 2007-08 and 49.36 percent in 2008-09. Every other year, his Corsi for percentage has been well above 50 percent and he usually has a positive (100+) PDO. Hornqvist has been very similar throughout his career. He's had one season where his Corsi for percentage was below 50 percent and that was his rookie season when he finished with 49.49 percent. Hornqvist's PDO has been up and down, but that accounts for the randomness of hockey, not every player can be Crosby and defy expectations.
Where does this leave the Penguins and what should they do with Hornqvist? It's only a matter of time before this team starts rolling offensively. There is too much talent between Crosby, Malkin, Kessel, Hornqvist, David Perron, Beau Bennett and Kris Letang, to name a few, for the Penguins to struggle to score all season.
Crosby isn't a kid anymore, but he's still the top player in the NHL and with Hornqvist on his wing, it won't be long before these two break this slump. Hornqvist is locked up for the next three seasons at a salary cap-friendly rate of $4.25 million per season and he should spend that time in Pittsburgh.
Criticize Hornqvist and Crosby and if you want, but it is far too early to consider trading one of the best players from last season. Hornqvist hasn't been great, but he should not be going anywhere.
Thanks for reading! Feel free to leave your comments below or tweet me anytime@MPityk
Michael Pityk is an analyst who has written for numerous sites since beginning his professional career. He's acted as a credentialed member of the media for the Philadelphia Phillies, Philadelphia Flyers, Pittsburgh Pirates and the Pittsburgh Penguins. His work has been featured in Sports Illustrated, The Sports Journal, MSN, PensLabyrinth, Montreal Hockey Talk, ESPN Pittsburgh, The Hockey Writers, Todays SlapShot and The Bleacher Report. He formerly was the editor of Pens Labyrinth and an analyst for The Sports Journal. Michael presently acts as an NHL Analyst for The Hockey Writers