Peaks & Valleys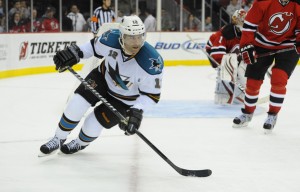 It happens every year to every team and every player. Peaks and valleys, cold spells and hot streaks are inevitable for even the best teams and the best players. Twenty-one games into the season San Jose Sharks forward Patrick Marleau had 16 points and hadn't scored an even strength goal in 16 straight contests. The critics were out in full force despite the fact Marleau (with the exception of Ron Wilson's last year as head coach in 2007-08) always finishes the season with consistent numbers on the back of his playing card.
In the last eight games, Marleau has scored nine points, and both his goals were huge clutch tallies at even strength. Yes, technically one came with an extra attacker six-on-five but are we really going to knock him for scoring a clutch game-tying goal late in the game because of an extra attacker? I didn't think so. The other goal came after some strong zone time with linemates Tommy Wingels and Logan Couture. Marleau showed off his terrific hand eye coordination by batting home a puck out of mid-air for a go-ahead third period goal that held up as the game winner.
While Marleau's plus/minus is still hanging out at minus-3, his goals for percentage at even strength has since bounced up to 50% after being around 43% before the current hot stretch. His corsi-for percentage of 53.5% is now seventh on the team. He is second amongst all Sharks forwards in ice time at 19:03, contributes 1:03 of that on the penalty kill and until Couture's minor injury, he and his linemates were doing an excellent job in their match-up with arguably the top line in hockey in Philadelphia's Claude Giroux and Jakub Voracek.
Yours truly has never been a big fan of Marleau's often soft style. At 6'2" 220 pounds, personally I wish he would use his body the way the 6'0" 200 pound Wingels uses his body. However, physical play, dishing out as well as receiving can take a toll on your body. Perhaps Marleau's style has allowed him to stay healthy. The 35-year-old hasn't missed a Sharks regular season game since head coach Todd McLellan's first year behind the bench six years ago back in 2008-09. He simply never misses games and that is extremely valuable.
Good Without Much Luck
Furthermore, as terrific as Marleau has been through 29 games in this his 17th NHL season, he has arguably been unlucky. Despite leading the Sharks in points with 25, on pace for his seventh 70 plus point season over the last nine full seasons (minus the lockout shortened season), his shooting percentage is just 7.5%. That is far below his career 13.7% mark and that of his last two seasons 11.6 and 11.3%. That number should certainly increase as the season wears on and the Sharks continue to make up home games after the brutal road stretch to start the year.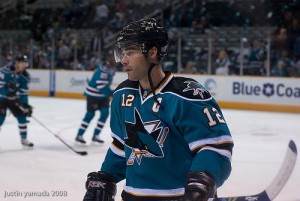 Currently Marleau has been picking up the assists with seven in the past eight games but the goals are bound to start coming on a more frequent basis. His current corsi-for percentage is nearly identical to his mark from a year ago when he scored 33 goals. Right now he is only on pace for 20 goals, but expect that number to rise shortly. Marleau often feasts against the Edmonton Oilers, and while the Sharks just lost in Edmonton on second night of back-to-backs, the Sharks get the Oilers twice at home during this upcoming five game home-stand. Not to mention Marleau's brilliant assist in the loss in Edmonton was San Jose's best offensive play of the game.
Considering San Jose's lack of forward depth right now with Tyler Kennedy, Matt Nieto, and Raffi Torres all out, the Sharks are going to need continued top-six production. Marleau maintaining his current hot stretch and getting the lucky puck bounces that he rightfully deserves will go a long way to righting the Sharks' ship.
Andrew has been credentialed to cover the Sharks since 2010 and the 49ers since 2012. He graduated with his BA in Broadcast Electronic Communication Arts in 2013 from San Francisco State University.