Patrick Roy's first season as an NHL head coach was an unbelievable success. His hiring rejuvenated the team as well as the fan base, and that was before the team even hit the ice. When the season got underway, all Roy managed to do was lead a predicted bubble team to a Central Division championship. The playoffs eventually caught up to this team, which was playing with house money at that point. But Roy deservedly won coach of the year. The offseason brought a few changes to the team, including the departure of Paul Stastny, and the addition Jarome Iginla. A slightly retooled lineup will test Patrick Roy's coaching ability. He will still have a high powered offense, but the team's lack luster defense will show just how adept a tactician Roy can be.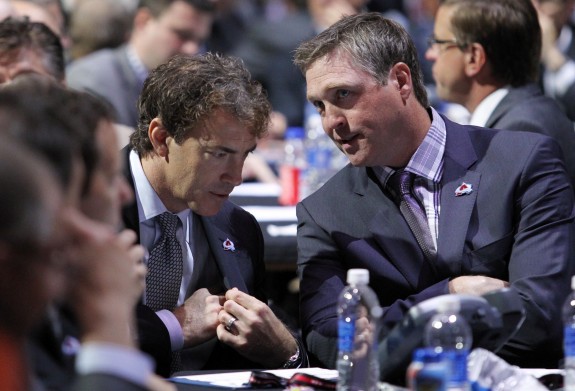 Doing more with less
There are some good defensemen on the Colorado Avalanche. The problem is there are not enough. This was evident last season, but despite a few new faces, the core of the defense remains in tact. Erik Johnson and Tyson Barrie will be called upon to play big minutes. Both players seem ready and willing for the challenge. After those two, though, things get questionable. Jan Hejda has been a good signing, and he had a good season last year. But Hejda isn't getting younger. Brad Stuart also had great seasons in the past, but he's 34 now. Last year's success story, Nick Holden, remains a wild card. He can be an offensive force for the team but his sometimes suspect defense needs to improve if he's going to earn the top 4 minutes he played last season. Young players like Zach Redmond and Duncan Siemens might not be ready for NHL action and may see more time in Lake Erie. Lastly, highly promising prospect Chris Bigras, who almost made the roster last season seems set to stay in juniors for another season.
What Patrick Roy did with this team last season is impressive. It's something that purveyors of advanced stats even seemed a little ruffled by. Colorado wasn't much of a possession team. That's a bit of an understatement. Colorado is a bad possession team. They ranked near the bottom of the league in most advanced stats. Their best possession player now applies his trade in St. Louis. What worked so well for the team last year wasn't just luck, though that helped. It was Roy's coaching style, and the system he employed. Most teams spent the majority of the time with the puck in low percentage areas. This style of play allowed a lot of shots, but generally kept them from being dangerous scoring chances.
This year Patrick Roy might have to adapt if he's going to succeed. Professional sports are all about adjustments. Teams will have learned from the series against Minnesota that crashing the net and just overwhelming shots from all over will be the key. Patrick Roy will have to know this going into the season. The addition of some veterans, like Iginla and Stuart, might help the younger players absorb, and understand this new pressure. Patrick Roy, however, is going to be the one who will need to prepare them for it.
 All about transitions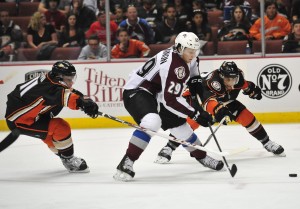 Whatever happens with Colorado's defense, the offense should be a big strength for the team again this year. Despite losing Stastny and P.A. Parenteau, Colorado still have plenty of fire power. Patrick Roy before his first season promised that the team would play exciting hockey. The team's 2.99 goals per game turned out to be good enough for 4th best in the NHL. 19 year old center Nathan MacKinnon, coming off his Calder winning season, seems primed to pick up where he left off and then some. Roy's coaching last year motivated a lot of these young players like MacKinnon. If Roy will have a successful second season he'll need another strong season from MacKinnon, who will be called upon to step into the roll previously filled by Paul Stastny. Stastny was great at playing the pivot for Colorado. One of the reason's Colorado's defense held up last season was Stastny's defensive workrate. 19 year old's don't traditionally take to the defensive game quite as quickly. By all accounts, the players love playing for Roy, so hopefully for Avalanche fans, getting MacKinnon to step up and work hard for 200 feet might not be a problem. Easier said than done though. And even if he is willing to play that roll, he might not be ready for it. The bright side here is that if MacKinnon isn't ready for playing that position yet, Roy can have Ryan O'Reilly step up and move MacKinnon to wing for a time.
Roy will need a lot from his offense. But he'll need these young players on his team to buy into the idea that what's good for the team is good for them. It's hit or miss sometimes with forwards when getting them to play defense. One compliment that can be given to Joe Sakic and Roy is the stockpiling of players who are strong on leadership. There is plenty of flash on this team, but transitioning from offense to defense is going to have to be a hallmark  of the team if their going to survive with the current defensive unit.
Just have the goalie bail you out
Patrick Roy was a pretty good goalie when he played. Along with François Allaire, Roy turned Varlamov into a Veznia finalist. Detractors might say that Varlamov is due a regression, because last year was a statistical anomaly. But in Varlamov's defense, his career sample size has been relatively small, and in his three season's with Colorado he's been able to shake that injury bug that plagued him in Washington. Varlamov is extremely athletic, and so a solid season of fundamental play and coaching from Roy and Allaire could very well see Varlamov have another stellar season. The team just needs to cut back on his shots against just a little bit.
Colorado probably wont win the central division again. Last year was, for most Avalanche fans, a glorious dream that lasted from October to April. But Roy's success wont be measured by how well he does in hockey's toughest division. It will be judged on the teams play. He has shown that he can get a group of players to play harder for him than they have under any other coach. That's Roy's real strength. He's a motivator, and he's a fierce competitor. The knock on most great players is that they rarely make great coaches. Roy is the rare exception. He wasn't handed a job behind the bench in Colorado because he was arguably the greatest goaltender in history. He was given the job because he rode the buses in Juniors, and he learned how to coach. Now in Colorado he has the backing of the locker room exactly because of how hard he worked to get there. He doesn't have the best team on paper, but he has the kind of hockey mind that can get the more out of less. Roy doesn't fail. He wins.