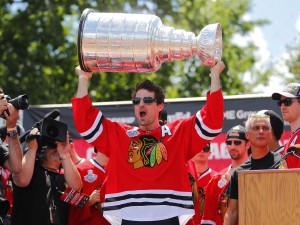 I love Patrick Sharp. The 32-year-old has emerged as a deadly prolific sniper in the NHL, helping the Chicago Blackhawks win two Stanley Cups in the last four years.
Some may argue he is still underrated, but seven 20-plus goal seasons definitely puts you on the radar.
With all the talent on the Team Canada roster, why is Sharp going to be a major standout?
Goals Galore
It's simple, Patrick Sharp is a goal-scoring machine.
He has one of the best shots in the entire NHL, and with the offensive stardom surrounding him at the Olympics, he is bound to find twine on numerous occasions in Sochi.
He currently sits sixth in the NHL with a whopping 28 goals in 60 games, including two hat-tricks.
Corey Perry and Ryan Getzlaf are the only two Canadians on the Olympic roster with more goals than Patrick Sharp this season.
Mr.Clutch
Sharp knows how to step it up when it matters most. His 10 goals were the most of any player in the 2013 Stanley Cup Playoffs.
https://www.youtube.com/watch?v=YWbHCdJO6b0#sthash.ctB8KyZc.dpuf
When the Hawks won the cup back in 2010, Sharp led the team with 11 goals in the playoffs (tied with Byfuglien). Sharp is simply clutch when it comes to big games, and he will do wonders in Sochi.
Power-Play Ace
Sharp is also a power-play specialist, which will make him very deadly in Sochi. He will be playing alongside some highly talented forwards, making it even easier for him to make an impact.
He has eight power-play goals this season with the Hawks. Chris Kunitz (12) is the only player on the Canadian team with more.
Patrick Sharp is on the point of Team Canada's top PP unit with Duncan Keith. No Shea Weber.

— Chris Johnston (@reporterchris) February 11, 2014
Defensive Beast
Sharp is also a great defensive player, and is very strong when it comes to penalty killing, as exemplified by his plus-18 rating so far this season.
Here is Sharp with a terrific defensive play, catching up to one of the fastest skaters in the game in Matt Duchene, and stripping the puck from him on a breakaway.
With Sharp skating on a deadly second line and seeing top power-play minutes, he is bound to be a difference maker in Sochi.
Same lines as yesterday so far: Kunitz-Crosby-Carter; Sharp-Toews-Nash; Marleau-Getzlaf-Perry; Benn-Tavares-Bergeron; St. Louis-Duchene

— Pierre LeBrun (@PierreVLeBrun) February 11, 2014
Firing Squad
Patrick Sharp is an outstanding player with a terrific shot, and the good thing is, he shoots a ton. He has 291 shots on goal in just 60 games. Alexander Ovechkin is the only player in the NHL with more shots this season.
Olympic goalies are going to be seeing a lot of rubber off the stick of Patrick Sharp this tournament.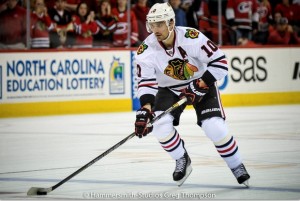 With all this talent on the Canadian roster, it may be surprising I chose Sharp to be the team's 'X  Factor'. Don't worry, he will show the hockey world why he made this team and why he has become one of the deadliest players in the NHL.
BCIT Broadcast Journalism graduate and hockey writer. You can follow me on Twitter @BradyTrett.