This upcoming NHL season will be the 20th that Patrik Elias participates in, all with the same franchise and it could very well be his last campaign. So enjoy and cherish what you have had since the 1995-96 season New Jersey Devils fans, because you never know the next time such a talented and special player will skate in your hometown arena. Elias has spoiled the fan base with his talent, personality and professionalism — something that not everyone is exposed to in their lifetimes. When his career inevitably ends, be it after this season or the next, the obvious question that many will ask will be if the 39-year-old from the Czech Republic has had a Hall-of-Fame career. Currently he is 78th among every player that has ever played in the NHL in total points with 1,017 and twelve of his nineteen seasons he tallied at least 50 points.
As someone who has watched roughly 95% of the games he played in his career, the first inclination I think is yes, mainly because he was a dominant player at times during his era and he was able to take his game to another level during the Stanley Cup playoffs. Elias is certainly a worthy player (at least for consideration) as will be pointed out in the following paragraphs, but there are more than a handful of players who are not in the Hockey Hall-of-Fame that are deserving to be in there and are not at the current time — all-time names like Pierre Turgeon, Jeremy Roenick, Dave Andreychuk and Mark Recchi (who is 12th all-time in points; twelfth. all-time.).
In the 1994 NHL Draft the Devils selected Elias with the 51st overall pick and in that entire draft there was only one player that registered more points than he did — Daniel Alfredsson who was snagged by the Ottawa Senators in round 6 with the 133rd overall choice. In fact, in the 11-round draft that resulted in 115 of 285 drafted players skating on NHL ice, Alfredsson and Elias are the only two from that draft to have produced more than 1,000 points, ahead of names like Ryan Smyth, Milan Hejduk, Steve Sullivan and Chris Drury.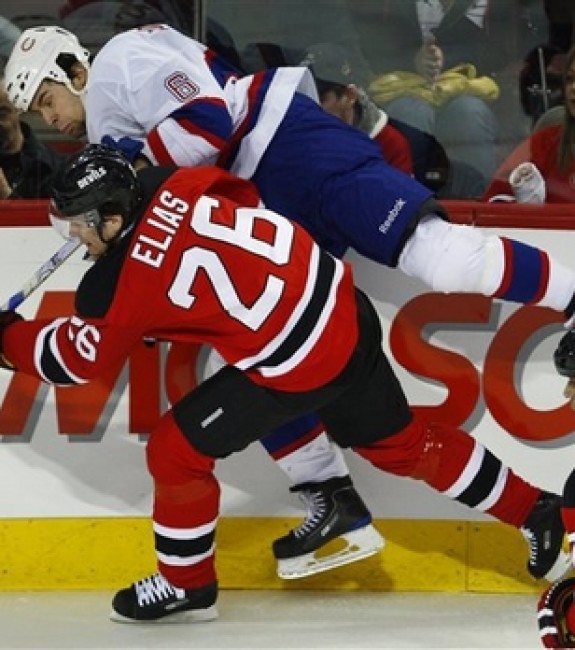 Defenseman Ed Jovanovski was the no. 1 overall pick that draft year, in what eventually turned out to be a strong goalie class with the development of netminders like Tomas Vokoun, Evgeni Nabokov, Jose Theodore, Marty Turco, Tim Thomas and Johan Hedberg. With their first pick that year (25th overall) New Jersey selected Vadim Sharifijonov…yes, that Vadim Sharifijonov, he of 37 career points in 92 career NHL games; other first rounders of note (for the wrong reasons) include Brett Lindros (9th overall), Eric Fichaud (16th overall) and Alexander Kharlamov (15th overall). The only other players still active from that draft that played during last season were Bryce Salvador, Nabokov and Eric Boulton.
Now the Czech kid who came to the NHL and North America with the tips of his hair frosted in 1996 is the man who leads the Devils franchise in just about every major statistical category that a legendary skater would be atop — and he will most certainly have his no. 26 jersey retired by the team when his NHL career ends. Elias' name can be found atop the New Jersey record books in goals (406), assists (611), points (1,017), power play goals (113), game-winning goals (80), OT goals (16), hat tricks (8), SoG (3,266) and multi-point games (248). He is second on the games played list, 59 games behind Mr. Devil aka Ken Daneyko — a number he likely would have passed if not for one and a half seasons lost to labor disputes and a chunk of another one due to a life-threatening illness (2005-06). Oh by the way, he is also the Devils leader in playoff points (125), goals (45), assists (80), power play goals (21) and SoG (444); he is second behind Daneyko in postseason games played (175-162).
His best season by far wasn't even one of the two seasons he was a Stanley Cup champion, but it was during one of the four seasons that he played in that resulted in a trip to the Stanley Cup Final — the 2000-01 season. That season Elias set a team record with 96 points (40g-56a) as the crown jewel of the vaunted 'A-Line' alongside Jason Arnott and Petr Sykora. His point total was third best in the NHL that season, behind some guys named Jaromir Jagr (121 points) and Joe Sakic (118) and he potted another 23 points in 25 playoff games. In every playoffs that he participated in he was an elite contributor for the Devils with the exception of 2003 and 2012.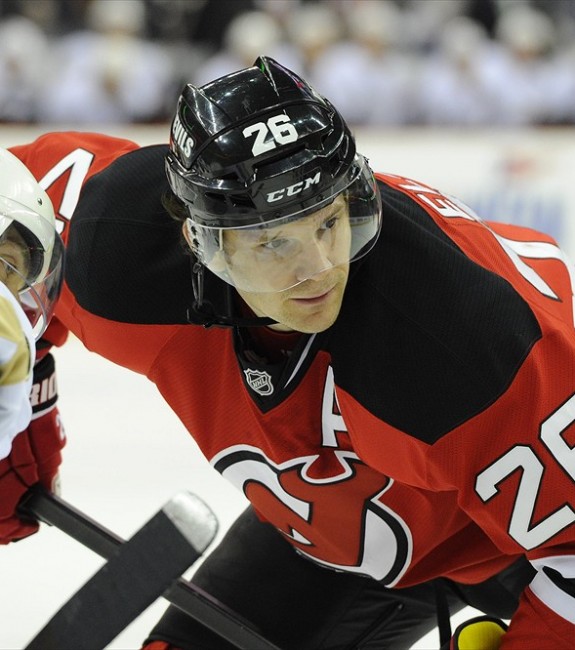 In the season of his illness following the lockout, Elias only appeared in 38 games but still recorded 45 points (16g) and then went on to put up 16 points in nine playoff games that year which was even more amazing considering the huge chunk of time he was away from any rink following his contraction of Hepatitis A. As he points out in this article from NYTimes.com despite the amazing comeback to the ice, the time off also gave him perspective off the ice and he became seriously involved with Unicef, something that he admitted he likely wouldn't have if not for the sickness.
As mentioned the 2001 playoffs were superb for Elias, but he and the Devils fell just short of their ultimate goal losing in Game 7 of the Final to the Colorado Avalanche. New Jersey were the defending champions after dethroning the 1999 champion Dallas Stars in the 2000 Stanley Cup Final, and Elias' fingerprints will forever be all over the Devils' incredible run to the franchise's second Stanley Cup championship. In the East Finals, New Jersey battled their way back from a 1-3 deficit against their bitter rivals the Philadelphia Flyers and in the deciding game seven (on the road) it was Elias that tallied both goals in a 2-1 win to clinch a berth in the Final.
Patrik Elias gives the Devils an early lead in Game 7 with a power play goal:

And then with 2:32 left in the third period of a 1-1 game Elias scores the eventual game-winner:

As was written here in this space recently, the New Jersey Devils have gone through tremendous turnover — not only since the 2012 Final, but also since the end of this past season with the hiring of a new GM (Ray Shero) and new coach (John Hynes). Elias is now the last remaining pillar/link to the franchise's glory days (aside from Daneyko and John MacLean who cover the team on television and Sergei Brylin who is an assistant in the AHL) and this season may be another important one for him and the team.
This past June New Jersey drafted Pavel Zacha, who is also from Czech Republic and he is a big fan of… Patrik Elias. He has already often told the story to the local media that as a young boy he got Elias' autograph and a pic with the Stanley Cup when the Devils' star brought it home following the 2003 victory. Now Elias will be looked upon by the team and the 18-year-old Zacha for guidance as he begins the voyage on his NHL career.
Perhaps Elias can show Zacha some moves like this once training camp begins in less than a month at the Rock
(Brian Boucher was a victim again):

The gut feeling for this writer is that Patrik Elias will one day make it into the Hockey Hall-of-Fame, not only for being the best Devils skater to ever don the jersey with the horned/tailed NJ, but also as one of the best Czech players to ever play the NHL and internationally. But I am definitely a bit biased having watched him play so often, and getting to know him a bit professionally.
What do you the reader think? Let us know in the comments below.
Dan Rice can be reached via Twitter: @DRdiabloTHW or via Email: drdiablo321@yahoo.com