Fantasy sports is a world in itself. Team owners and league commissioners gather year after year all trying to achieve the same goal – to win their respective leagues and gain the respect of their colleagues.
The first couple rounds of any sort of draft – keeper or yearly leagues – are normally pretty set in stone on which players will be drafted. In regards to hockey, you've got Crosby, Ovechkin, Tavares and countless others that are always the first to go.
But in the end it's the late rounders that send your team over the top. The depth of your team can change where you place when season's end hits in the spring.
In this three-part series, we'll look at three forwards, defensemen and goalies that fall under the title of fantasy hockey sleepers heading into the 2015-16 NHL season. And while they might fall under that category in a yearly pool as well, these are players that will likely be available in your keeper leagues this fall.
With that, here's a look at three forwards to keep an eye on heading into your league's draft.
David Perron (LW), Pittsburgh
While the Penguins' David Perron could be a bubble player on some league's keeper list (he certainly is in mine), look for him to be available heading into 2015-16. With Pittsburgh's addition of Phil Kessel in the offseason, Perron will be flying under the radar even more so than he did last season.
His plus-minus numbers could be concerning to poolies that take those numbers into consideration, but after joining Pittsburgh late in 2014-15, he only dipped under the even mark to a minus-eight as a Penguin.
As for his numbers, Perron notched just 19 points (5g-14a) in 38 games with the Oilers before he was shipped to the Penguins where he added 22 more (12g-10a) in 43 games with the Penguins. Now, an offensively overloaded team, Perron will likely see time on one of the top two lines playing alongside Kessel, Crosby or Malkin.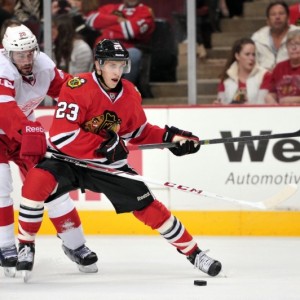 Add to that his three powerplay goals last season and his time on special teams and he's a good pick up for any team owner looking to fill out their roster with some solid depth. But don't wait too long because you're likely not the only one with your eye on this potential top-six Penguin forward.
Teuvo Teravainen (C), Chicago
The coming season could bring a new role for 20-year-old Teuvo Teravainen. The Blackhawks forward should be looked to in filling the holes left by Patrick Sharp and Brandon Saad in Chicago. With those two gone, Teravainen will likely move up in the lineup and could see some quality ice time on the second or third line.
In 34 games for the Hawks in 2014-15, Tervainen scored four goals and added five assists, but had a small coming out party in the playoffs where he notched 10 points (4g-6a) in just 18 games for the Stanley Cup winners.
While he's still young and will likely need some more development, there's no reason the Hawks can't do that while maintaining NHL playing time for the young centre. After all, as Cam Cole described in the National Post, "Scotty Bowman, no less, had compared [Tervainen] to Igor Larionov."
He'll definitely be a good fit for a team looking for some young help in their fantasy league.
Cody Eakin (C), Dallas
A small offseason revamp and the Dallas Stars are among the top contenders in the West heading into the 2015-16 season. With names like Antti Niemi, Patrick Sharp and Johnny Oduya added to the already impressive roster, it'll be interesting to see where others like Cody Eakin will slot in.
But a four-year veteran of the NHL, Eakin might just be that fantasy sleeper you're looking for in your upcoming league draft. Last season marked his third with Dallas and for Eakin it was an impressive one. He reached career highs in goals (19), assists (21) and points (40) adding two powerplay goals and two shorthanded goals as well.
He has the ability to play at both ends of the ice and on both sides of special teams and as a less known household name, Eakin will fly under the radar in the NHL this season. He'll also likely be passed over by most of your fantasy colleagues.
Depending on how deep your league is – and in most cases it won't be this deep – Eakin should be available come draft time. While it wouldn't be advised to grab him too early, don't be afraid to risk a backend pick on the 24-year-old Winnipeg native.
Honorable mention: Artem Anisimov (CHI), Sam Bennett (CGY), Joel Ward (SJS)
Sleepers For Your Fantasy League – Defence Edition
Sleepers For Your Fantasy League – Goalie Edition
For more fantasy talk, be sure to check out the latest from Mark Scheig where he talks to NHL.com's Matt Sitkoff.
For more, follow Andrew on Twitter at @AndrewGForbes or his THW column at @Tape2TapeTHW.