It's often said that teams are built from the crease out. Finding a good – or rather great – goalie is the key to finding success in hockey. In many ways, the same can be said about fantasy hockey.
While goaltenders aren't the only asset needed, it certainly doesn't hurt to have two solid guys between the pipes when it comes to drafting a fantasy team. But what happens when those top five or top ten goalies are already scooped up? It isn't always easy choosing from the rest of the crop.
With the return of the NHL just over a month away and fantasy drafts taking place in the coming weeks, here's a look at a few goaltenders that you should keep your eye on if they remain available in your keeper leagues.
Cam Talbot (G), Edmonton
Now is the time to start believing that the Oilers can do better. No, they're not going to be contenders right off the bat, but their team is young and they scored a generational talent in Connor McDavid.
So, why not take a chance on their tender? Why not take a risk and make Talbot a late-round pick in your fantasy draft?
Some fantasy owners may be ahead of the game by choosing to keep the Oilers goalie. But if he's available, Talbot is a guy that can put up some solid numbers if he can take the starting role in Edmonton and run with it.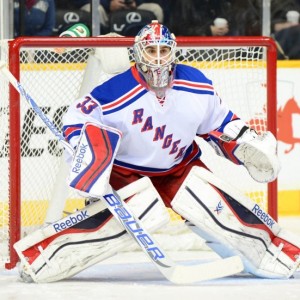 In New York last season, he played in 36 games while filling in for Henrik Lundqvist. He finished with 21 wins and five shutouts to go along with his 2.21 goals against average and a .926 save percentage.
Over his career, Talbot's won 33 of his 57 games played in the regular season and has a career goals against average of 2.00 and a .931 save percentage. Not bad for a back-up who's played 57 games over his two season career.
Michael Hutchinson (G), Winnipeg
At 25, Michael Hutchinson is a goalie worth keeping your eye on this season. No, he won't be dubbed the starter right out of camp, but look for Hutchinson to make a name for himself this season in Winnipeg.
If Ondrej Pavelec can't hold down the fort, Hutchinson could again step in the way he did during the 2014-15 season. Last year, he played in 38 games and won 21. He recorded 2 shutouts, a 2.39 goals against average and a .914 save percentage.
His NHL sample size is still relatively small with only 41 games played during the regular season. But with his ability to come up big in key spots and the team playing well in front of him, Hutch will be a good late pick in your league – especially for a long-term keeper role.
Petr Mrazek (G), Detroit
The starter role can be one of the hardest things to predict in hockey before the season starts. So it can be pretty difficult to go into a fantasy draft without any idea of who to take for your goalie spots.
While it'll be hard to hand over the title of starter to Petr Mrazek in Detroit, he may be the closest on any team to grabbing the spot from the current number one. In this case, Jimmy Howard struggled with inconsistency and injury in 2014-15 and gave Mrazek the opportunity to show just what skill he possessed to the Red Wings brass.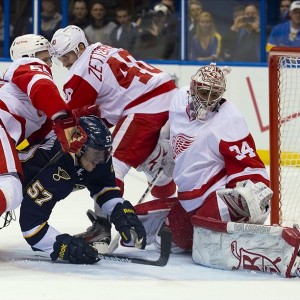 While he still only played in 29 games for the Wings, Mrazek won 16 of those games recording three shutouts and a 2.38 goals against average. But it was in the playoffs that he was handed the number one job playing seven games and posting a 2.11 goals against average in their first-round loss.
While his inexperience rivals that of Hutchinson, his future with the Red Wings is bright and he'll be a good pick for fantasy owners – both now and down the road.
Honorable mention: Robin Lehner (BUF), Eddie Lack (CAR), Andrew Hammond (OTT), Darcy Kuemper (MIN) and John Gibson (ANA)
Sleepers For Your Keeper League – Forward Edition
Sleepers For Your Keeper League – Defence Edition
For more, follow Andrew on Twitter at @AndrewGForbes or his THW column at @Tape2TapeTHW.