The Montreal Canadiens go into the 2015-16 with a pretty solid defence corps. Led by workhorse PK Subban, the Habs' defence is a solid mix of youth and experience with players of varying skillsets. After the top two pairings, there will be competition to fill out the rest of the back end as younger players will be pushing the veterans for playing time. Here is a look at the projected pairings to start the season and the heated battle to be the seventh defenceman.
First pairing: PK Subban and Andrei Markov
This pairing is virtually a given to start the year as they were Montreal's top defencemen last season. Subban parlayed a 60 point year into a Norris Trophy nomination while continuing to hone his overall game and take on a bigger leadership role with the team. At age 26, Subban is in his prime and is a threat at both ends of the ice and will continue to do much of the heavy lifting for the Habs.
Markov had a very good season as well playing alongside Subban. Unfortunately, Markov's age caught up to him in the playoffs as he struggled mightily. He will be 37 in December and despite being in excellent shape and consistently playing well, Markov needs to play fewer minutes. Playing 25+ minutes per game is too much and the Habs need him fresh for the playoffs. Shaving his minutes down to 20 minutes a night will be more productive for him. In addition, there is no need for Markov to play heavy minutes on the penalty kill as there are other players who can do that.
https://www.youtube.com/watch?v=EdM3ZdhRHf0
Second pairing: Jeff Petry and Nathan Beaulieu
It is possible that Alexei Emelin could play on the second pairing with Petry, but Beaulieu is the better player. Beaulieu was given a two-year "show me" contract to demonstrate he has what it takes to be a top four blueliner in the NHL. A smooth skater with offensive instincts and some bite to his game, Beaulieu needs time and patience to glue it all together. With the exception of top prospect Noah Juulsen, there are no other young defencemen who project as a top four blueliner in the organization so it is crucial that Beaulieu develops to expectations.
In the case of Petry, he signed a six-year extension with the Habs after being brought over from the Edmonton Oilers at the trade deadline. He fit in well with the Habs and responded nicely to playing on a good team after spending his entire NHL career with the lowly Oilers. In Edmonton, he was a number one defenceman by default where in reality he is better off on the second pairing. Petry is in the prime of his career and is strong skater with a solid defensive game and for the time in awhile, the Habs have a solid second pairing that can take the heat off of Subban and Markov.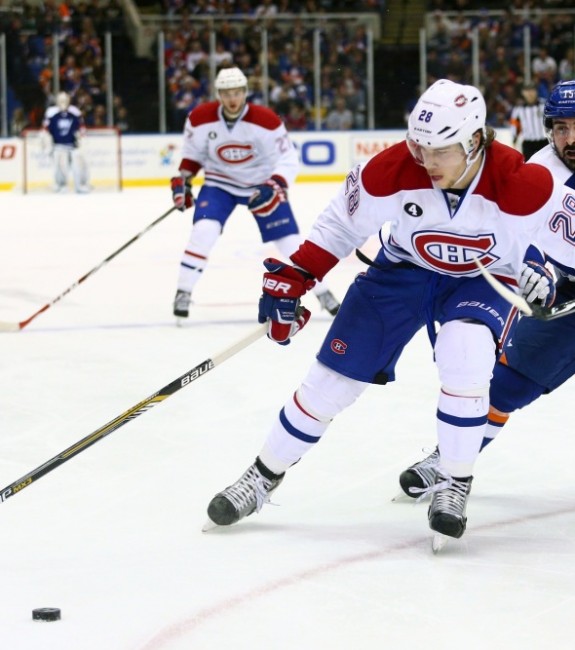 Third pairing: Alexei Emelin and Tom Gilbert
Emelin could find himself on the second pairing but he belongs in the lower part lineup. He plays a physical brand of hockey, thriving especially in the games against the Boston Bruins. Emelin struggles the most with inconsistency and questionable decision making. Defensive lapses happen too often with him and his contract ($4.1 million cap hit with three years left) makes him difficult to move.
Gilbert can also be inconsistent at times, but is still a valuable player. He can eat up minutes and contribute on the scoresheet occasionally. He has one year left at $2.8 million and he could easily be moved to make room for a young defenceman ready to make the jump.
The battle to be the seventh defenceman
In the battle to be the seventh defenceman, there are three candidates looking to stick with the Habs this season. Greg Pateryn's contract becomes one-way this season and he played 17 regular season games and 7 playoff games with Montreal last season. He plays a simple but solid game and can play a physical brand of hockey. He is likely the favourite to earn the seventh defenceman spot or higher in the lineup.
Mark Barberio has struggled to put up offense at the NHL level despite prolific numbers at lower levels of hockey. He has the most NHL experience but is on a two-way contract. He is a player who can give you solid minutes but doesn't do anything outstanding. He was buried a bit on a stacked Tampa Bay squad and it looks like it will be the same scenario in Montreal.
Jarred Tinordi signed a one-year contract over the summer and if he doesn't make it to the NHL full time, it will likely end his time with the Habs. Big defencemen take awhile to develop but it has been nearly six years since Tinordi was drafted and he is still struggling to establish himself. Being on a two-way contract, he needs to go through waivers to be sent down to the AHL and some team will likely snatch up the 6′ 6″ Tinordi as a project. He has been given another chance and now he needs to show management he is worth the investment.
Like Thomas & Bournival, #Habs Jarred Tinordi needs waivers to go to AHL regardless of 2-way deal. Unlike them, no chance he'd clear.

— Dan Kramer (@DanKramerHabs) July 15, 2015
Looking good
The Montreal Canadiens are looking good going into the season with their defence. The top two pairings are very good while the battle for the other spots will be fierce. GM Marc Bergevin has preached that you can never have too many defencemen and with the amount of defencemen pushing for a job this fall, it appears he might be right.