While some NHL free agents are opting for professional tryouts or short-term contracts, it looks like Paul Gaustad will not be one of them. Gaustad will reportedly announce his retirement from the NHL "in a couple of weeks," according to Jim Matheson of the Edmonton Journal.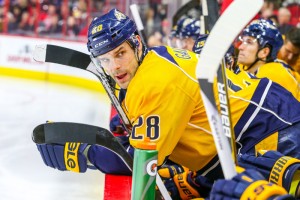 The 34-year-old center spent the last four-plus seasons with the Nashville Predators but was not offered a contract after a six point campaign in 2015-16 and the expiration of his four-year deal.
If Gaustad decides to call it a career, he will do so having played in 727 regular season games and registering 89 goals, 231 points and 778 penalty minutes. In 68 postseason contests, he has also added 11 points and 64 penalty minutes.
Gaustad was originally drafted by the Buffalo Sabres 220th overall in the 2000 NHL Entry Draft and went on to play 479 games with the Sabres before arriving in Nashville in 2011-12. Gaustad was a standout with the Western Hockey League's Portland Winterhawks and played one season with the American Hockey League's Rochester Americans before making his NHL debut with the Sabres in 2002-03. In 2007-08, Gaustad set career highs in games played (82) and points (36).
Born in Fargo, North Dakota, but raised in Portland, Oregon, Gaustad represented the United States at the 2011 IIHF World Championships.
Steven is a lawyer and writer with a passion for the game of hockey. He's the Lead Writer covering the Tampa Bay Lightning with THW. He's also been press credentialed through the Lightning since 2016. His work has been published at The Fourth Period, LightningInsider.com, Bolt Prospects, The Sports Daily Network, U.S. College Hockey Online and College Hockey News. He's had radio appearances on TSN 690 in Montreal, Lightning Power Play Live and multiple podcasts to give insight and analysis on the team. He can be reached on Twitter @StevenDiOssi and by email at sdiossi@gmail.com.