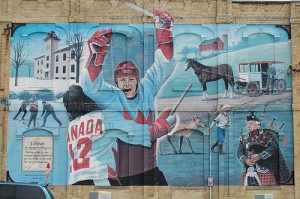 The news has recently featured reports that former NHL, WHA and Team Canada player Paul Henderson's cancer has advanced to the point where he is likely going to have chemotherapy or clinical trials in an effort to slow his rare form of leukemia down. Still, even in the face of this news, the hero to generations of Canadians feels blessed by the life he's had.
Paul Henderson was scooped out of Kincardine by the Detroit Red Wings, and began his junior career with Goderich Jr. B, before moving on to the Hamilton Red Wings. Henderson was a member of the Memorial Cup winning team in 1962. He saw 2 NHL games with Detroit in 1962-63, and eventually got his full-time NHL chance in 1964-65. He became a dependable wing in Detroit – a nice 40-point, second-line player. The Wings were a good team, but as the 1960s wore on, they began to decline. Henderson's career saw a major change when he was included in one of the biggest trades in the NHL. On March 3, 1968, Henderson, Norm Ullman, Floyd Smith and Doug Barrie went to Toronto in return for Frank Mahovlich, Garry Unger, Pete Stemkowski and the rights to Carl Brewer.
"(Detroit teammate) Bruce MacGregor's wife phoned me in the morning," Henderson said. "And she said, 'I just heard on the radio that you and Normie and (Floyd Smith) have been traded to Toronto.' And that's how I found out about it. And that hurt incredibly."
It's difficult to know if the trade to Toronto was simply a bump in the road or a major turning point in his career. He was already a 20-goal scorer twice in Detroit. But, in Toronto, he combined with Ullman and young Leaf veteran Ron Ellis to score 87 goals in their first full season together – Henderson accounting for 27 of them (a new career high). He subsequently scored 20, 30 and 38 goals (which would be his career highest). It was likely those 38 goals in 1971-72 that got Henderson noticed, and along came the invitation to Team Canada's training camp for the upcoming Summit Series versus the Soviet National team.
There's no shortage of accounts to be found for information on Team Canada '72, or Paul Henderson's role in the 8-game series. From the predicted rout by the NHLers, to the shock of the opening loss, to Esposito's speech to the nation, to Clarke's slash on Kharlamov, to the Soviets stealing the Canadians' beer and finally Henderson's dramatic game 8 goal to win the Summit Series, there's numerous internet pages, books and movies which recount it all. Suffice to say, the Summit Series rocketed Paul Henderson from NHL winger to national icon.
Forty years later, some of those who did not witness the Series know Foster Hewitt's call… "Here's a shot. Henderson makes a wild stab for it and fell. Here's another shot. Right in front. They score!! Henderson has scored for Canada!" But many forget that Henderson had a truly great series, scoring 7 times over the 8 games (tied with Phil Esposito and Alexander Yakushev for the most in the series… no one else scored more than 3). Furthermore, after Game 5, the Soviets led the Series with a 3-1-1 record, and looked sure to win the Series outright. Paul Henderson scored at 6:36 of the second period of Game 6, which held up as the game winner. He scored at 17:54 of the third in Game 7 to break a 3-3 tie and even the Series. And the 'goal heard round the world' came at 19:26 of the third in Game 8 to secure a 6-5 win and a 4-3-1 Series victory for Canada.
"At first, I got sick of talking about it for a while, the first three or four months. There was absolutely no privacy. It got to be a bit of a pain. But I don't feel that way now. It's a special  memory and I honestly can't think of anything better with which to be associated," Henderson was quoted in Scott Morrison's book The Days Canada Stood Still.
Henderson continued his career with the Leafs, but again, he was with a team that had found trouble making the playoffs, in this case because so many of Toronto's players left for the WHA when owner Harold Ballard decided to hold tight the pursestrings. Paul eventually made the jump also, joining the Toronto Toros of the rival league. He spent 5 seasons in the WHA, scoring 140 goals and 143 assists with the Toronto Toro/Birmingham Bull franchise. He returned to the NHL with the Atlanta Flames, and split some time with Birmingham of the old CHL before retiring in 1980.
A debate rages when it comes to Henderson and the fact that he is not an inductee into the Hockey Hall of Fame, maybe more so than for any other player not enshrined. Over 30 years since he retired, the debate is a lively one still, invoking Canadian nationalism, statistical evidence, even questions as to what the Hockey Hall of Fame is for. On the basis of his statistics, Henderson was a decent enough player, but really not worthy of induction. He never won an individual award, never was part of a Stanley Cup winning team, never was voted to an All-Star team. His 38 goals in 1971-72 was the only time he ever placed among the top 10 in league scoring. He is not among the top 30 scorers in WHA history either. And yet… over 8 games, on what was a huge stage pitting what was supposedly the very best against the very best, Henderson emerged as the hero. On a team with the Espositos, Mahovliches, Clarke, Park, Dryden, and against Tretiak, Kharlamov, Gusev, Mikhailov, Paul Henderson showed he was not out of place. For some, that is proof enough that he is worth of 'Fame'. He created one of the most enduring memories, one that stirs Canadian nationalism at its mere mention. For a number of (somewhat uninformed) fans, it's impossible that Vladislav Tretiak is in the Hall of Fame and Henderson remains on the outside.
Henderson may be more suited to be a recipient of the Order of Canada, another honour which has eluded him so far. In 1975, Paul became a Christian after some very dark years personally. And while he achieved an incredible thing scoring that goal in Russia, Henderson has spent decades now talking to people about his faith, offering whatever lessons he feels he can share with people. Certainly, there are those who have their opinions… "easy for him, what does a pro athlete know about having it tough?"… "great, guy gets a little fame and starts preaching", etc. While he struggled early with whether people would accept his faith, Paul Henderson has gone on to speak openly and often of his life after he accepted God. He doesn't use his fame as the hero of 1972, rather he acknowledges that is part of what he's done, but not necessarily who he is or even why anyone should hear his words. Perhaps he has not strictly served 'Canada', but he has indeed served his fellow Canadians in his way and his work. Coupled with the fact that he is, in part, author of a moment (indeed a collection of moments) that seems to define Canadian national pride, there is an argument to be made that he should be admitted as a Member.
As the 40th anniversary of 1972 approaches, the spotlight does focus on Henderson as he battles for his life against cancer. And as reporters interview him about his condition and the inevitable ceremonies and commemorations of 1972, it's apparent that Henderson is simply living his life, grateful for his family and the opportunity that presented itself that September when the best went head to head against the best.
For his part, Henderson is embarrassed when the subjects of the Hall of Fame or the Order of Canada come up. In some ways, 1972 was simply something that he was a part of, an event in his life, perhaps the same way as cancer is simply something in his life now. For many years, but perhaps especially now, his focus is on family and his life as a Christian. Certainly he does not deny or shy away from the reality – his accomplishments in 1972 vaulted him beyond any status he had as a pro hockey player and onto another level. Kids born years after 1972 know his name, in Canada and to some extent in Russia also. But for Henderson, he says  "The best part of scoring that goal is hearing from the people of how much that goal meant to them."
"If I died today, I'd feel so blessed."
Paul Henderson
b. 28 Jan 1943, Kincardine ON
Right Wing
Detroit Red Wings, Toronto Maple Leafs, Birmingham Bulls, Toronto Toros, Atlanta Flames
Team Canada 1972, 1974
Inducted into Canada's Sports Hall of Fame, 1995 (individual), 2005 (member of 1972 Summit Series Team Canada)
Facts for this article were gathered from torontosun.com, www.theglobeandmail.com, www.1972summitseries.com, www.hockey-reference.com and www.lifestory.org.