When you're virtually flawless on the road and on the penalty kill, odds are that combination will win out more often than not.  For the Los Angeles Kings, both of those qualities have been staples for their success in these playoffs.  However after Game Five of the Stanley Cup Finals against the New Jersey Devils, they're the reason that this series is headed back to Staples Center for Game Six.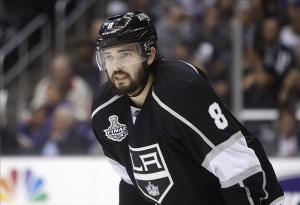 While the Kings are still in good shape and their fans can at least take solace in the potential of a Cup clincher at home, there has to be some apprehension setting in.  Especially when after a four goal outburst in Game Three, they now have only two goals in the last two games.  Really aside from the games in Los Angeles, every contest in New Jersey has so far been decided by a single goal, all by a margin of 2-1.  Although this one didn't require an extra session.
A little over midway through the first, something uncharacteristic happened.  A careless giveaway by Jonathan Quick, allowed Zach Parise to jam home a rebound off the boards for a 1-0 advantage.  It was the first goal of any kind for Parise in these Finals and the first extra-man tally yielded by the Kings in the series.
Los Angeles would strike back in the second though.  Justin Williams, who rang one off the post in the first, would ring one up in the second.  Making a nice move around defenceman Andy Greene, Williams skated in and bested Martin Brodeur to knot things up at one.
Yet later in the frame, New Jersey would respond.  Defenceman Bryce Salvador, having himself a career post-season if there ever was one, lit the lamp from the point to put the Devils up for good.  David Clarkson made a nice screen in front as well and poor Slava Voynov had another puck deflect off his jersey and into the back of the Los Angeles cage.
As both squads laid it all out on the line throughout this one, it almost seemed like L.A. would use the playbook from Game's One and Two and take care of business in OT.  Especially with an overall shot margin of 26-19 and an edge of 9-3 in the third.  However it was all about Brodeur and one could sense the frustrations boiling to the surface, before all was said and done.
One trend standing true, the team scoring first has won all six games in the series thus far.  Hence there will be at least one more bout in Los Angeles on Monday evening.