The biggest news to come out of the NHL yesterday was undoubtedly Colorado Avalanche center Paul Stastny's decision to shop himself around. And why wouldn't he? He's a top player, considered the best of the best of the centers on the market, and young enough that it would probably be a long-term move for any team to snag him.
And the Chicago Blackhawks should be the one to do so.
It's no secret the Blackhawks need to work on their depth down the middle, even if Stan Bowman glibly denies any and all questions to that effect.
Chicago has indicated interest in Stastny, according to ESPN's Pierre LeBrun, and I'm of the opinion that the two would be a great match.
Stastny is a great center, with fabulous defensive capabilities. By all accounts, his playing style would fit well with the rest of Chicago's forwards. While his skating is admittedly not the best, his hockey I.Q., vision on the ice and passing skills more than make up for the lack. LeBrun writes,
We reported Wednesday that the St. Louis Blues were among the inquisitive teams, add the Winnipeg Jets and Chicago Blackhawks to the long list of teams that have checked in on the Stastny camp. The Blackhawks have spoken to Vancouver about Ryan Kesler in their search for a No. 2 center. Imagine Stastny centering Patrick Kane?
He would fit well on a line with Kane and Saad, two players who like a good game of tic-tac-toe.
In addition to his skills, Stastny is a young player. While his cap hit looks to be in the $5 or $6 million range, he might be convinced to take less money earlier in his career in order to get onto a team that regularly makes the postseason and has two Stanley Cups in the past five years on its resume.
You hear again and again that a hockey player's dream is to win the Stanley Cup; here is Stastny's chance to get on a team that is both Vegas' odds-on favorite to win the Cup next year (and mine as well).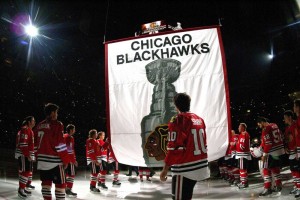 Stastny's youth works for him. He's got years to go before he even thinks of hitting the age where forwards peak, and he's fabulously healthy. Compared to Ryan Kesler, who will soon be on the wrong side of 30 and missed about six weeks last season due to a broken foot. He missed a number of games this season due to knee injury, something that will likely continue as age and aggressive play simply wear the body out.
While I can't say Stastny will never encounter these issues (though I can say with almost 100% certainty that he will), these kinds of injuries will likely not hinder him for quite some time.
Our stumbling block really is Stastny's salary. Reports indicate he has no interest in dipping below the $6.6 million a year he makes with the Avs. While I can't fault him for trying to make as much money as possible, as hockey careers can be short-lived, I do think he would be foolish to pass up an offer from a deep team like the Blackhawks for a little more money elsewhere.
That aside, Stastny is pretty much ideal for the Blackhawks. If they don't at least make him an offer I'd say they need to have Stan Bowman's head