With Mitch Korn officially in the fold as the Washington Capitals goaltending coach, the search continues for the associate goalie coach. One candidate who could fit is Scott Murray, who held that role last season. He spoke to The Hockey Writers this week in an exclusive interview.
"Right now I'm in the interview process again," Murray told The Hockey Writers this week on whether he'd return to the organization for next season. "I won't know until around the 30th of June."
Murray discussed numerous topics with THW including Capitals goalie prospects, the draft, Mike Haviland and Washington's use of advanced statistics.
On Philipp Grubauer
"He did a really good job in Washington getting his foot in the door and proving that he can play a number of games consistently well up there," Murray explained about Washington's top goaltending prospect. "He's a guy that's very professional, takes his job very serious and has a great amount of focus."

"I think that allowed him to be able to go up and down, obviously in any season you're going to look back at the things that you want to do better and there's things that you look at and you see great things. He's a very professional person, I think that allowed him to go up and down and maintain pretty good consistency throughout the year. He got on hot stretches both in Washington and in Hershey and I think he would look back and say there's times when he wanted to be more consistent and I think that's the goal this summer, to work on some of those things. Next year he's a year older and he's getting better over the summer to work on the things that can take him to the next level."

Philipp Grubauer (Annie Erling Gofus/The Hockey Writers)

"He's gotten to that point where he's proved that he can be a quality goaltender at both levels (AHL and NHL). I think the right thing for him is to get a number of games at the American League level, establish himself and hopefully get some opportunity up with the big club. I think the more games he can play at this point to find consistency over a long period of time in a long season will only help him progress and help foster him to that next step in the NHL."
On Brandon Anderson
"He did a great job making some adjustments physically, it paid off. He's an extremely hard worker, he's extremely focused, motivated and he made no excuses. He had the most wins in the league on a great team no question, but provided that team with consistent goaltending for the most part from day one of the year to the last game of the year. He did a great job making strides and reestablishing himself as a goalie that can possibly move up the ladder, he's got to continue that next year and he's got to have that mindset where every day he's got to prove himself."
On Pheonix Copley (Signed in 2014)
"He was a guy we had identified earlier on (in the season)," Murray admitted. "Our scouts kept tabs on him for most of the year, they liked what they saw. It got to the point where they (Washington) were interested in making him part of our organization. I got the chance to go see him live, talk to him and he's got great physical ability. He's a workhorse, he's got a great mental makeup, his character is outstanding."

"No excuses what so ever. Because of who he is physically and mentally I think he's a great fit in the organization. He's only to get better, because he comes to work and he doesn't allow external stuff to come into play and affect what he's trying to get done. We worked together in Hershey for maybe a week, made some adjustments, worked hard. He was willing and eager to learn. He went to South Carolina, got some meaningful minutes and did a great job for them. He got great reviews from their coaching staff, I think he's only to get better. He's going to challenge guys in the system which is what you want."
Goaltending Philosophy
"I got a chance to work with all three teams in the organization with Washington, Hershey mostly and consistently with Reading. My job was to monitor the goaltending as far as development. Olie and I wanted to bring in a philosophy of really being aware of the situation and reading attacks so the decisions their making was based on information that they were reading and picking up during the game. That was the biggest thing that we wanted to implement."

(Jerome Miron-USA TODAY Sports)

"Teams are now having to create different types of goals than they used to. They have to read the game really well, that was the biggest philosophy. The biggest thing we wanted to put into the system as far as goaltending was being aware of the surroundings."

"Video is done obviously every day, whether you're getting ready for the opposing team. Video is obviously becoming bigger and bigger and statistical analysis is starting to creep in kind of like baseball. You try to use every tool you can to prepare the guys for success."
Advanced Stats
"I think individual coaches have different philosophies, obviously it's going that way. It's kind of evolved into that, I think that it might be a little bit more of the focus this year. It's more of a tool than anything, there's a human component to everything and you also don't want to ignore the numbers. You have to find that happy medium as far as using numbers and preparing players and coaches based on the numbers, but also you have to be able to read situations and adjust and use everything to make consistently good decisions."
On Mike Haviland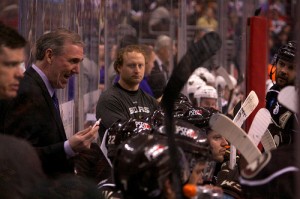 "It was an outstanding experience to work with Havy. His track record speaks for itself, he's won a cup, he worked himself all the way up and that's not easy to do when you're putting in the years and working in the trenches. He did it, he persevered, his work ethic is outstanding, he's an outstanding human being. I think he's going to do a great job in Colorado (College), he's got that human side that I think the college game is starting to transition into. I think Havy brings that humanitarian side, he's a great communicator. He tries to see things from an individual standpoint; I think he'll be great for that school and that he'll have a lot of success there"
On Drafting Goalies
"It's easy at times to pick goalies when there's really no time limit as far as how long they can play. You get a guy at 18 or 19 (years old) and he might not play for four or five years. There's a huge development component there as far as the number of years most goalies go through before they get a chance in the NHL. I think that it's huge to do your homework on character, guys that are going to be able to get better no matter what the situation is."
Matthew Speck covers the Washington Capitals organization for The Hockey Writers. He provides coverage of both Washington at the NHL level and prospect related content. Matthew also covers local sports for the Lebanon Daily News in Central Pennsylvania. You can email him at mspeck21@yahoo.com with any questions or comments.