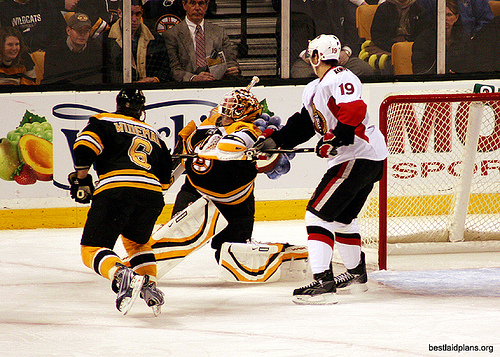 If and when Ottawa Senators captain Jason Spezza gets traded, general manager Bryan Murray will have a difficult time immediately replacing the forward's offensive output.
Last season, behind Spezza (0.88) and all-star defenseman Erik Karlsson (0.90) in points per game was forward Ales Hemsky.
Hemsky's arrival to Ottawa came when the Sens acquired the forward from the Edmonton Oilers in return for a fifth-round pick in the 2014 National Hockey League Entry Draft and a third-round pick in the 2015 draft on March, 5, 2014. From the start of the 2010 campaign to the end of the 2013 stint, Hemsky averaged 0.59 points per game. Although his season was brief with the Sens, the Czech forward was nothing short of fantastic as he registered four goals and 13 assists in 20 games, improving for a points per game of 0.85. Hemsky would have been a strong candidate to provide valuable offence for the Sens next season, but he rejected a three-year $10 million contract offer from the team, which means he will test the free agent market.
So, who's shoulders does the pressure fall on now? Well, for at least one season, former Anaheim Duck Bobby Ryan will be looked at to provide scoring.
The Cherry Hill, New Jersey native had somewhat of a down season last year with only 23 goals and 48 points in 70 games, but the forward has potential for much, much more. Like Spezza, Ryan is a four-time 30 goal scorer. Over the course of his career, he has totalled 170 goals and 337 points in 448 games. The only catch with Ryan is that he will become a free agent as of July 1st, 2015. Fortunately, according to the Ottawa Sun, Ryan is happy in Canada's capital and would like to discuss a contract extension with Murray when the time is right. Statistically, though, he would have to almost double his point production next season to make up for Spezza's lost numbers. Thus, he would need a little bit of help.
"I love it here," said Ryan, one of five key Senators presently holding contracts that expire July 1, 2015. "We love it here, more importantly. It's been a great change for us. When the time comes, if that's what Bryan wants to go with, to sit down and have conversations, we'll certainly do that." – Bobby Ryan. Ottawa Sun. Published: Apr. 3, 2014.
Sens forwards Kyle Turris and Clarke MacArthur had great season's in the 2013-2014 campaign. Turris registered a career-high 26 goals and 58 points in a complete 82 game season. Meanwhile, MacArthur was rock solid as well with 24 goals and 55 points in 79 games. Both players will be critical in supplying offence next year. At the very least, they will have to put up similar numbers from their previous season to have a chance at making up for Spezza's production. 
https://www.youtube.com/watch?v=mv_RN7pd2uo&amp
All this being said, we can't forget that the return for Spezza – if any, because he's not traded yet – is still unknown. It could be a top six forward, a stellar rookie, a high draft pick, or nothing spectacular whatsoever. What's certain, though, is that Murray is an excellent GM under pressure.
When Dany Heatley requested a trade out of Ottawa on June 9, 2009 as reported by TSN, Murray executed a deal on Sept. 12 of the same year to ship Heatley and a fifth-round pick in 2010 to the San Jose Sharks in return for Jonathan Cheechoo, Milan Michalek, and a second round pick in 2010. Although Cheechoo is no longer with the team, Michalek has been a staple in the Sens' top line and is hoping to remain with the team as the two sides are reportedly in contract talks. Aside from his first year in the league and the 2012-2013 shortened campaign due to lockout, Michalek has scored at least 15 goals in every other season in his NHL career. He would also be key in producing scoring in the near future.
Spezza has been with the Sens his entire career – 11 years to be exact – and eventually the time will come when he is shipped to play elsewhere in the NHL. His departure will be a big change for the team and for the fans, but there is always a bright light at the end of the dark tunnel. Surely Murray will have a tough time replacing the centerman's numbers in the near future, but in due time, they still have a wide variety of offensively gifted rookies like Mika Zibanejad and Mark Stone seasoning themselves up for long and successful careers.