After a good KHL season, pretty much everyone expected Pavel Buchnevich to sign with the New York Rangers this summer. Instead, he opted to play a further year in Russia with Severstal Cherepovets. One of the reasons apparently is that he is not too keen in playing in the AHL. In this translated interview, originally appearing on the popular Russian website championat.ru, Rangers prospect Pavel Buchnevich talked about his stay in the KHL, eventual move to the NHL, and much more.
* For the original championat.ru article, click here.
– Your Severstal Cherepovets is now on the bottom of the standings and maybe other top-teams are interested in you, but you always told the press that no other team approached you. We are near the KHL deadline, no one gave you an offer?
– I can say that no one called me.
– But if you'll get an offer to finish this season in another team, would you be interested?
– I think this is more a question for our managers, I can't decide for them.
– In your career you always played in Cherepovets. What are your plans for the future?
– Playing for the Russian national team and playing in the NHL.
– Aren't you disappointed that you didn't move overseas this summer?
– I already told that this summer it was too early to leave Russia. The Rangers are one of the top teams of the league and it's hard to get a spot on the roster at my age.
– What is giving you this season spent in the KHL?
– Plenty of ice time. I play almost all the powerplays. If you are among the leader of your team you can gain some good experience. Even if you lose that's a good lesson. Everyone has to pass through all this and I hope this will help me in the future.
– You want to get to the Rangers and play for the big team right away, right? Without playing in the AHL.
– Of course. And who wants to play in the AHL? Why to get there?
– For example, Nikita Soshnikov plays in the AHL now.
– Yes, many guys went there to play in the AHL. But I don't want to do the same as they. If I went overseas, I think that they would send me to the AHL and I had to play there the whole season. I think that the KHL is better than the AHL.
– So you think you're not losing time, right?
– Yes, correct.
– But I'm sure you understand that it's impossible to think signing a one-way contract as a 20-years-old. Did you talk about this with your agent?
– Yes, I understand, but there are some points in the contract where we can negotiate. It's my agent's work. The contract they offered me last year had everything written down.
– What about this contract?
– They offered me a standard three-year contract. But they included a date, until which if I didn't make the Rangers roster, then I could get back to Europe, to Russia, wherever I wanted.
– And will you want this point again in the contract they will offer you next time?
– I don't know, we'll see. I'm yet to go and for now I'm under contract here [in Russia].
– Do you still talk with [your agent] Mark Gandler? Does he advise you to stay or to go overseas?
– This summer he called me and we had a good talk. Now I usually talk with his colleague. Maybe he got offended that I didn't sign with the Rangers, I hope he did not. I don't know. I don't think I could go to the Rangers training camp, the season was started here, and since I'm under contract with Severstal I couldn't leave the team. And why signing a contract in Russia if I wanted to attend training camps in the NHL?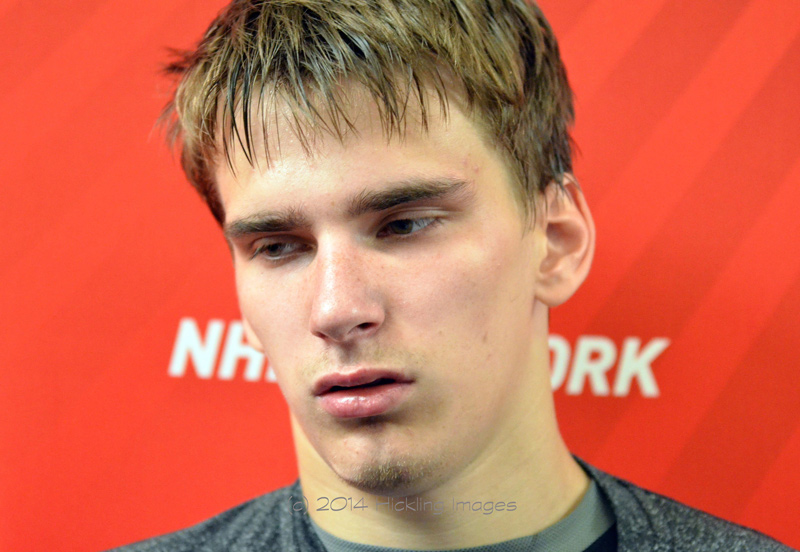 – Signing a new contract in Cherepovets was your decision? No one tried to force you?
– They wanted to sign me for two or three years, but I wanted only one year, not more, and they decided to accept my requests. The negotiations were quite fast.
– Just one year so that after it you can go to the Rangers?
– Well, you talk like I left already… but well, generally speaking, I'm preparing for that.
– We can already imagine the titles, "Buchnevich's hat trick helps Rangers defeating Montreal"?
– Hopefully it will be like that.
– Do you remember the 2013 summer when you were drafted?
– Mark [Gandler] promised me that I would get drafted in the second round. The second, third and other rounds are in the second day of the draft. I was sit down for four hours and was very tired already, and I started thinking that no one would draft me. But thanks God the Rangers picked me and I was so happy. We had some good talks before the draft, probably they already decided to draft me, but they didn't tell me anything. After the draft I skated at their development camp and I liked it a lot. The second year everything was very good too and they told me to keep working. They call me now too, tell me that I play well. I know that they had a look at me when we played in Europe, against Slovan Bratislava. And also against Dynamo Moscow.
– You always said that you follow the Rangers. Do you watch games and read the news or you try to understand the way they play?
– I simply watch highlights and follow the results and who scored. It would be uncomfortable to get up at 5 AM to watch the whole game. With whom am I still in touch? Only with Bogdan Yakimov. I don't hear from Nichushkin for a long time already.
– Going to the NHL is still a risk, there is the chance to get waived, and so on…
– I have a dream [of playing in the NHL]. I can always get back home. I want to test myself in the top league in the world and show that I can be an NHL player. Playing side-to-side with the best players in the world is much better than simply playing and get paid.
– Did in Cherepovets tell you that the gates are always open for you?
– I'm yet to go…
– But sooner or later you will.
– Well, now the board of the team changed, the old one was used to the idea that I'll left for the NHL. Now no one talked with me about it.
– In North America many say that Severstal won't get to the playoffs and if you won't be called to the national team you'll go to the Rangers right away.
– We'll see. No one talked with me. I'm under contract now, we'll see once the season will be over.
– If the Rangers had other Russian players, that would be an incentive for you to report before the season will be over?
– Of course it's always pleasant to play with other Russians, I don't talk English that well. When Malkin left Russia, Gonchar helped him a lot. But I don't think that they will sign another Russian just for me.
– Do you take English classes?
– When I have a chance. There isn't much time, we play very often and you always want to rest and sleep.
– Aren't you worried that in the Rangers you won't have a Russian "mentor", like Ovechkin for Kuznetsov?
– Valeri [Nichushkin] went to the NHL at 18 years and his first season has been great. And he would play even better if it wasn't for the injuries. If [in the NHL] they see potential in you, then they will help you to get the best from your game. Even more so considering that there is the salary cap and many well-paid players. I think they will sign me for three years with a low contract, just to see how it works.
– How much did your father help you in your career?
– He always helped me since the childhood. He was always with me, at the practices, at the games. We would always discuss our games. He also helped me with the school (laughs): he told me to choose, hockey or studies.
– And you choose hockey.
– Of course (laughs). He always helped me and visited my games, talked with coaches.
– Do you play sports videogames?
– Only with good company, not alone. A couple of years ago I played a lot of soccer, I don't like playing hockey. I wanted to attend the Champions League final, but the tickets were very expansive.