Yesterday the Nashville Predators announced the signing of one of their cornerstones.  Pekka Rinne is coming off an incredible year where, if not for Zach Galifianaskis look alike Tim Thomas, would have won the Vezina Trophy.  The 2004 8th round pick was promptly rewarded with the richest contract in team history, a sign that Predators ownership is committed to building on the success of last year.
With Rinne's signing, he all but guaranteed the starter's job for the next eight years (his current deal expires after this season), or until the end of the 2018-19 season.  This effectively limits the options for any goaltenders in the Predators system.  There are three significant names whose career path is suddenly blocked.  Current backup Anders Lindback, Chet Pickard and Magnus Hellberg all are thought to have NHL starting goalie potential.
Anders Lindback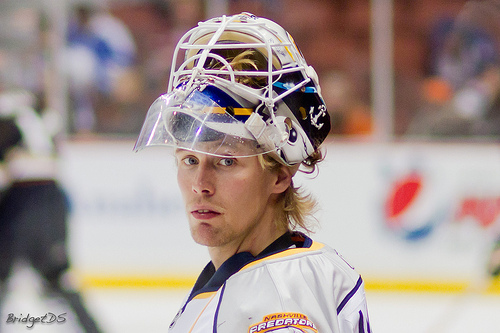 Lindback is almost a younger version of Rinne, a big Swedish goalie who uses his size to his advantage.  Having a career save percentage of 0.917 in the NHL and already having played pro in Sweden (Timra IK), it's only a matter of time before he is ready to play more than a backup's share of games.
Chet Pickard
Chet Pickard was a first round draft pick in 2008, coming off a 46 win season with Tri City of the WHL.  He turned pro in 2009, playing in the AHL with the Milwaukee Admirals.  Unfortunately he struggled, and this season was demoted to the Cincinnati Cyclones of the ECHL.  The organization still has faith in him, and time is on his side being only 20 years old.
Magnus Hellberg
Aside from having a pretty epic last name, Hellberg was also the first goalie taken in the 2010-11 NHL Entry Draft in Minneapolis.  He, like Lindback, is a big goalie who uses his size to his advantage.  In limited action with Vastra Frolunda of the Swedish Elite League this season, Hellberg has played extremely well.  He is considered to have developed more than Pickard, and should cross the pond and sign with the Predators very soon.
These are three goalies who are affected significantly by the Rinne signing.  All three are still a ways away from becoming 60-game goalies in the NHL, but still have that potential.  With teams like Columbus, Calgary, Edmonton, Tampa Bay and others lacking "obvious" choices for #1 goalie of the future, Nashville General Manager David Poile has three young goalies he has the option of dealing for assets.
These three aren't the only young goalies available though.  Cory Schneider, Roberto Luongo's capable young backup in Vancouver, is ready to assume a more prominent role.  Jonathan Bernier of the Los Angeles Kings is considered to be a future #1 netminder as well.  With goalies developing at a different rate compared to forwards and even defencemen, it's still too early to tell who will get dealt.  But with the Predators needing to resign franchise stalwarts Ryan Suter and Shea Weber, an abundance of goaltending depth is the least of David Poile's worries.
Follow Salim Valji on Twitter
Like him on FaceBook