The Pittsburgh Penguins have been one of the more active teams this offseason. It seems that regardless of how the franchise fares, they remain in the news and there is always something to talk about.
This offseason has been more exciting than usual as the Penguins have continued to rebuild their team on the fly. The only notable players that remain are the core four of Sidney Crosby, Evgeni Malkin, Kris Letang and Marc-Andre Fleury as well as a few others like Pascal Dupuis, Chris Kunitz, Rob Scuderi and Beau Bennett. Aside from those eight players the Penguins enter the 2015-16 season looking like an almost brand new team.
The Pittsburgh Penguins Addition of Sam Ventura
On July 22nd, the Penguins announced what would be the biggest change/improvement off the offseason, and it was not just a personnel change. They hired an analytics expert from Carnegie Mellon named Sam Ventura. If you are unfamiliar with his work, he cofounded the growing and ever popular website war-on-ice.com.
Advanced analytics, otherwise known as "fancy stats" are a very polarizing topic among NHL fans. Generally, there are two schools of thought. (See this article "Advanced Hockey Stats: Dividing a Fan Base") You either love advanced analytics or you do not believe in them whatsoever. Very few tend to find some middle ground and recognize the value that they have provide, and they are still just in their infancy.
However, I'll put a disclaimer on this article: I am not 100% sold on advanced analytics as some seem to be, but they definitely do provide value and teams that have embraced them have experienced a lot of success. Corsi for percentage is defined as "The percentage of on-ice shot attempts (on goal, missed, or blocked) taken by the player's team; also known as CF%."
Just take a look at the Corsi for percentages and where they rank of the last six Stanley Cup winners.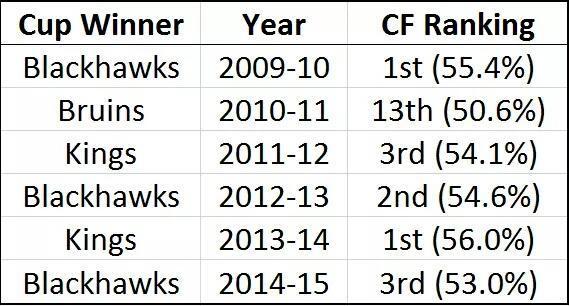 The results speak for themselves.
All of the new information out there is challenging the status quo and there will be resistance to change. You continually see comments on articles that discuss advanced stats saying things like "another stat geek article" or "I saw a fancy chart and I immediately closed the article." But advanced metrics are here, and they're here to stay.
Advanced stats are not the only thing that matters, but they're rapidly growing in importance. As of today, more than half of the league have hired advanced analytics consultants/analysts and the list is continuing to grow.
Revisiting the Penguins 2014-15 Season
Moving back to the Penguins, besides from the injury bug, their biggest problem last season was a resistance to utilizing these new tools to aid in player evaluation. They deployed players like Craig Adams, Zach Sill and others inside their lineup because they brought "grit and toughness." However, just because they were tough players didn't mean they knew how to play hockey.
Of the trades that the Penguins executed last season, there were only two that the analytics favored the Penguins. Well, technically there were four, but the draft picks required to get a few months of Daniel Winnik negate any improvement he brought. Ben Lovejoy is also player who looks good in advanced stats, but is not as good as they would indicate. Simon Despres, despite his inconsistencies, was an underutilized defender and the reason why he was traded was because he was still developing and management did not fully trust him right now. But experts have vocalized that it takes around 200 NHL games for a defender to fully mature and Despres has only played 160 NHL games to date. Trading for Ian Cole and David Perron were both analytically sound moves that has improved the Penguins.
After bringing Ventura in, the Penguins have shown this offseason that advanced analytics now have a place in Pittsburgh. Now let's briefly look at every trade and signing the Penguins have made this offseason and how analytics view them.
The Penguins 2015-16 Offseason
The acquisition of Phil Kessel was the highlight of the offseason, he's a goal scoring machine and his shot generation is off the charts. Is he a defensively sound player? No, and you don't need advanced stats to tell you that, but they have shown he's not as bad defensively as you think, and it didn't help playing with James Van Riemsdyk and Tyler Bozak. At the same time, bringing in Kessel to play with Crosby or Malkin shows that defense clearly was not their top priority.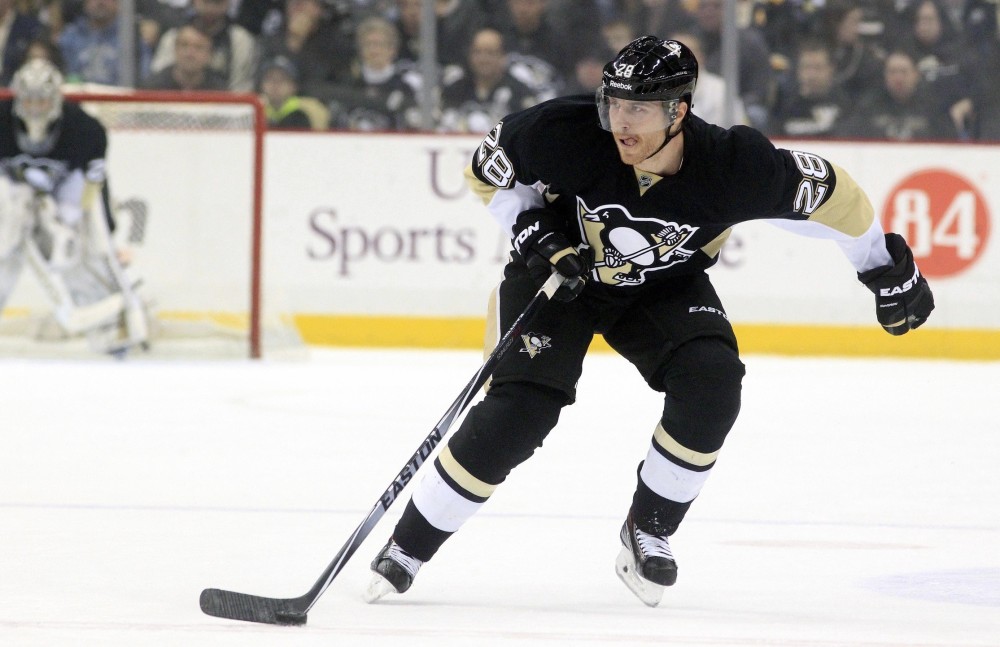 Next up would be the extension of Ian Cole for three years. This was an analytically driven move, he passed the eye test last season and his metrics are better than most realize. The Penguins now have a top four defender locked up for three years at a cost controlled rate and given the superstars' contracts, it was a great move.
The Brandon Sutter trade remains a little controversial, but most would agree the Penguins won the deal. They brought Nick Bonino, whose metrics are better than Sutter's, a second-round pick and the talented puck moving defender Adam Clendening. Especially after seeing what the Vancouver Canucks gave Sutter in his new contract (five-year, $21.875 million dollars with an AAV of  $4.375 million per year), it was a clear win for the Penguins. And the impact of Sutter leaving was more than just Bonino's arrival, that cap space allowed them to sign the gritty, but analytically sound, winger Eric Fehr to a three-year/$6 million dollar contract. Both Fehr and Bonino's metrics are better than Sutter's for just an increase of $600,000 on the salary cap.
Then the Penguins signed veteran center Matt Cullen to a one-year contract that carries very little risk. He doesn't fit the youth movement, but with the injury to prospect Oskar Sundqvist, it was a necessary move. Hopefully he can maintain his play as the season progresses, but his advanced stats are quite good for a third or fourth line player.
Of course not every move this offseason was positive, signing Sergei Gonchar and Tom Sestito to professional try-out contracts do not improve the Penguins. But at the same time their chances of making the roster are slim to none.
The Penguins have made a lot of progress this season and are rapidly improving and it's no coincidence that advanced analytics have been driving their moves. On paper, the Penguins are a much better team than in years past, there still are questions about the roster, but they're trending in the right direction.
Sam Ventura has been the voice behind these moves and it shows if you look into the numbers behind them. Advanced stats aren't the only thing that matter, it's a combination of advanced stats, the eye test, their basic stat line and the human component to fully evaluate players. The Penguins have been using the last three techniques for quite some time, but the addition of Ventura's analytical mind has been the biggest improvement they have made all offseason.
Thanks for reading! Feel free to leave your comments below or tweet me anytime @MPityk