After the Pittsburgh Penguins traded their first-round draft pick (31st overall) in the 2017 draft (along with Oscar Sundqvist) to the St. Louis Blues in exchange for Ryan Reaves and the 51st overall pick, the reigning Stanley Cup champions used that second round selection on defenseman Zachary Lauzon from the Rouyn-Noranda Huskies.
The Penguins are obviously loaded with scoring skill and offensive flair, so this was a great spot to nab a responsible player with room to grow and develop. With the right guidance and tutelage, Lauzon could be a nice find for the franchise towards the end of the second round.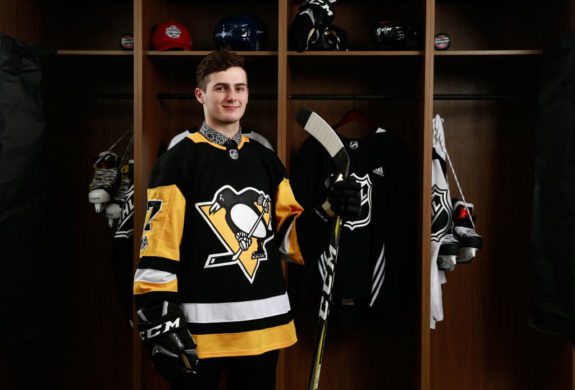 "I think I'm a good two-way defenseman, but what stands out in my game is my defensive play," the newest Penguin said. "I'm very physical, I compete very hard, I'm excellent in my one-on-one battles. That's what I'm going to try to bring to the Penguins."
Pens Pipeline
Pittsburgh clearly was focusing on defense in this draft, evident by them using four of their six selections on young blueliners, the second straight NHL Draft in which they've drafted four defensemen; this past weekend they also drafted defenders Clayton Phillips (93rd), Antti Palojarvi (186th), William Reilly (217th).
In his first full season the Huskies won the QMJHL championship and advanced to the Memorial Cup and this past season Lauzon won the Kevin Lowe Award for best defensive defenseman in the QMJHL, the same award that current Penguins blueliner Kristopher Letang won ten years ago in 2007.
Zachary Lauzon, in his first radio interview as a #Pens draftee: "I try to model my game after Vlasic from San Jose." pic.twitter.com/uhKSX78tDe

— Pittsburgh Penguins (@penguins) June 24, 2017
"I'm the youngest guy in the history of the league who won it, so it's pretty big," Lauzon said with a smile during his first media appearance after being drafted by Pittsburgh. "It's pretty good because it's the top award for the player that I am, so it's representative of my game. I was really proud of that."
Path to Success
During their now two-year reign over the NHL we've seen the Penguins plug-in young player after young player and seemingly everyone has contributed in some sort of way en route to the franchise becoming the first back-to-back Cup champions in over ten seasons. From Bryan Rust to Connor Sheary to Brian Dumoulin to Jake Guentzel to Olli Maata to Scott Wilson to Carter Rowney to Tom Kuhnhackl to some guy named Matt Murray.
"I think I'm in really good hands with the Penguins. They drafted me for a reason, so I'll just keep playing the way that I play and I think things will go well if I keep progressing," Lauzon said.
Clearly, the Penguins are doing some excellent scouting work, and also tremendous in the player development area because when these players earn their promotion to the NHL they are able to not just play, but play and contribute in major ways. That is something which would be exciting and certainly appeal to any young player that enters the organization.
Dream Becomes Reality
"I wasn't expecting to be drafted this early, so I am very happy and I still can't believe it," Lauzon added with a smile. All in all, it turned out to be a fun week for the kid from Val D'Or, Quebec who grew up watching Letang playing for his local junior team.
Growing up in Val D'Or, Zachary Lauzon would watch the local team that featured future NHLers, including Letang: https://t.co/7XfEf63e9u pic.twitter.com/kZqE7SLjlT

— Pittsburgh Penguins (@penguins) June 24, 2017
"I was pretty nervous, pretty excited for the draft; I didn't really know what to expect. It goes by pretty fast," he said, "and it's overwhelming. I kind of blacked out when it happened. I'm trying to enjoy every moment, but I'm aware that it is just the first step and the real work will start right now, so I'm excited."
"To play in the NHL you have to be really mobile, you have to be fast on your skates and I think that's what everybody needs to improve, and that's what I'm going to try to improve this summer. And obviously get stronger; the guys are so big" Lauzon said.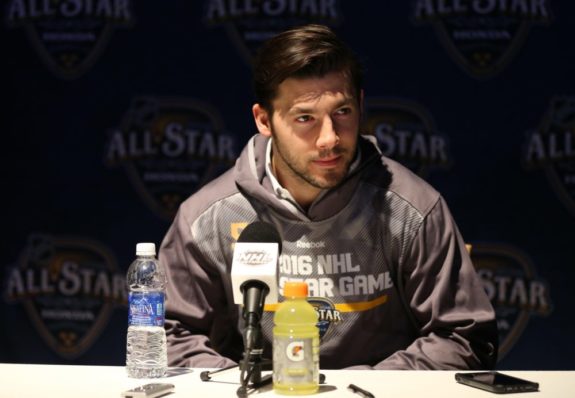 He also admitted it was quite overwhelmed thinking about some of his future teammates — Sidney Crosby, Evgeni Malkin, Letting, Phil Kessel, etc. — maybe some day. "It's pretty surreal; all of the hockey cards I have of these guys, all the video games. I don't really believe this is happening right now so I'm just trying to enjoy this," he told The Hockey Writers.
"Everybody says when you get drafted you don't have words to describe it, and that's truly the feeling. It's just overwhelming," said Lauzon. "It's overwhelming, it's incredible. To be drafted by such a classy organization and a successful one, too, is something amazing. I'm very proud to be drafted by Pittsburgh."