The Pittsburgh Penguins and Philadelphia Flyers will meet in a playoff series for just the sixth time in their 45-year histories, but for the third time since 2008.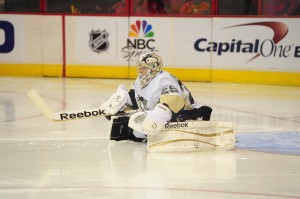 The Flyers are 3-2 in the all-time series, but the Penguins have taken each of the most recent meetings. Pittsburgh beat the Flyers in five games in the 2008 Eastern Conference Finals and in six games the following year in a Quarterfinals match-up.
Philadelphia won the season series 4-2, but the regular season will become a wash with the first puck drop of the Quarterfinals match. How should the Pens feel about their chances in what is likely to be the most evenly-matched series of the first round?
Offense
The Penguins offense is a monster, pure and simple. Pittsburgh led the NHL in scoring with 273 goals, 13 more than second-placed Philadelphia and Boston. Evgeni Malkin led the charge with 50 goals, while linemate James Neal recorded 41 of his own, making Pittsburgh the only team with two 40-goal scorers.
Along with Boston, the Penguins were the only NHL team to field five 20-goal scorers. Matt Cooke finished one-goal shy of making the total six.
Evgeni Malkin, James Neal, Chris Kunitz, Pascal Dupuis and Matt Cooke set career-highs in goals, while Jordan Staal matched Neal, Kunitz, Dupuis and Cooke in setting career-highs in total points. Injuries kept Malkin, Kris Letang and Sidney Crosby from setting likely career-best point totals (each enjoyed their best single-season PPG average but none played as many as 80 games).
The Penguins' power play, fueled by new configurations and the additions of Neal and Steve Sullivan, jumped from 25th in conversion percentage last season to fifth this year. After Crosby returned in March, the Penguins failed to score three or more goals only once, turning in 63 goals in their final 14 games for an absurd 4.5 goals per game average.
Trending: UP
Defense
Pittsburgh finished the season tied for 15th in goals against per game. While they spent most of the season locked into the top-ten of that category, Crosby's return and the coinciding offensive outburst led the team to become defensively irresponsible.
Before allowing a modest 7 goals in their final three games (2.3 goals per game), the Penguins had become defensively porous, allowing 37 goals in a 4-4-1 stretch (4.1 goals per game).
The show of poor defense followed their previous 11-game winning streak (17 goals, 1.55 goals against per game) and helped to keep them from earning the East's top seed—a single win or two overtime showings taken from the home-and-home series with the Islanders would have the Penguins playing with home-ice throughout the Eastern Conference Playoffs.
Marc-Andre Fleury has been excellent again this season, earning a career-best 42 wins. The defense won't have to be as stingy as it was last season when Crosby and Malkin were both absent from the Tampa Bay series, but it can't continue on the trend of allowing big offensive showings to the Flyers, who have scored 22 goals in six meetings this season.
Trending: DOWN
Special Teams
This series will likely be decided by special teams.
The Penguins enjoyed one of their best special-teams years in recent memory. They finished the regular season with the league's third-best penalty kill at 87.7 percent. It was the best single-season PK percentage in franchise history, bettered in a year where the New Jersey Devils set a modern record for penalty kill success.
While the unit has stumbled a bit of late, they have been a strong for two straight seasons and are capable of keeping the Penguins in games. Their 11 shorthanded goals were the third-most in the league, and Matt Cooke scored the season's only 3-on-5 goal—against the Flyers.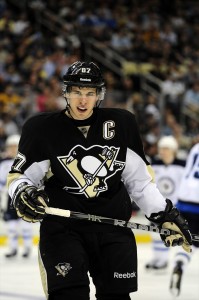 Of most concern: Philadelphia has scored a power play goal against in the Penguins in every meeting this season, six total. The Penguins have granted the Flyers 29 power plays in six meetings so far, nearly five per game. That's the most PP goals for one team against Pittsburgh all season.
The power play, a sickly weakness in last year's playoffs (1-for-34), should be much improved this time around. The Penguins scored 56 power play goals this year, third-most in the NHL (Philly led with 65). Their 19.6 conversion percentage was fifth-best in the league, and the top unit featured the league-leading PP goal scorer in Neal (18 PP goals, 30 PP points).
The Penguins have only three power play goals against the Flyers this season, but the unit should see some success with Malkin, Crosby, Neal, Kunitz and Letang sharing time.
Trending: SIDEWAYS
Goaltending
There may be no better big-moment goaltender in the game than Marc-Andre Fleury.
Fleury was the Penguins' Team MVP last season and the argument was made for him to win it again this year in spite of Malkin's dominating offensive campaign. Flower won 42 contests this season, a career-best, and finished two wins shy of taking Tom Barrasso's franchise record for single-season wins.
He's also been a gem in the postseason. Fleury is 41-28 in 12 career postseason series (an 8-4 mark in series wins) with 2.52 GAA and .910 save percentage. His statistics don't sparkle, but his wins do. No goaltender has more postseason wins since the lockout than Marc-Andre Fleury.
And few goaltenders make big-moment saves like Fleury has proven capable of making.
As for the competition? Ilya Bryzgalov is 12-13 in his postseason career with one series win to four losses, with a 2.55 GAA and .917 save percentage. Bryzgalov is 1-8 in his last two postseasons with Phoenix and nursing a foot injury while backup Sergei Bobrovsky is winless in three career postseason starts (3.23 GAA, .877 save percentage).
Philadelphia has gotten to Fleury at times this season, but he's 8-3 against them in two postseason series' so far.
Trending: UP